When you walk into your office, cubicle, or workspace, how do you feel?
Does your space make you feel pampered, comfortable, and happy to be there? Or does looking at the gray walls, dusty file cabinets, and beige office furniture and supplies make you want to run for the hills?
While a swanky office isn't enough to combat a truly miserable job, it can help uplift and inspire you. By investing in fancy office supplies, you can add color to your office, make your workspace more personal, and give yourself another reason to show up to work every morning. Ready to get decorating with functional, beautiful supplies? Here are 15 office supplies that will make any workspace sparkle.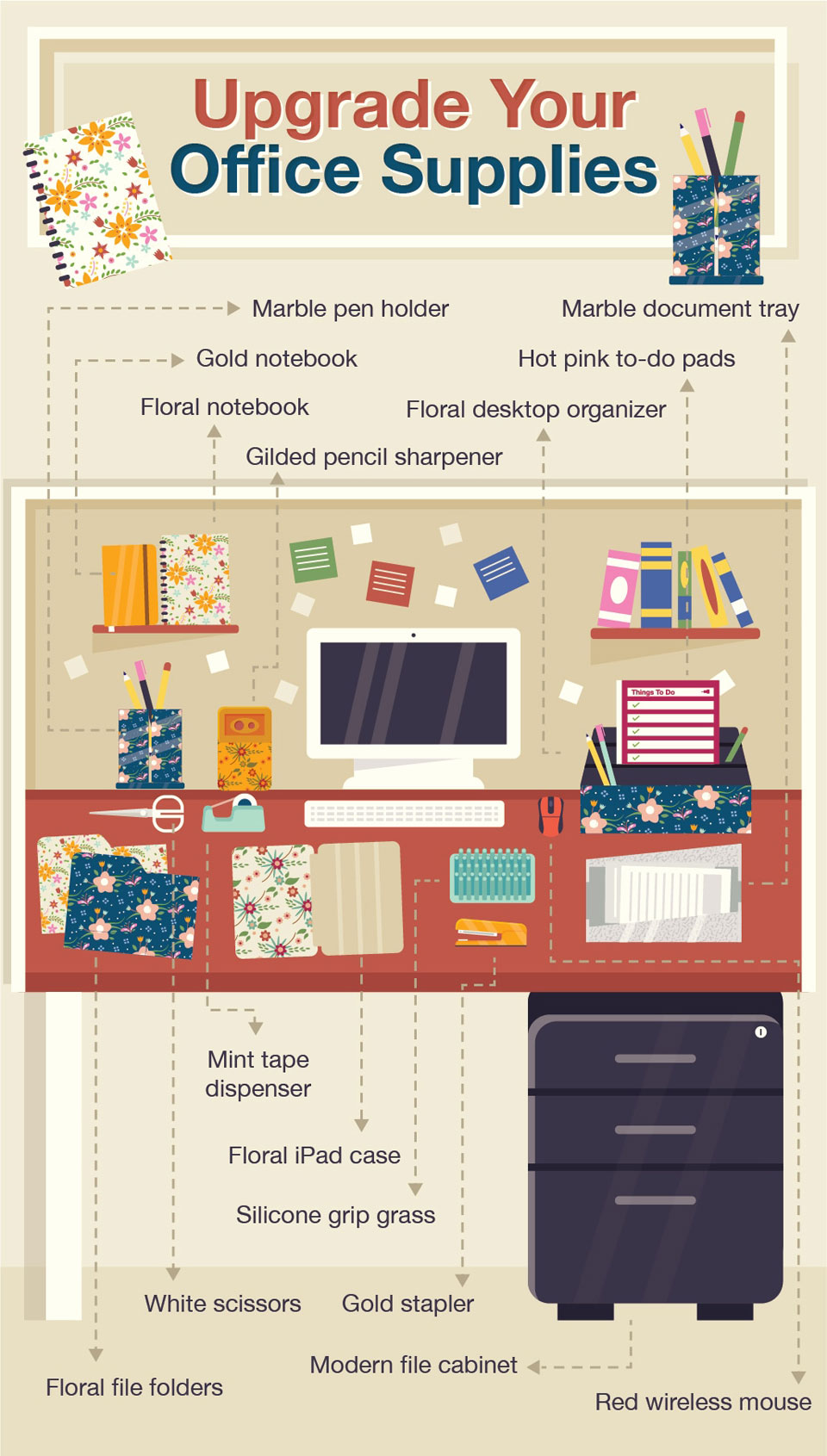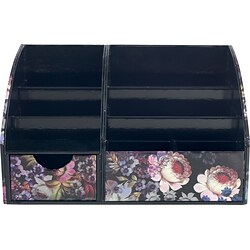 Cynthia Rowley Desktop Organizer, Dark Floral
Sure, you could root around for rubber bands in a boring, clear plastic case—but why do that when you can store your office doo-dads in this pretty desktop organizer instead? The paperboard organizer is as functional as it is aesthetically pleasing; it features six compartments and a drawer as well as space for a cellphone. If you'd prefer a smaller desktop organizer but still want to keep things fancy, give this one a try.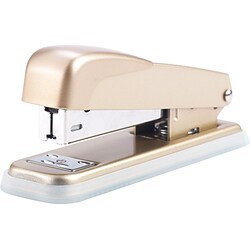 Cynthia Rowley Desktop Stapler, Gold
Stapling gets an unexpectedly elegant twist with this sleek and fancy gold stapler. Not only does it add a touch of luxury to any desktop, but its nonskid base, compact size, and durable construction will make this stapler the envy of the office. (Luckily, its distinct appearance makes it hard for anybody else to pass it off as their own!)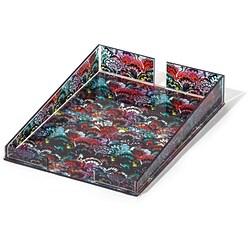 Cynthia Rowley Document Tray, Marble
Rare is the person who actually enjoys sorting incoming and outgoing mail and other documents. But this pretty marble document tray makes the task a little more bearable. The tray fits letter-size and smaller documents, and the opportunity to look at the beautiful design will give you an incentive to clear those papers out—stat.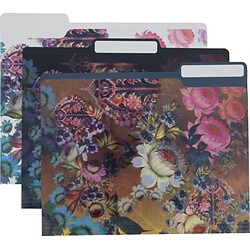 Cynthia Rowley Floral Print Fashion File Folders
Bring a touch of whimsy to the otherwise dreary task of filing with these floral print file folders. Their glossy coating reduces the risk of paper cuts, while the three highlighted tabs make it easy to identify files when you need them. If you need to file magazines instead of documents, Cynthia Rowley has got you covered with this Dark Floral Magazine File.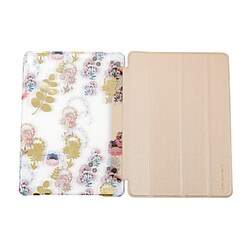 Cynthia Rowley Folio Petal Design Case
Why hide your tablet in a frumpy black case when you could deck it out in this artfully designed folio case? The pretty floral print fits snugly around the iPad Air or iPad Air 2 (or any other 9- to 10-inch tablet), while the magnetic locking system helps keep your electronics safe and secure.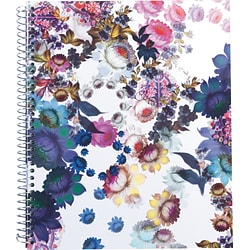 Cynthia Rowley Notebook, White Cosmic Floral
Bored during a board meeting? Then lose yourself in the cosmic shapes and textures of this notebook's timeless (yet fashion-forward) cover. If you need to stop your daydreaming to jot down some notes, 100 pages of college-ruled paper are yours for the writing. Meanwhile, two pockets provide the space to stash loose notes, memos, and more.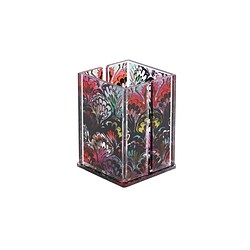 Cynthia Rowley Pen Holder, Marble
Once you lay your eyes on this fancy pen holder, storing your pens in a dirty old mug from your alma mater just isn't going to cut it. Stash items like writing utensils, scissors, and other supplies in this artsy holder, then sit back and wait for the compliments to roll in.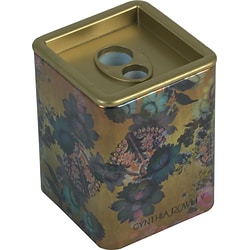 Cynthia Rowley Pencil Sharpener, Gilded Gold
Sharpening a pencil has never looked so good. This metal pencil sharpener features a removable cover and dual size holes to accommodate both standard and jumbo pencils. But let's be real: The main reason to invest in this pencil sharpener is that it looks beautiful on a desktop.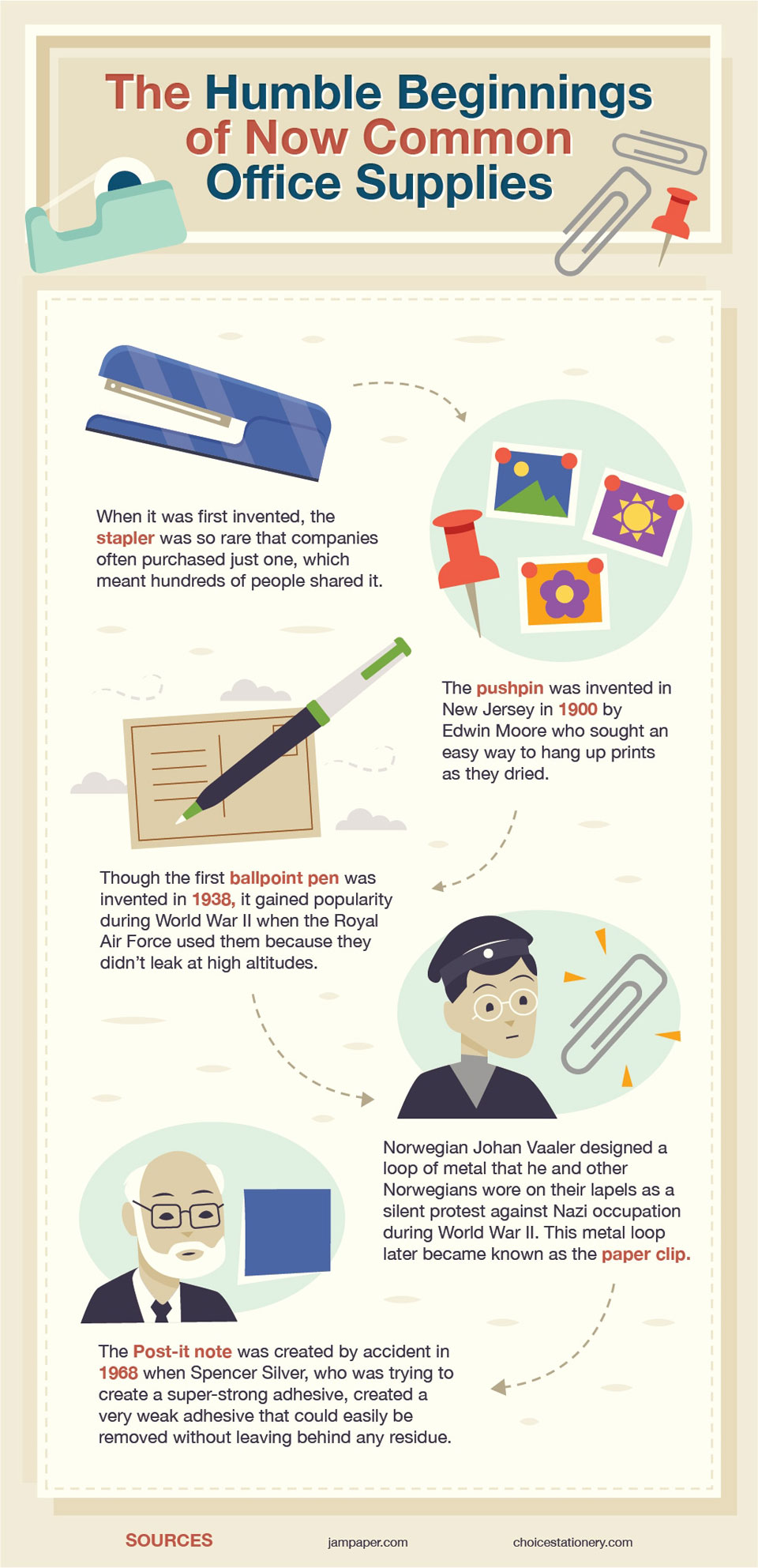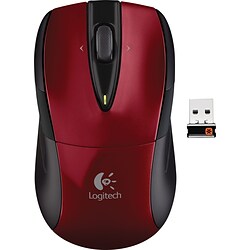 Logitech M525 Wireless Optical Mouse
Give your computer mouse an upgrade with this wireless beauty. The bold design features an ergonomic, ambidextrous shape (to accommodate both right- and left-handed use) and a splash of rust-red color. Its functionality is equally stellar thanks to optical tracking, a long-lasting battery, compatibility with both Mac and Windows, and a 33-foot connectivity range.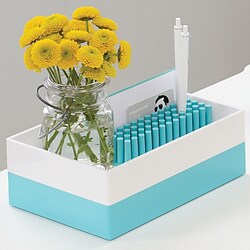 Poppin Aqua Silicone Grip Grass
Sick of storing your pens in a cup (no matter how fancy)? Then reach for this modern storage solution instead. The flexible silicone design features 78 blades of pretty blue grip "grass" to keep stock of all your writing utensils, postcards, and other knickknacks. And the best part? You'll never have to mow this little patch of grass.
Poppin Charcoal Stow 3-Drawer File Cabinet
A file cabinet may not be the first thing that comes to mind when you picture fancy office supplies. But allow this stellar organizational tool to expand your concept of what it means to be fancy. The ultra-modern design features rounded edges and powder-coated steel construction, and it's just as pretty on the inside thanks to a peek-a-boo charcoal steel interior.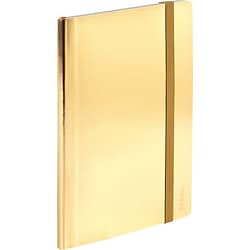 Poppin Gold Small Soft-Cover Notebook
Enjoy a pick-me-up during long meetings or phone calls by adding a pop of color to your note-taking experience. This golden notebook is edgy and seriously stylish, but it does more than look pretty while sitting on your desk. It's also highly functional, thanks to its 192 lined sheets of paper, elastic closure, ribbon bookmark, and interior back pocket.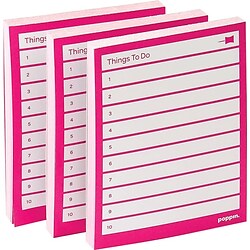 Poppin Pink Task Pads
Make your to-do list a little less dreary with these pink task pads, which offer a more cheerful way to organize your to-dos. Each pad features 100 numbered sheets with 10 numbered lines. Leave it by your office computer or phone, and writing down tasks may be slightly more enjoyable.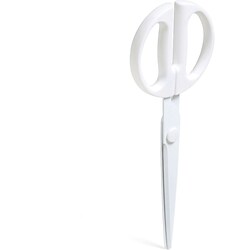 Poppin White Scissors
Who knew scissors could be so fashionable? These scissors are not only beautiful, they're also highly functional. The stainless steel, Teflon-coated blades will slice through all types of paper without getting caught.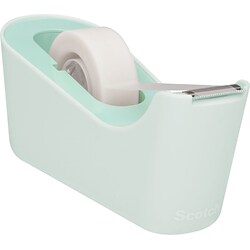 Scotch Desktop Dispenser, Mint
Interested in a stylish tape dispenser? Look no further than this subtle, mint-colored dispenser. It packs equal amounts of style and functionality thanks to its unique color, sleek design, and the fact that it's easy to refill and accommodates one-handed tape dispensing.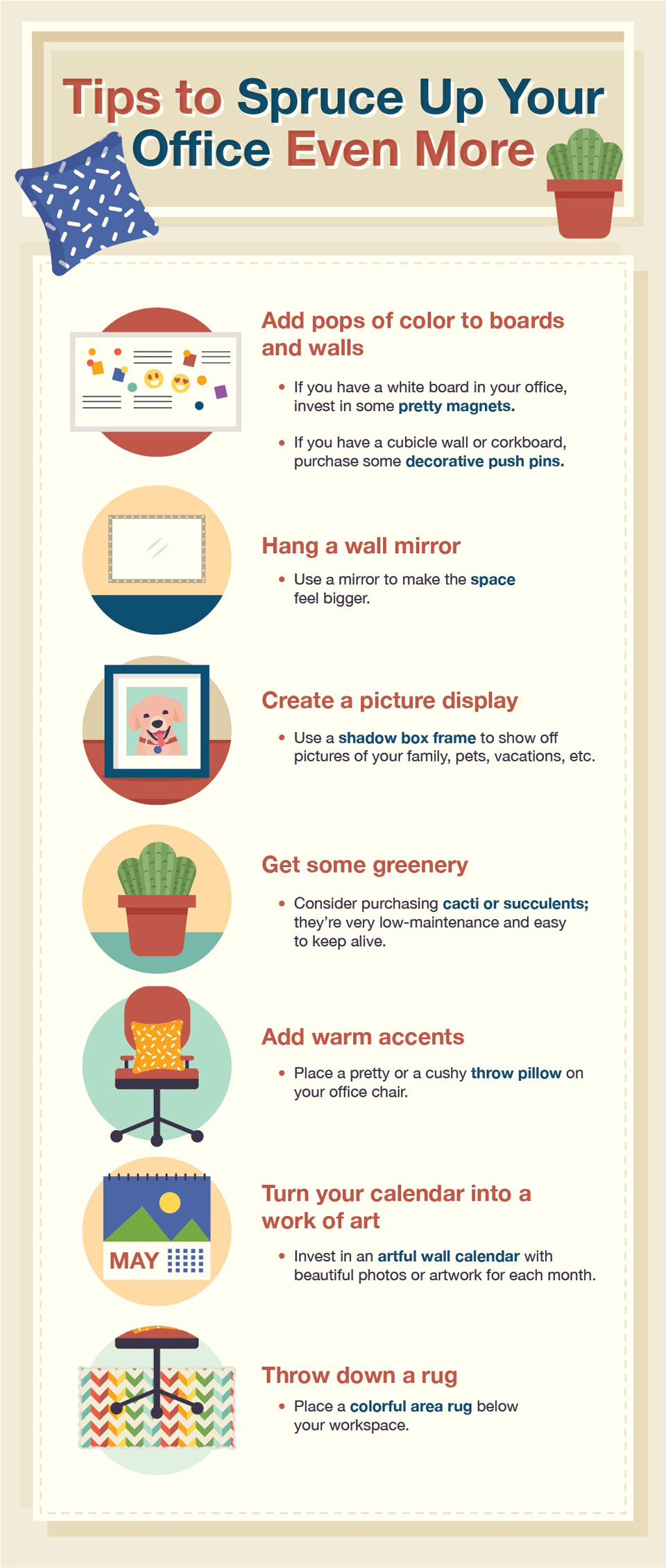 Tips to Spruce Up Your Office Even More
No matter whether you work in a gigantic private office or a teeny tiny cubicle, there are plenty of ways to spruce up your workspace. While investing in fancy office supplies is a great start, here are some additional tips for elevating the design of your home away from home:
Add pops of color to boards and walls
There are several ways you can accomplish this. For example, if you have a white board in your office, invest in some pretty magnets. If you have a cubicle wall or corkboard, purchase some decorative push pins. Or just go wild with these sparkly adhesive butterflies.
Use a mirror to make the space feel bigger
Interior designers know that hanging a mirror on the wall is a quick way to make any room feel more spacious. Put this knowledge to good use by amplifying your workspace with a tasteful wall mirror.
Create a picture display
Use a shadow box frame to display pictures of your family, pets, vacations, and so on. This reduces desk clutter and helps make your office space feel more personal.
Get some greenery
Keeping a few plants in your office brightens up the space, adds a pop of natural color, and helps purify the air. If you don't have a green thumb, consider purchasing cacti or succulents; they're very low maintenance and easy to keep alive.
Add warm accents
A pretty throw or a cushy throw pillow placed on a chair can make any workspace feel more inviting.
Turn your calendar into a work of art
Investing in an artful wall calendar adds visual interest to your workspace. If you squint your eyes, you might just feel like you're at the Met. And speaking of art: Don't be shy about hanging up actual pieces of art on office or cubicle walls. (Just find out your company's policy on hanging things before you go nailing anything into a wall.)
Throw down a rug
A colorful area rug placed thoughtfully on the floor can elevate any workspace. Just make sure you choose your colors so they coordinate with everything else in the space.
From gold staplers and notebooks to floral file folders and colorful tape dispensers, there are plenty of ways to spruce up your office. By investing in fancy office supplies and taking the time to add a few personal touches to your office or cubicle, even the drabbest of workspaces can earn its sparkle.

Share this infographic on your site
Laura Newcomer
Laura Newcomer is a writer, editor, and educator with multiple years of experience working in the environmental and personal wellness space. Formerly Senior Editor at the health site Greatist, Laura now lives and works in Pennsylvania. Her writing has been published on Washington Post, TIME Healthland, Greatist, DailyBurn, Lifehacker, and Business Insider, among others. She has taught environmental education to students of all ages in both Pennsylvania and Maine, and prioritizes living an environmentally sustainable lifestyle. She's a big proponent of creating self-sustaining communities and accessible healthy food systems that care for both people and the earth. An avid outdoorswoman, she can often be found hiking, kayaking, backpacking, and tending to her garden.