FixMeStick Virus Removal Device, Unlimited Use-Up to 3 PCs (FMS9ZAFSTD)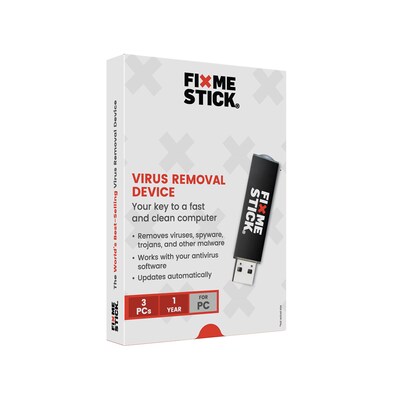 Description
The FixMeStick is a computer virus removal device. It is an external, hardware based product that runs before Windows® starts enabling it to remove viruses that software anti-virus programs often cannot.
FIXMESTICK Unlimited PCs Virus Removal Device has more than 3 virus scanners based on detection & removal of viruses with automatic updates and download ability compatible for any PC. It runs directly from a USB port.

What makes the FixMeStick virus removal device different from anti-virus programs?


Your Windows operating system, your programs, and all your content are stored in files. When your PC is on, these files work togetherlike a complex set of gears to deliver your PC experience. If one of these files becomes infected, it compromises your system so that it often cannot be cleaned by anti-virus program files. When your PC is off, your files are off too. They are just bytes on your hard drive: dormant, and unable to take any action. The FixMeStick® virus removal device runs while your files are in this off state. As a result this hardware device can often remove infections that anti-virus programs cannot.

How does the FixMeStick virus removal device remove infections that anti-virus programs often cannot?

Anti-virus programs are software tools that run while your Windows operating system is running to protect Windows from malicious software like viruses, trojans, spyware, and malware. Protection from these malicious threats is important and running anti-virus protection is highly recommended.The FixMeStick virus removal device is a hardware tool that runs before Windows to remove malicious software that got past your anti-virus protection. Once malicious software gets into Windows, it  can be impossible to remove while Windows is running. Independent security experts and government security agencies recommend cleaning an infected PC with a hardware tool like the FixMeStick virus removal device that runs before Windows starts.
Remove the viruses and malware that other security programs cannot

No software to install so it cannot conflict with your antivirus or any other programs

Updates are automatically downloaded and stored on the FixMeStick

Complete system on a stick that plugs into any USB slot

Type: Antivirus

Compatibility: Windows XP, Windows Vista, Windows 7 & Windows 8

Dimension: 8"H x 5"W x 0.8"D

1 year unlimited on up to 3 PCs
Product Details: 
Hardware-based removal of viruses that cannot be removed by antivirus programs
·  Simply insert a FixMeStick into your PC's USB port, reboot, and let it run. When it's done, you pull it out.
Runs from a USB device and doesn't install software to your PC so won't slow down your computer or interfere with your work and play.
Not a replacement for antivirus software which protects PCs from infections, the FixMeStick is for removing infections that got past the antivirus.
Works an unlimited number of times on up to 3 different PCs for one year from the date of first use.
Specifications
Computer Software Format

: Download

Security Software Type

: Antivirus and Security

Number of Licenses

: 3

Number of Users or Clients per License

: 10

Brand

: FIXMESTICK

Customizable

: No

Weight

: 0.15 lbs. per Each