Golden Heavy Body Acrylics Diarylide Yellow 5 Oz.
Golden Heavy Body Acrylics Diarylide Yellow 5 Oz.
Item #: 901-1720806ASN
Model #: 68842
Brand: Golden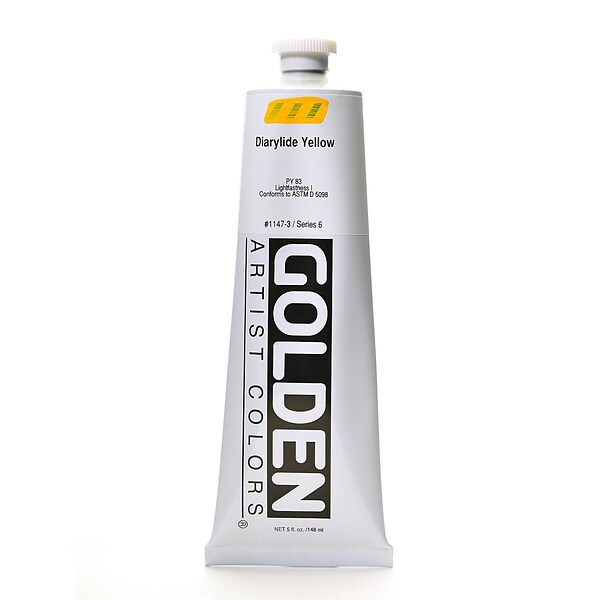 The original line of Golden Artist Acrylics is known for exceptionally smooth, thick, buttery consistency. It contains the largest assortment of unique pure pigments in a 100 % acrylic emulsion vehicle available to the professional artist. These colors offer excellent permanency and lightfastness. There are no fillers, extenders, opacifiers, toners, or dyes added. Each Heavy Body color is formulated differently depending on the nature of the pigment. Colors that tolerate higher pigment "loads" dry to a more opaque, matte finish. Colors that are more reactive and do not accept high pigment loading dry to a glossy finish and tend to be more transparent. Heavy Body colors contain no additives, such as matting agents. Golden Heavy Body Acrylics produce a film with excellent flexibility, and chemical, water and UV resistance. The milky emulsion dries transparent, allowing the pigments to show their full color. Pigments are chosen for the greatest purity and permanency wihin each chemical class.
The original line known for exceptionally smooth, thick, buttery consistency
Contains the largest assortment of unique pure pigments in a 100 % acrylic emulsion vehicle available to the professional artist
Colors offer excellent permanency and lightfastness
No fillers, extenders, opacifiers, toners, or dyes added
Each color is formulated differently depending on the nature of the pigment: Colors that tolerate higher pigment "loads" dry to a more opaque, matte finish; Colors that are more reactive and do not accept high pigment loading dry to a glossy finish and
Contain no additives, such as matting agents
Produce a film with excellent flexibility, and chemical, water and UV resistance
The milky emulsion dries transparent, allowing the pigments to show their full color
Pigments are chosen for the greatest purity and permanency wihin each chemical class
Acrylics dry quickly, and may be painted over immediately, yet complete drying will take longer
Each color is formulated differently depending on the nature of the pigment: Colors that tolerate higher pigment ""loads"" dry to a more opaque, matte finish; Colors that are more reactive and do not accept high pigment loading dry to a glossy finish and
Pigments are chosen for the greatest purity and permanency within each chemical class
Golden
147.87
5
Yellow
No
7
Number of Paints per Pack
1
No
Acrylic Paint
Each
Classic
Yes
1
Each
Series 6
Yellow
Non Washable
0.6
2