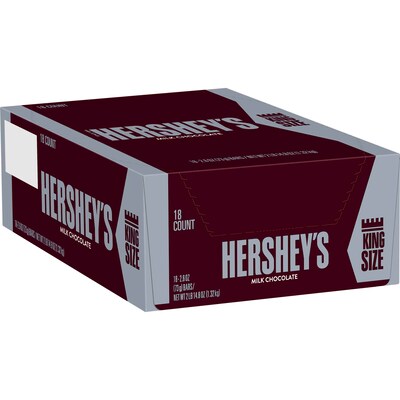 Hershey's King Size Milk Chocolate Candy Bar, 2.6 oz. (HEC22000)
Hershey's King Size Milk Chocolate Candy Bar, 2.6 oz. (HEC22000)
Item #: 901-220007
Model #: 22000
Brand: Hershey's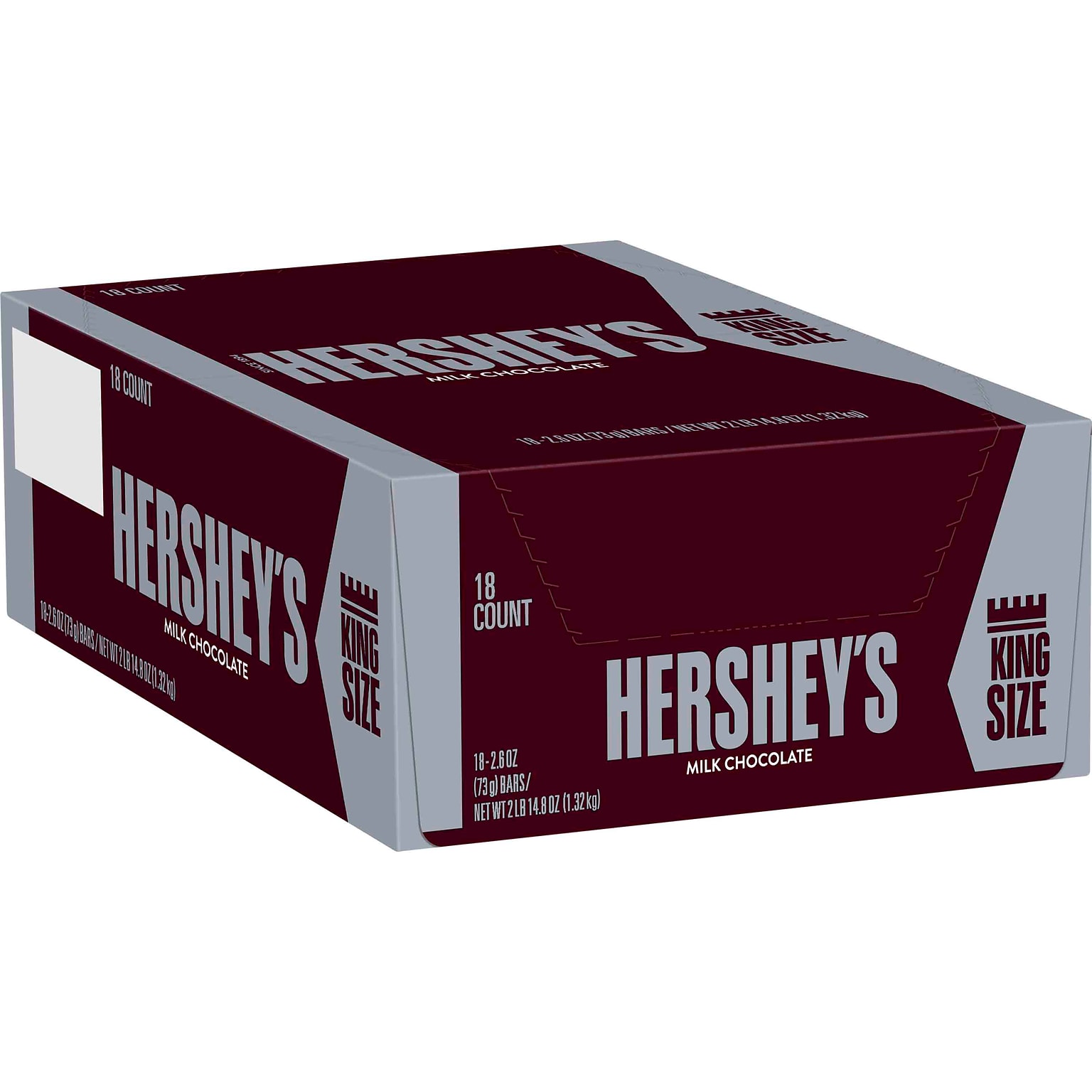 Frequently bought together
When you buy bulk candy for your office, you can't go wrong with HERSHEY'S Chocolate!
Go for the delicious, creamy HERSHEY'S Milk Chocolate goodness in a king size bar. Savor this delicious chocolate bar as a sweet treat. It's the bulk chocolate solution for office-wide satisfaction.
Great for snacking and sharing around the office
Milk chocolate candy
Please Note: This product may require special packaging to protect against temperature issues. Some deliveries may experience a slight shipping delay.
Individually wrapped king size bars for a shareable break room treat
A kosher chocolate
More Ways to Enjoy HERSHEY'S Chocolate Have a HERSHEY'S Milk Chocolate Bar when you want a delicious treat at home, work, or school. Melt this HERSHEY'S Milk Chocolate Bar and drizzle over dry fruit, marshmallows, and more! Enjoy even more chocolate flavor in your s'mores with segments of HERSHEY'S King Size Milk Chocolate Bar.
The Hershey Legacy

The story of HERSHEY'S Chocolate begins with Milton S. Hershey. Trained as a confectioner and owner of a successful caramel factory, Hershey became fascinated with chocolate-making at the 1893 World's Columbian Exposition. Hershey founded the Hershey Chocolate Company in 1894, and built what would become the world's largest chocolate factory in 1903. He then created the model industrial town of Hershey, Pennsylvania, where workers enjoyed comfortable homes, inexpensive public transport, and quality public schools. In 1909, Hershey and his wife, Catherine, established a school for orphan boys. Hershey eventually endowed the bulk of his wealth to this school, including his ownership of the Hershey Chocolate Company. For more than a century, Milton Hershey School has enriched the lives of countless children in need. The town of Hershey, Pennsylvania has provided employment, recreation, and culture. And The Hershey Company has brought smiles to people around the world.
No
Hershey's
Chocolate
King Size
Milk
Contains Nuts
Dairy Free
No
Milk Chocolate
Yes
Individually Wrapped
Yes
No
2.6
Number of Chocolates Included
18
1
Box
No
Candy Bar