Many tech products rocket to popularity, and then fade from public use just as quickly. Not so with the tablet. And more companies than ever before are realizing the need for a business tablet, especially with employees who travel frequently for work.
Since Apple released the first touchscreen tablet in 2010, the sleek devices have grown steadily in popularity among business owners and everyday consumers alike. And that growth doesn't show signs of stopping anytime soon.
There are now more than one billion tablet users around the world, with a projected 170 million tablets sold in 2017 alone. After experiencing a slowdown in 2016, tablet sales are on track to pick back up again in 2018. Estimates suggest that by 2020, nearly 200 million tablets will be sold each year.
Many factors explain the current and projected uptick in tablet sales, but it's safe to say businesses play a big role in driving demand. These days, up to 18 percent of global tablet purchases are made by corporations.
So why have companies embraced business tablets? Tablets are highly portable, user-friendly, and functional—all of which helps explain their growing popularity among executives and other professionals.
As demand for business tablets has increased, so too has the number of tablets on the market. With more options available than ever before, it's important to research the best tablet for your specific line of work.
In the following guide, we'll jumpstart your search for a tablet that suits your professional needs. We'll outline some of the reasons businesses turn to tablets and then explore factors to consider during your quest for the best tablet for business.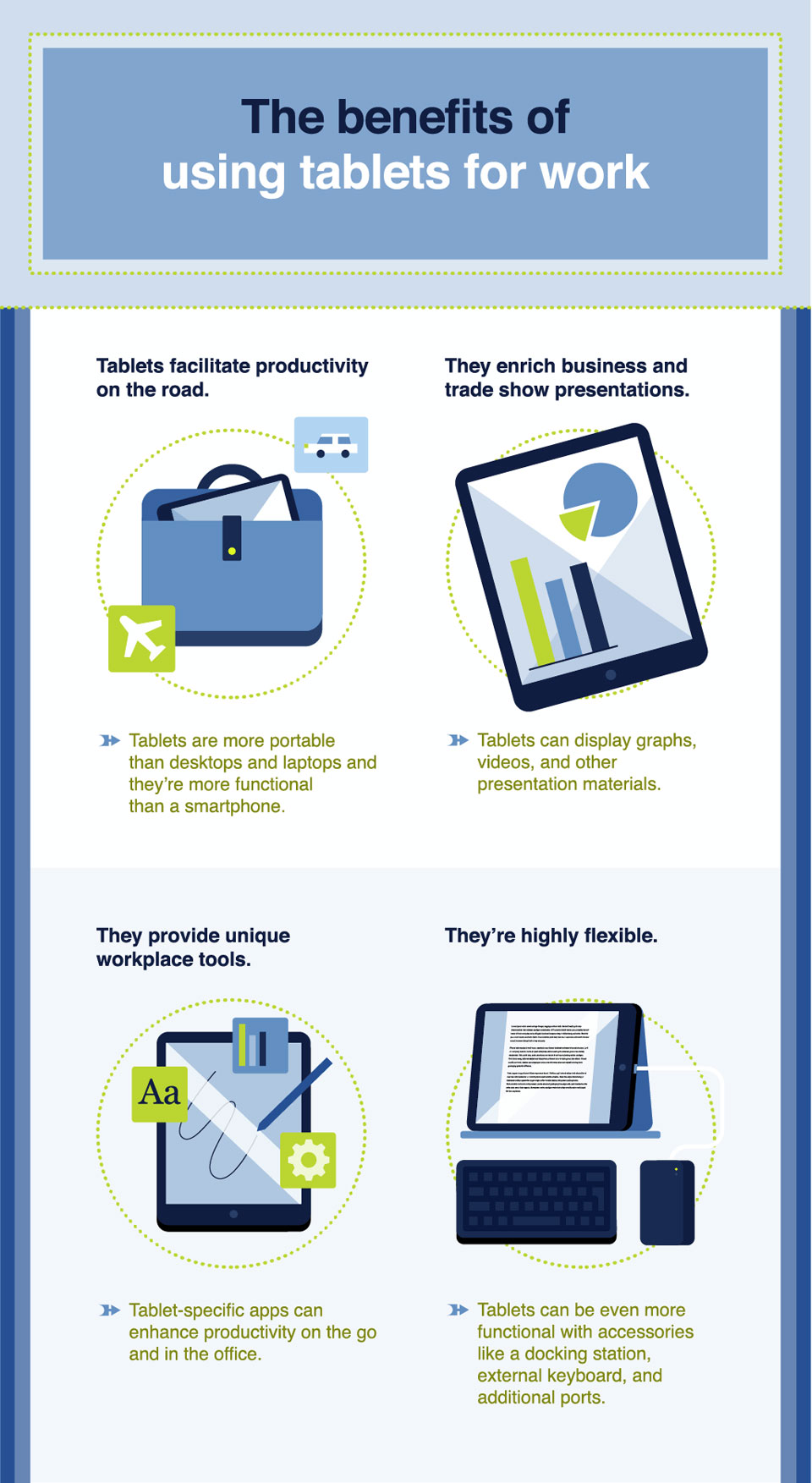 The Benefits of Using Tablets for Work
Tablets can enhance workplace productivity and efficiency in a number of ways. Here are just a few.
They facilitate productivity on the road
Tablets are exceptionally portable (even more so than laptops) and functional (even more so than smartphones). You wouldn't want to create spreadsheets or write up documents on a smartphone, but you can easily handle both tasks with a tablet while traveling. This combination of functionality and portability allows professionals to access data and complete tasks from just about anywhere.
They enrich business and trade show presentations
Instead of carting sheaths of paper, flip charts, or a heavy laptop to a business meeting or presentation, professionals can display graphs, videos, and other presentation materials via a tablet.
They provide unique workplace tools
Many productivity and workplace apps are designed specifically for tablets. From taking notes to transferring money, entering data, and managing inventory and/or documents in addition to other tasks, tablet-specific apps can enhance productivity on the go and in the office.
They're highly flexible
Tablets can be streamlined and portable when they need to be, while accessories can transform them into mini laptops when required. By adding a docking station, external keyboard, and additional ports to a tablet, team members can work comfortably in a variety of settings. Because tablets can easily integrate with your company's other devices, they provide great functionality no matter where and how they're used.
How to Choose the Best Tablet for Business
Now that it's clear why business owners might want to invest in a tablet, let's dive into the most important factors to consider before making a purchase. No matter what industry you work in, it's a good idea to take the following considerations into account to successfully identify the best fit.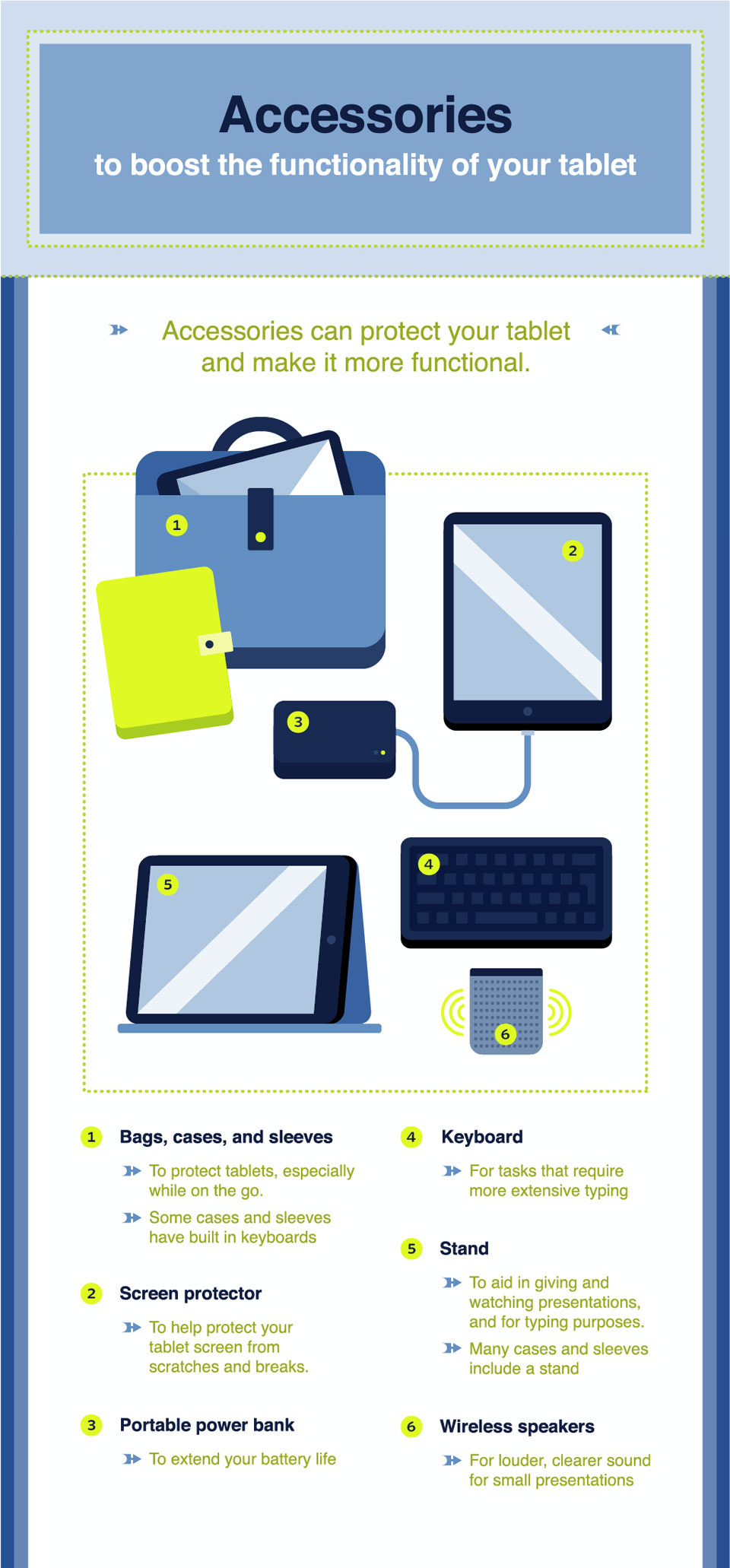 Other specs
Tablets can boast a huge variety of specs, so the best tablet for work varies depending on your business needs. For example, some tablets have wireless broadband while some have only Wi-Fi connectivity. Most have Bluetooth; some offer USB and HDMI ports. Some feature digital pens while others come equipped with an external keyboard, mouse, stylus, and so on. Once again, it's important to do your research so you know what's available and what's worth the investment based on your intended use.
Battery life
One of the major selling points for tablets is their portability, but that won't do you much good if the battery dies 30 minutes into a four-hour flight. This means battery life is an important factor when choosing tablets for work. Tests suggest battery life can vary wildly, from less than seven hours to more than 15. Shoot for a minimum of seven hours of battery life per charge.
Price
Tablet prices can range from less than $100 to more than $1,000, so their purchase can be tailored to a variety of different budgets. If you pay less than $100, you can expect the device's functionality to shrink along with the price. That said, you probably don't need a very expensive tablet if you just need to access email and client accounts from the road. Decide on the functions you consider to be essential, and then allocate your budget accordingly.
After considering these factors and conducting thorough research, the next step to identify the best business tablets for your workplace is to try them out. Handling a tablet in person will give you a better sense of what you need in terms of comfort and functionality. Taking the time to thoroughly vet a product before investing will help you choose the best tablet for your business.
Share this infographic on your site
Laura Newcomer
Laura Newcomer is a writer, editor, and educator with multiple years of experience working in the environmental and personal wellness space. Formerly Senior Editor at the health site Greatist, Laura now lives and works in Pennsylvania. Her writing has been published on Washington Post, TIME Healthland, Greatist, DailyBurn, Lifehacker, and Business Insider, among others. She has taught environmental education to students of all ages in both Pennsylvania and Maine, and prioritizes living an environmentally sustainable lifestyle. She's a big proponent of creating self-sustaining communities and accessible healthy food systems that care for both people and the earth. An avid outdoorswoman, she can often be found hiking, kayaking, backpacking, and tending to her garden.