Research suggests the average office worker sits for up to 15 hours per day. Not surprisingly, all that sitting is associated with a higher risk of muscle and joint issues (as well as diabetes, heart disease, and depression).
While many of us know sitting all day isn't exactly great for our bodies and minds, few people have the luxury of quitting their jobs and jetting off to the Bahamas to stand on a beach for the rest of their lives. What's a committed office worker to do?
One piece of the puzzle lies in making your desk seating more ergonomic. This has two benefits: Sitting takes less of a toll on your body, and you'll stave off the discomfort that makes it harder to focus at work. No matter whether you sit for 10 hours a day or two, here's how to make an office chair more comfortable.
How to make an office chair more comfortable
Aside from adopting proper posture, here are eight ways to make yourself more comfortable while sitting at a desk.
Support your lower back.
Consider adding a seat cushion.
Make sure your feet don't dangle.
Use a wrist rest.
Raise your monitor to eye level.
Hold reference documents at eye level.
Adjust your office lighting.
Add some greenery.
Let's take a closer look at each of these tips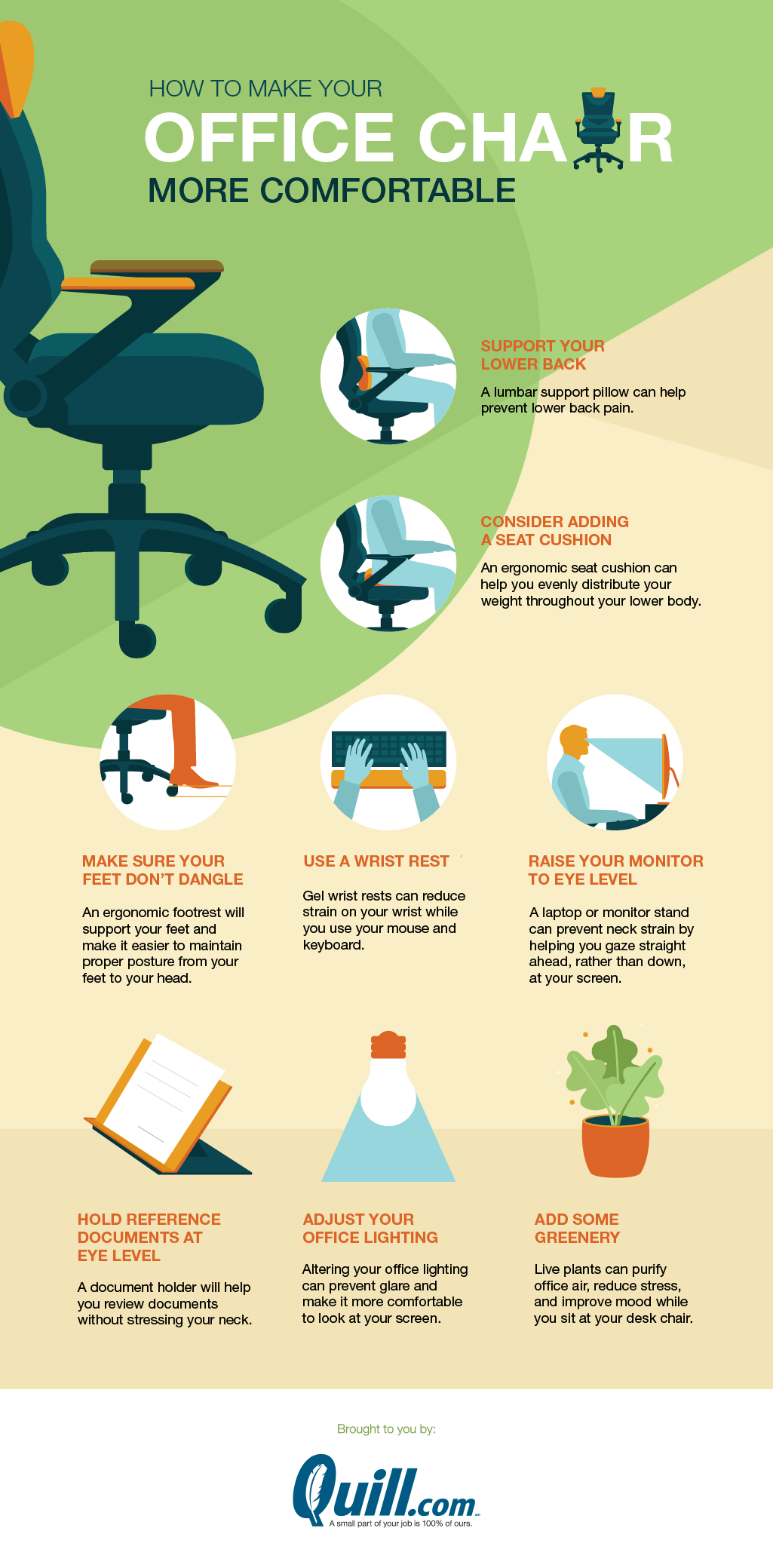 Get code to share this infographic on your site
Support your lower back
Many desk workers complain of lower back pain, and the solution might be as close as the nearest lumbar support pillow. Sliding one of these pillows between your chair and lower back offers extra support and can help fend off pain brought on by poor posture. It may feel a little odd at first, but it shouldn't take long to get used to it.
Consider adding a seat cushion
If a lumbar support pillow doesn't cut it or you simply find yourself craving even more support, then it might be time to add a seat cushion to your desk chair setup. Depending on the design, these cushions may help alleviate symptoms of back pain and/or sciatica. They also help promote proper posture by evenly distributing your weight throughout your lower body.
Make sure your feet don't dangle
If you're on the shorter side and your feet don't rest flat on the ground when you sit in your office chair, you may experience strain or discomfort as the day goes on. Luckily, this issue has a quick fix: Simply use an ergonomic footrest. This will support your feet and make it easier to maintain proper posture from your feet to your head.
Use a wrist rest
When you type and use a mouse while sitting at a desk all day long, your wrists can really take a beating. Adding a gel wrist rest to your desk setup can be a great way to reduce strain on your wrists. While you're at it, you might also consider investing in a wireless, ergonomic mouse. This can save your wrists and hands from the stress caused by using a trackpad all day.
Raise your monitor to eye level
Sitting in a desk chair and gazing down at a laptop or desktop computer screen all day is a recipe for neck strain. Go easier on your spine by raising your laptop or monitor to eye level so you only have to gaze straight ahead to look at your screen. A laptop or monitor stand will help you do just that.
Hold reference documents at eye level
This matters for the same reason that raising your computer screen to eye level is important: It reduces neck strain because you don't have to keep glancing down to read from the document. A simple desk director will help you review documents without stressing your neck.
Adjust your office lighting
Glare can cause eye strain and force you to wiggle around in your chair in order to find an angle that lets you clearly view your screen. This can impair your posture and contribute to overall discomfort while working. The good news is that changing up your office lighting can make it more comfortable to look at your screen. Start by investing in a few lamps with multiple lighting settings so you can customize the intensity of the light and where it lands on your computer and desk. If you can't alter office lighting, invest in a screen filter, which can also cut down on glare.
Add some greenery
This might seem like an odd addition: How would putting a plant on your desk make your office chair more comfortable? But research finds live plants can purify office air, reduce stress, and improve mood. And nothing makes an office chair more comfortable than feeling happy while you sit in it!
Share this infographic on your site
Laura Newcomer
Laura Newcomer is a writer, editor, and educator with multiple years of experience working in the environmental and personal wellness space. Formerly Senior Editor at the health site Greatist, Laura now lives and works in Pennsylvania. Her writing has been published on Washington Post, TIME Healthland, Greatist, DailyBurn, Lifehacker, and Business Insider, among others. She has taught environmental education to students of all ages in both Pennsylvania and Maine, and prioritizes living an environmentally sustainable lifestyle. She's a big proponent of creating self-sustaining communities and accessible healthy food systems that care for both people and the earth. An avid outdoorswoman, she can often be found hiking, kayaking, backpacking, and tending to her garden.