Insten® 238943 3.7 VDC 1400mAh Rechargeable Li-ion Battery For Olympus Li-50B/1010/1020/1030; White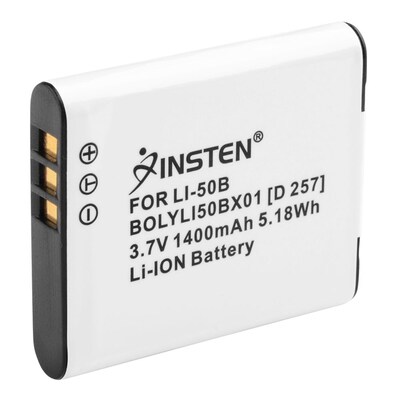 Description
Insten® 3.7 V Li-Ion battery in white color is compatible with Olympus Li 50B battery and offers long battery life to capture your perfect moment.
Never run out of battery power when you're about to capture the perfect momentExtra power for your digital video camera / camcorderHigh capacity / rechargeable Li-ion Battery with premium cell
Voltage: 3.7V

Replacement for the original Olympus Li-50B battery pack

Accessory ONLY. Camera not included.

Color: white

⚠ WARNING: This product can expose you to chemicals including DEHP, which is known to the State of California to cause cancer and birth defects or other reproductive harm. For more information go to P65Warnings.ca.gov.
Compatible with: Sony CyberShot DSC-J10 / DSC-J20 / DSC-T110 / DSC-T110B / DSC-T110D / DSC-T110P / DSC-T110R / DSC-T110S / DSC-T110V / DSC-T99 / DSC-T99B / DSC-T99C / DSC-T99D / DSC-T99DC / DSC-T99P / DSC-T99S / DSC-TF1 / DSC-TF1/B / DSC-TF1/R / DSC-TX10 / DSC-TX100 / DSC-TX100V / DSC-TX100VB / DSC-TX100VR / DSC-TX10B / DSC-TX10G / DSC-TX10P / DSC-TX20 / DSC-TX200V / DSC-TX200VR / DSC-TX200VV / DSC-TX20B / DSC-TX20D / DSC-TX20G / DSC-TX20L / DSC-TX20P / DSC-TX30 / DSC-TX300V / DSC-TX5 / DSC-TX55 / DSC-TX55B / DSC-TX55R / DSC-TX55V / DSC-TX5B / DSC-TX5P / DSC-TX5R / DSC-TX5S / DSC-TX66 / DSC-TX66P / DSC-TX66S / DSC-TX66V / DSC-TX66W / DSC-TX7 / DSC-TX7/L / DSC-TX7/R / DSC-TX7/S / DSC-TX7C / DSC-TX7L / DSC-TX7S / DSC-TX9 / DSC-TX9C / DSC-TX9H / DSC-TX9R / DSC-W310 / DSC-W310/B / DSC-W310/P / DSC-W310B / DSC-W310P / DSC-W310S / DSC-W320 / DSC-W320P / DSC-W320S / DSC-W330 / DSC-W330/B / DSC-W330/L / DSC-W330/R / DSC-W330/S / DSC-W350 / DSC-W350/B / DSC-W350/L / DSC-W350B / DSC-W350D / DSC-W350L / DSC-W350P / DSC-W350S / DSC-W360 / DSC-W370 / DS, Sony CyberShot QX Series DSC-QX10 / DSC-QX100, Sony CyberShot T Series DSC-T110 / DSC-T99 / DSC-TF1, Sony Cybershot TX Series DSC-TX10 / DSC-TX100V / DSC-TX20 / DSC-TX200V / DSC-TX30 / DSC-TX5 / DSC-TX55 / DSC-TX66 / DSC-TX7 / DSC-TX9, Sony CyberShot W Series DSC-W310 / DSC-W320 / DSC-W330 / DSC-W350 / DSC-W380 / DSC-W510 / DSC-W530 / DSC-W550 / DSC-W560 / DSC-W570 / DSC-W610 / DSC-W620 / DSC-W650 / DSC-W690 / DSC-W730, Sony Cybershot WX Series DSC-WX150 / DSC-WX30 / DSC-WX5 / DSC-WX50 / DSC-WX70 / DSC-WX9, Sony Ericsson W Series DSC-W710, Sony High Definition HandyCam HDR-AS30v
Specifications
Camera or Camcorder Battery Type

: Battery Bundle

Camera or Camcorder Compatibility

: Olympus

Brand

: Insten

Customizable

: No

Weight

: 0.07 lbs. per Each