Insten Cordless Home Phone Battery Pack, 2 Pack (1171452)
Item #: 901-2117094
Model #: 1171452
Brand: Insten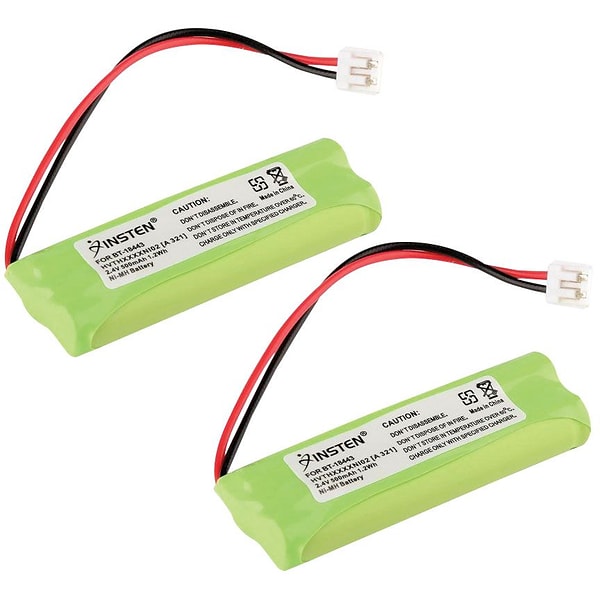 Ship to :
Item is out of stock in your zip code 60069. Please try another zip code or see
Other alternate product
similar to this item
Notify me when this product is back in stock
Please note: Pricing is subject to change.
Product details
Battery Compatibility
Battery Composition
Brand
Depth in Inches
Height in Inches
Pack Qty
Voltage-volts
Width in Inches
Battery Capacity (mAh)
Battery Capacity (Wh)
Compatible Devices
Customizable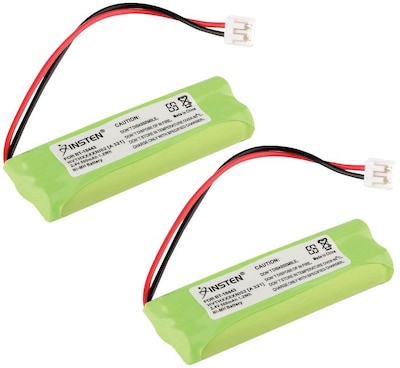 AT&T BT-166342 / BT-266342 / CL80100 / CL80101 / CL80111 / CL81101 / CL81201 / CL81211 / CL81301 / CL82100 / CL82101 / CL82200 / CL82201 and more
Stay connected with families and friends by getting extra battery power today. This replacement battery has an integrated microchip that prevents overcharging and lengthens battery life. Best replacement for the original battery with comparable standby and talk time. Great bargain with excellent quality guaranteed
Dimensions: 1.97"H x 1.77"W x 0.79"D
Ni-MH Battery
Voltage: 2.4V
Accessory ONLY; phone not included
Color: Green
For VTech BT166342 BT266342 BT183342 BT283342
⚠ WARNING: This product can expose you to chemicals including DEHP, which is known to the State of California to cause cancer and birth defects or other reproductive harm. For more information go to P65Warnings.ca.gov.
Compatible with: AT&T BT-166342 / BT-266342 / CL80100 / CL80101 / CL80111 / CL81101 / CL81201 / CL81211 / CL81301 / CL82100 / CL82101 / CL82200 / CL82201 / CL82250 / CL82300 / CL82301 / CL82350 / CL82351 / CL82400 / CL82401 / CL82450 / CL82451 / CL82500 / CL82501 / CL82550 / CL82551 / CL82600 / CL82601 / CL83101 / CL83201 / CL83301 / CL83351, GE 30522EE1 / 30522EE2 / 30522EE3 / 30522EE4 / 30524EE2 / 30529 / 31591, Philips DCT G612 / DCT G722 / DCT G725 / DCT G792, Radio Shack 23-1193, Sony BBTY0458001 / BT1005 / BT446 / DCT646 / DCT6465 / DCT648 / DCT6485 / DCT7462 / DCT746M / DCT748 / DCT7488 / DCX640 / DCX700 / DCX730 / DCX750 / EXT1460 / EXT1465 / TCX800 / TCX805 / TCX860 / TCX905 / TCX930 / TRU238 / TRU446 / TRU4465 / TRU448 / TRU4485 / TRU5860 / TRU5865 / TRU5885 / TRU8860 / TRU8865 / TRU8866 / TRU8880 / TRU8885 / TRU8888 / TRU9360 / TRU946 / TRU9460 / TRU9485 / TRU99380 / TRU99465 / TRU99466 / TRU99480 / TRU99488 / TRU99496 / TWX-977 / TXC146 / TXC400 / TXC580 / UIP160P / UIP165P / UIP1868 / UIP18688 / WHAM, Telekom A602 Touch, VTech 6001 / 6105 / 6185 / 6214 / 6224 / 6326 / 6375 / 6501 / 6509 / 6511 / 6519 / 6521 / 6522 / 6529 / 6601 / 6609 / 6619 / 6629 / 6641 / 6642 / 6648 / 6649 / 89-1347-01-00 / 89-1347-02-00 / BT-1183342 / BT-162342 / BT-1623421 / BT-166342 / BT-183342 / BT-262342 / BT-266342 / BT-283342 / BT1183342 / BT162342 / BT1623421 / BT166342 / BT183342 / BT262342 / BT266342 / BT283342 / CL80100 / CL81100 / CL81200 / CL81300 / CL82100 / CL82200 / CL82300 / CL82350 / CL82400 / CL82500 / CS6114 / CS6114-11 / CS6114-2 / CS61142 / CS6124 / CS6124-2 / CS6124-21 / CS61242 / CS612421 / CS6305 / CS6309 / CS6315 / CS6315-2 / CS6319 / CS6319-2 / CS6319-3 / CS6319-5 / CS63192 / CS63193 / CS63195 / CS6325 / CS6325-2 / CS6325-3 / CS6325-4 / CS6325-5 / CS6328 / CS6328-2 / CS6328-3 / CS6328-4 / CS6328-5 / CS6329 / CS6329-2 / CS6329-3 / CS6329-4 / CS6329-5 / CS63292 / CS63293 / CS63294 / CS6400 / CS6409 / CS6419 / CS6419-2 / CS64192 / CS64193 / CS6429 / DS6071 / DS6670 / DS6671 / DS6672 / DS6673 / LS6305 / LS6315 / LS6325 / LS6326 / SN6107
VTech
Ni-MH
Insten
AT&T BT-166342 / BT-266342 / CL80100 / CL80101 / CL80111 / CL81101 / CL81201 / CL81211 / CL81301 / CL82100 / CL82101 / CL82200 / CL82201 and more
No
0.79
1.97
1
2.4
1.77