Leap Motion LM-C01-US USB 2.0 Motion Controller For PC/Mac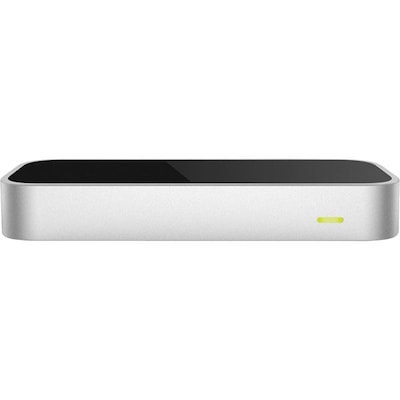 Description
Leap Motion LM-C01-US Motion controller is an entirely new way to interact with your Mac. Accurately senses all 10 fingers up to 1/100th of a millimeter with zero visible latency.
Leap Motion controller is a tiny USB device that will change the way you use your computer as you do everything without touching anything. Uses infrared cameras and highly complex mathematical algorithms to translate hand and finger movements into 3D input. Offers 150 deg field of view that creates a wide interactive space between you and your computer. 3" Long controller lets you to browse the web, read articles, listen to music by just a wave of your hand or lift of a finger. Provides an instant setup, just need to download the Leap Motion software, plug the device into your USB port and you're done. Works alongside your keyboard, stylus for a more natural 3D computing experience. With retail packaging and updated software you can easily do things you never dreamed possible.
Requires Windows 7 or 8 or Mac OS X 10.7 Lion OS to operate to operate

Measures 0.5"H x 1.2"W x 3"D

Small size with 3d motion control works with a keyboard, mouse or trackpad

Leap Motion Controller senses hands and fingers and follows their every move

Leap motion controller can track movement enables to move hands in 3D
In Airspace, the Leap Motion App store, you'll find a wide variety of specially designed free and paid apps for gaming, music, art creation, science, productivity and much more. Apps from the Airspace app store let you interact with your computer just by moving your hands through the air. Play, create, and explore in a whole new way!

To get you started, the Leap Motion Controller comes with a free set of apps included.
Bring your game to the next level
Get way, way, more into the game. Use your hands to move in any direction, with precision. Dive into realistic, 3D interaction at its best. Steer, slice, grab, push, pull, crush, and shoot with your hands and finger. Try popular games from Airspace like Fruit Ninja, and Cut the Rope, or brand new experiences including Dropchord and Blue Estate.
Make a masterpiece out of thin air
With the Leap Motion Controller, you're the instrument. Strum, drum, sketch, draw, and paint with your fingers. Sculpt as easily as you would with clay. Or use your own pencils, paintbrushes, or drumsticks. Try out Decosketch, or master a rhythm with AirBeats. It's the best way to create just about anything, because you do it by hand.
Reach for the stars. Grab a planet while you're at it
When you learn about the world through 3D motion-control, life really comes alive. Move up, down, left, right, forward and back in Google Earth. Fly through space in Exoplanet, take apart a skull in Cyber Science or simply catch up on the latest news in the New York Times app. When you reach into your computer, the learning never stops.
Specifications
Brand

: Leap Motion

Weight

: 1.00 lbs. per Each