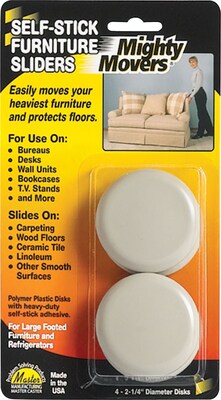 Mighty Mite Furniture Sliders, 4 Pack
Mighty Mite Furniture Sliders, 4 Pack
Item #: 901-925208
Model #: 87003
Brand: Master Manufacturing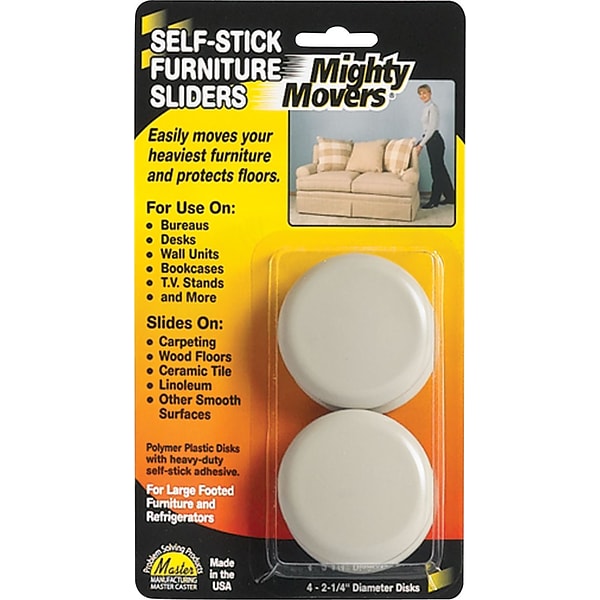 Move heavy furniture with absolute ease, with the Mighty Mite Furniture sliders that feature foam padding and a plastic base.
Built with a sturdy plastic base and thick foam cushion pads, the Mighty Mite Furniture Sliders, 2 1/4", 4/Pack is just what you need for shifting your furniture. It allows easy movement on any floor surface, no matter what carpet texture your home has. Whether the floor is carpeted, wood, ceramic tiles or linoleum, the Mighty Mite sliders does its job without causing any damage.
Bonds permanently to most furniture surfaces: wood, laminate, metal and plastic
Attaches securely to bottom of desks, wall units, bookcases, TV stands, bureaus and more
Heavy duty self-stick, rubber based adhesive pads bonded to polymer plastic disks
Material: Polymer plastic
Move even the heaviest furniture - effortlessly
Shape: Round
Color: Beige
Size: 2.25" disks
Cushioned to absorb the impact of floor surface changes
Easily moves heavy furniture and protects floors
2 1/4" diameter polymer plastic disks attach securely to furniture bottoms
Slides easily on: carpeting, wood floors, ceramic tiles, linoleum and other smooth surfaces
Heavy-duty adhesive bonds permanently to most smooth surfaces
Will not scratch, mar or damage floors or carpets
4 per pack
This product is manufactured by a certified WBE (women owned business)
This product is manufactured by a certified SBE (small business enterprise)
The 4-pack Mighty Mite Furniture Sliders are ideal for shifting large desks, safes, display cases, bookcases and much more. It features a soft foam filling with inner liners for safe transfer of your precious furniture from one place to another. These Mighty Mite furniture sliders can be used unlimited number of times without causing any damage or scratches on the carpet, tile, wood or ceramic floors. The sturdy plastic base ensures long use. If you're planning to redecorate or shift homes, then consider investing in the Mighty Mite furniture sliders.
No Assembly Required
Master Manufacturing
Sliders
Beige
2.5
5
Small Business
Women Owned
Foam padding and a plastic base
5
Plastic
4
Mighty Movers
Beige
0.4375
2.5