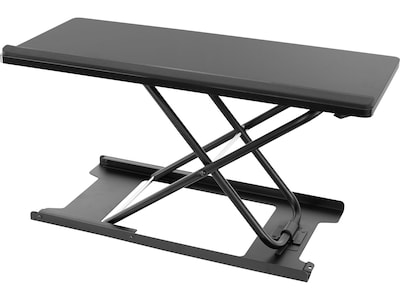 Mount-It! Adjustable Standing Keyboard and Mouse Platform, Black (MI-7146)
Mount-It! Adjustable Standing Keyboard and Mouse Platform, Black (MI-7146)
Item #: 901-24503010
Model #: MI-7146
Brand: Mount-It!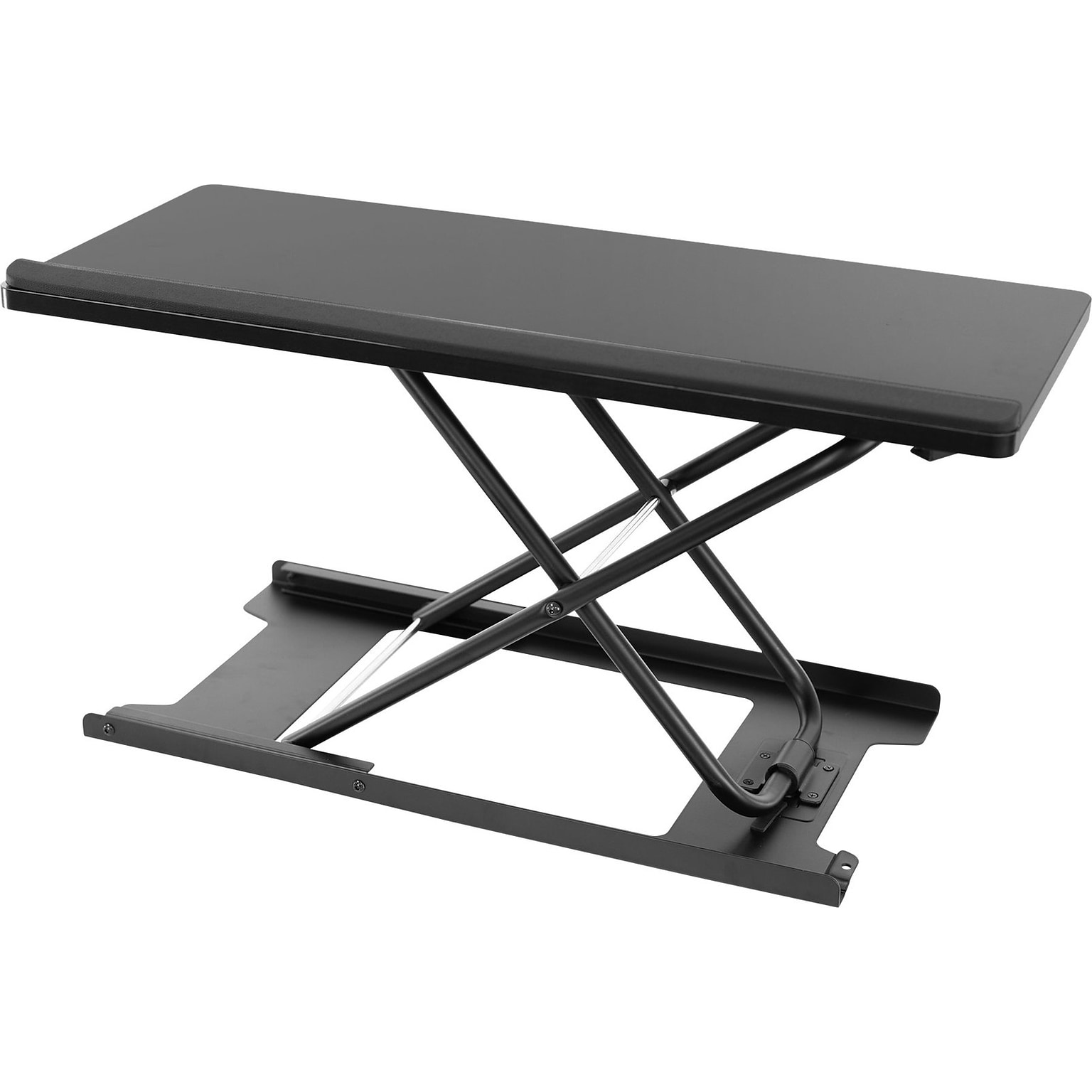 Frequently bought together
Mount-It! sit/stand keyboard and mouse platform suits a variety of needs and heights. Adjust the platform down from 2.2" while you sit, and raise it up to 13.9" to stand. The top measures at 26.8" wide by 11.4" length, and provides plenty of space for your keyboard and mouse. It's also large enough to fit a 15.6" laptop. Ergonomic posture is important to prevent eyestrain, neck and back pain. Monitors and keyboards should be raised to an ergonomic height to attain healthy posture while working. Standing during your workday will increase your energy, alertness, and productivity, and this height-adjustable desk riser can help you achieve that.
ERGONOMIC PLATFORM: Height adjustable keyboard riser for desk elevates your keyboard and mouse to a more ergonomic height and correct typing position. 23.6 inches wide by 11.8 inches deep platform is suitable for laptop use as well.
NO ASSEMBLY REQUIRED: This adjustable height keyboard tray comes fully assembled. Remove from the box, place on your existing desk and start enjoying the benefits of standing at your workstation.
STABLE FRAME: Measuring 21.6 x 10.6 inches, the Steel and Aluminum frame is strong and lightweight. Soft foam under the frame holds the platform in place and protects the desktop surface from damage.
EASY HEIGHT ADJUSTMENT: Scissor lift mechanism comes with helper springs to gently lift your keyboard and mouse. Press the side lever to adjust height between 1.6" min to 15" max (5 preset levels of 8.5", 10.4", 12", 14.4", and 15.5" from the desktop).
Large platform gives you extra room for your keyboard and mouse
Overall dimensions: 2.2"-13.9"H x 26.8"W x 11.4"D
Supported by manufacturer's limited lifetime warranty
The MOUNT-IT! Keyboard tray riser offers sleek, height adjustable, space-saving platform for your keyboard and mouse. Say goodbye to hours and hours of stress on your neck, back, shoulders, and pressure on your wrists. This keyboard tray sit stand riser is ergonomically designed to place your mouse and keyboard as well as laptop to the correct typing height, reducing the strain traditionally felt from working at your desk. You'll instantly notice the difference in productivity and comfort while you benefit from ergonomic angles throughout the day. Never feel cramped or cluttered at your desk again. This keyboard lifter is extra wide, featuring 23.6" of added platform space, able to easily accommodate your full-size keyboard and mouse, while also keeping your phone and office supplies within arms reach. And don't worry about assembly. Everything you'll need to put this desk clamp keyboard tray together comes right inside the box! Tool-free and no need for screwing holes in your desk! With little to no effort, you'll have this adjustable keyboard tray ready for work. A security lock keeps the keyboard riser locked at the lowest level to prevent accidental movement.
Adjustable
Adjustable Height Maximum (Inches)
2.2
Adjustable Height Minimum (Inches)
13.9
Mount-It!
11
Black
11.4
13.9
Steel
Keyboard Tray
Locking
1
No
Black
10 Year
26.8