NEC NP13ZL 2x 1.5 - 3.02: 1 Optical Zoom Projector Lens, White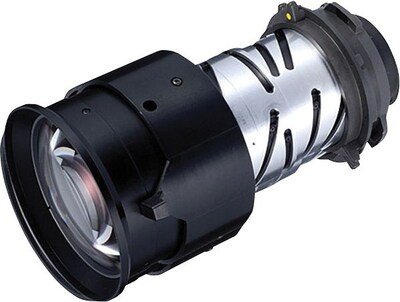 Description
Enhance your professional presentations with this versatile NEC projector lens
The NEC projector lens lets you make clear presentations, thanks to its 2x zoom ratio. This projector lens is ideal for medium-sized conference rooms and banquet halls. At only 1.9 pounds, this projector lens is lightweight, so you can easily take it with you for presentations outside of the office. It can be mounted to the tabletop or ceiling for easy use, and a one-year limited warranty provides peace of mind, ensuring long-lasting use in your office.
NEC projector lens

Optical zoom for clear images

1.5 - 3.02:1 throw ratio

1.9 pounds
Enlarge your projector's display with this NEC projector lens. This versatile DLP display technology projector lens is perfect for presentations in the classroom, office or other medium-sized room.

Larger Images
Upgrade your NEC projector with this optical zoom projector lens, which provides a 1.2 to 3.02:one throw ratio, increasing the allowable space between the projector and projection screen or wall while still creating a crisp and clear image that is easy for your audience to view. The 2x zoom ratio makes the projected image larger than the projector alone, making this device an ideal tool to use when you need to accommodate a large audience in the classroom or workplace.

Compatible and Secure
Made for use with a variety of NEC NP-model projectors, this projector lens is perfect for schools and businesses with multiple types of NEC projectors. It allows you to bring the projector lens to the room it is needed in without having to transfer projectors from room to room. It works on projectors in front or rear projection modes and also works just as well with ceiling-mounted or tabletop projectors. The Kensington lock slot helps you keep the device secure when you bring it to conferences or other heavily attended events.