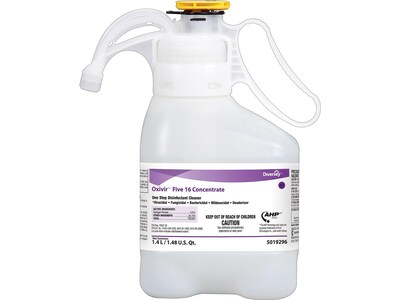 Oxivir Five 16 Diversey SmartDose Disinfectant, Liquid, 47.3 Oz. (5019296)
Oxivir Five 16 Diversey SmartDose Disinfectant, Liquid, 47.3 Oz. (5019296)
Item #: 901-5019296EA
Model #: 5019296
Brand: Oxivir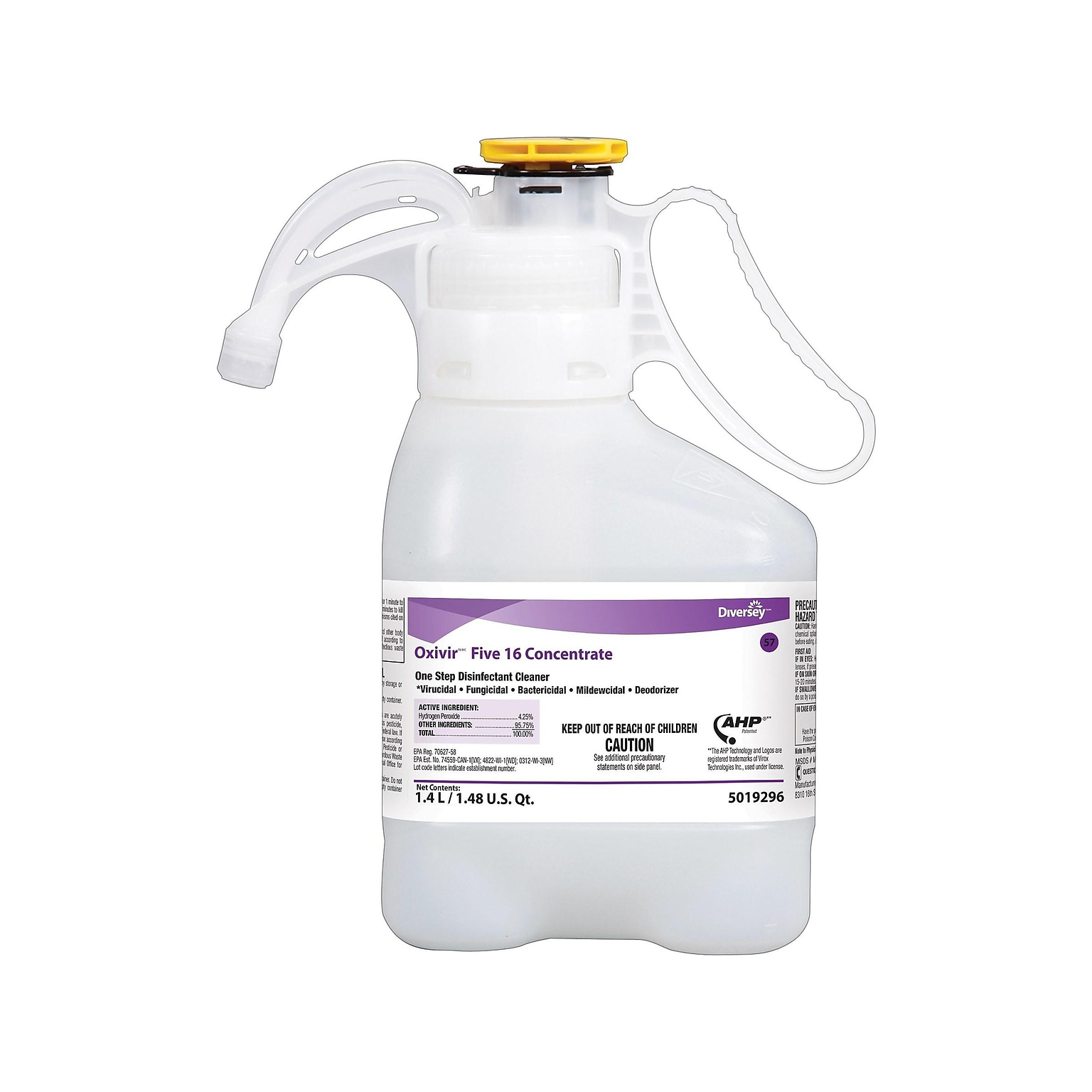 Frequently bought together
Clean up bodily fluids, mildew and fungus on nonfood contact surfaces with this Diversey Oxivir concentrated disinfectant.
Disinfect hard surfaces with this 47.3-ounce bottle of concentrated cleaner. It kills MRSA, norovirus and canine parvovirus to reduce the spread of serious illness, and the SmartDose technology dispenses the ideal amount of cleaner for each situation for safety and cost control. This Diversey cleaner works in five minutes, so infected areas are quickly usable again.
One-step concentrate disinfectant cleaner based on proprietary hydrogen peroxide technology
Dilution ratio: 1:16 for spray bottle, 1:256 for mop bucket
47.3 oz. SmartDose bottle
Contains active ingredients such as propylene glycol n-propyl ether, dodecylbenzene sulfonic acid, ethoxylated linear alcohol, hydrogen peroxide, phosphoric acid
pH level: 1.0 (concentrate), 1.9 (use dilution 1:16)
Virucidal, bactericidal, fungicidal, and mildewcide cleaner designed for healthcare, education, retail, government, BSC; kills norovirus and canine parvovirus
Effective against human immunodeficiency virus HIV-1, hepatitis B and C virus, Pseudomonas aeruginosa, methicillin-resistant Staphylococcus aureus, Salmonella enterica, avian Influenza A, and VRE
Active ingredient breaks down into water and oxygen by-products, no rinsing required
Delivers fast and effective disinfecting and cleaning to walls, stainless steel, glazed porcelain, plastic surfaces, and other hard, non-porous surfaces using patented AHP technology
Designed for healthcare, education, retail, government, and BSC environments
To order secondary labels, contact Diversey Customer Service at 1-800-558-2332 option 3.
Safety Data Sheet
Oxivir
32
0.25
Chemical Active Ingredient(s)
propylene glycol n-propyl ether, dodecylbenzene sulfonic acid, ethoxylated linear alcohol, peroxide
Dilution Control Chemical Type
Disinfectant
Diversey SmartDose
1:16, 1:256
Yes
No
Kill List of Bacteria, Viruses
MRSA, VRE, Norovirus and Canine Parvovirus
300
1
Clean
Clean
Oxivir Five 16 Disinfectant