ProLine™ Carbon Dioxide Fire Extinguishers, 850 psi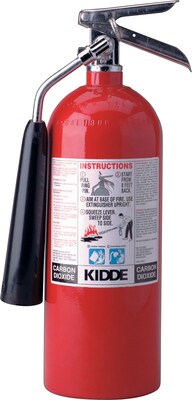 Description
Keep your business environment safe.
Kidde ProLine™ 850 psi Carbon-dioxide fire extinguisher is ideal for commercial/industrial applications. Extinguisher contains CO2 gas that dissipates quickly without leaving residue.
Carbon dioxide fire extinguisher

5-B:C

Size: 5 1/4"(Dia.) x 17"(H) x 8 1/2"(W)

1 each

Easy to pull safety pin and tough

Discharge time: 9 seconds

Discharge range: 8'

Operating pressure: 850 psi

Temperature range: -40 - 120 deg F

Capacity: 5 lbs.

Fire type: Electrical equipment, flammable liquids gases and solvents, mounting position: Upright

Powder-coated cylinder for corrosion protection

Seamless cylinder is strong and lightweight

Clean agent

UL approved

Weight: 14 lbs.

Clear instruction label using graphics to show steps required to operate extinguisher

Impact resistant metal valve, handle and lever

CO2 gas dissipates quickly leaving no residue

Includes wall hanger

Carbon dioxide fire extinguishers

Clean Design
Unlike foam-based fire extinguishers, this ProLine carbon dioxide fire extinguisher doesn't leave behind any residue, which lets you keep your documents and electronics safe. Because it works by depriving fire of oxygen, it can extinguishes fires other types of extinguishers might struggle with. Easy to Use
Simply pull the pin and squeeze the handle to use this ProLine carbon dioxide fire extinguisher. Its movable nozzle helps you cover a wide area without having to move the can, making it easy to point directly at the fire. The low weight of the extinguisher's contents makes it easy to control. Safe to Use
Carbon dioxide is inert, allowing you to use this fire extinguisher on chemical-fueled fires without worrying about dangerous reactions. Its composition also makes cleanup simple, since there is no residue to deal with, allowing you to get your business back up and running as quickly as possible.

Specifications
Operating Distance

: 3-8'

UL-Rating

: 5-B:C

Brand

: Kidde

Customizable

: No

Weight

: 14.40 lbs. per Each