Quartet Infinity™ Glass Magnetic Marker Board, 4' x 3', White, Frameless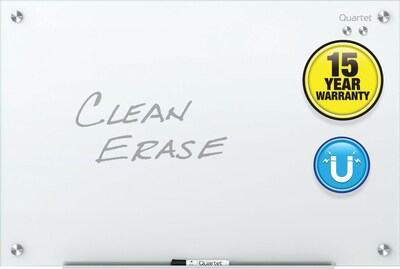 Description
Glass marker boards provide long term durability with a modern aesthetic appeal. The glass surface will not stain, ghost, scratch or dent despite heavy use. The magnetic feature allows for instant hanging of documents and notes, and dry-erase marker glides evenly over the board surface for smooth writing.
Quartet Infinity Magnetic Glass Marker Board Hosts Memos

Give your presentation a boost with this Quartet Infinity magnetic glass marker board. Draft messages with Dry Erase markers or attach memos with magnets.

The Quartet Infinity magnetic glass marker board works with dry erase markers as well as magnets, allowing you to share messages with the office in a range of fun ways. The white color allows messages written in colors from yellow to black to show up brightly and clearly.

White Glass Surface

The smooth glass surface of this whiteboard is easy to clean. Wipe off Dry Erase marks with a dry cloth, and watch them come off cleanly without leaving traces. The non-absorbent nature of the glass doesn't hold onto ink unnecessarily or let ghost marks linger after erasing.

Convenient Tray

Use the tray to keep your markers close at hand, so you never have to search for them when you want to write a memo. The whiteboard includes a Quartet Dry Erase marker and two rare-earth, high-power magnets, allowing you to post messages as soon as you open the box.
Tempered dry-erase marker board with 15 year warranty will not stain, ghost, scratch or dent

4'W x 3'H. Marker tray is included.

Board is easy to install with included pass-through mounting hardware. Hang vertically or horizontally.

White colored glass board surface clearly displays any color dry-erase ink

Includes one Quartet dry-erase marker and two rare-earth, high power magnets

Frameless board design blends seamlessly into any environment

Magnetic quality allows secure hanging of papers from glass surface with rare earth magnets

Non-absorbent glass is easy to keep clean with Quartet whiteboard cleaning supplies

Ideal for heavy use in spaces with moderate traffic
When you have a lot going on, paper calendars and notepads can quickly become filled with notes, events, phone numbers and other bits of information and become hard to read. With the Quartet Infinity marker board, you can write and erase over and over unlimited times. When a note or scheduled event is no longer needed, it's easy to erase it and make room for the next one. The magnetic surface ensures that you can still keep those paper notes around too.

Durable Glass Surface
This marker board is designed for years of continual use. The tough, tempered glass surface is guaranteed not to stain or ghost, eliminating readability problems from past notes showing through that make current notes hard to read. The glass surface also resists scratches and dents, leaving a smooth, even surface for easy writing.

Magnetic
For even more flexibility in remaining organized, the magnetic glass marker board allows you to easily hang papers with magnets directly on the surface. Print out directions, maps or anything you want to reference and attach them to the marker board, eliminating the need to recreate them by hand.

White Surface
The neutral background of the white glass marker board allows any color marker you choose to show up clearly. Organize events by color, or use a separate color for each member of the family.


Specifications
Brand

: Quartet

Weight

: 1.00 lbs. per Each
Customers also viewed
Quartet Glass Magnetic Board; 6x4, White

Quartet® Basic Whiteboard, 4' x 3', Aluminum Frame

When you buy

3

+

Quartet Glass Magnetic Board; 8x4, White

Quartet® Standard Whiteboard, 4' x 3', Silver Aluminum Frame

When you buy

3

+

Quartet Glass Magnetic Board; 24x18, Wht

Quartet Infinity™ Glass Magnetic Marker Board, 4' x 3', Black, Frameless

When you buy

3

+

Quartet® Dry-Erase Board, 4' x 6', Aluminum Frame

When you buy

3

+

Earth Magnetic 36x48" Dry-Erase Board

Quartet® Standard Whiteboard, 5' x 3', Silver Aluminum Frame

When you buy

3

+

Quartet® Dry-Erase Board, 2' x 3', Aluminum Frame

When you buy

3

+

6'x4' Glass Marker Board w/ Frosted Surface

When you buy

3

+

Quartet Infinity™ Glass Magnetic Marker Board, 6' x 4', Black, Frameless

When you buy

3

+

Quartet Infinity™ Glass Magnetic Marker Board, 24" x 18", Black, Frameless

When you buy

3

+

CLI Marker Board Eraser

Quartet® Fusion Nano-Clean™ Magnetic Whiteboard, 4' x 3', Silver Aluminum Frame

When you buy

3

+