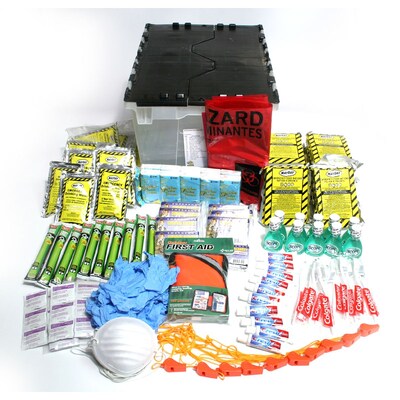 Ready America 10 Person Emergency Kit (70551)
Ready America 10 Person Emergency Kit (70551)
Item #: 901-206076RAM
Model #: 70551
Brand: Ready America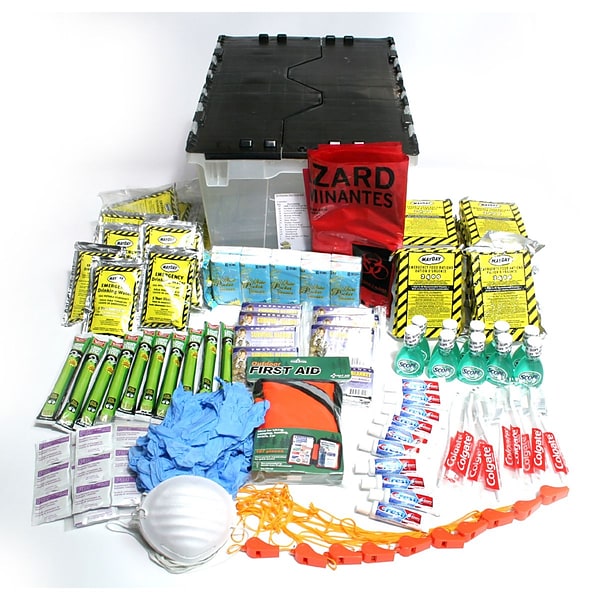 Ready America™ Rapid Care 10-People emergency kit perfect for groups offer first aid supplies and food, water, sanitation.
Ready America™ Rapid Care Emergency kit packed in a convenient carry and store tote is ideal for group of 10. Kit includes emergency lighting, food bars, water packet, survival blanket and all-purpose first aid.
Emergency kit case type: Carry case
People count: 10 person
Provides the food, water, sanitation and emergency lighting and first aid supplies for 10 people
Packed in an easy carry, easy to store tote
Includes: 10 2, 400 calorie food bars (5-year shelf life), 60 water packet 4.225 oz. (5-year shelf life), 10 12 hour light sticks-green, 10 emergency survival blanket, 10 plastic whistle, 10 pairs of nitrile gloves, 10 disposable dust mask
Also includes: 10 tissue pocket pack, 5 bio-hazard bag, 30 pre- moistened towelettes, 10 toothbrush, 10 toothpaste, 10 mouthwash, 1 107-piece all-purpose first aid kit, 1 12 gallon tote

Multiple Emergency Preparedness
The items in this Ready America Rapid Care emergency kit can be used during various types of emergencies. The kit has gloves and dust masks to help protect against contaminants, and it has survival blankets for warmth. A 107-piece first aid kit lets you treat small injuries that happen on the job all year round. Nourishment and Hydration
Ensure your team stays nourished and hydrated during any emergency while you're waiting for help. This Ready America Rapid Care emergency kit contains 10 2,400-calorie food bars and 60 4. 225-ounce water packets to keep your team going. Assorted Toiletries and Lighting
This survival kit includes assorted toiletries, such as toothbrushes and toothpaste, to meet hygiene needs in the event you end up spending the night at the office. Emergency lighting is also available via 12-hour light sticks that light your way should the power go out.
Ready America
First Aid and Medical Type
First Aid Kits
Fabric
1
Assorted