>

>

>

>

Retractable Highlighters
Retractable Highlighters
(7 Products)
Sort By:
Best Match

Best Match

Price:High-Low

Price:Low-High

Sale

Rating:High-Low

Rating:Low-High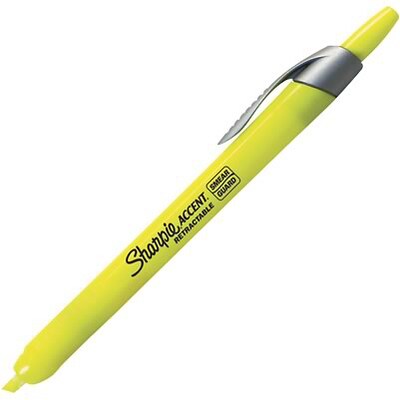 Deal price includes 2 dozen Sharpie® Accent® Retractable Highlighters, plus a 2-in-1 Duffel Bag Picnic Cooler FREE. Order in full-deal quantities, same deal number. While quantities last. Premiums subject to availability. A substitution of equal or greater value may be made. Offer expires 06/29/06.
Easy push button so there is no cap to lose
Safety Seal™ prevents leaks and dry-out from occurring
Specially formulated to be quick-drying, odorless and AP Certified nontoxic
Yellow
FREE All-in-1 Picnic Cooler Duffel holds everything you need for a picnic; 2 plastic plates and acrylic wine glasses, cutting board, napkins and stainless steel silverware; Size: 9-1/2x16-1/2x9-1/2"
SS,35570