Roylco Wipe Clean Worksheet Cover Dry-Erase Whiteboard, Plastic Frame, 9" x 12" (R-59040)
Roylco Wipe Clean Worksheet Cover Dry-Erase Whiteboard, Plastic Frame, 9" x 12" (R-59040)
Item #: 901-JV1610259
Model #: R-59040
Brand: Roylco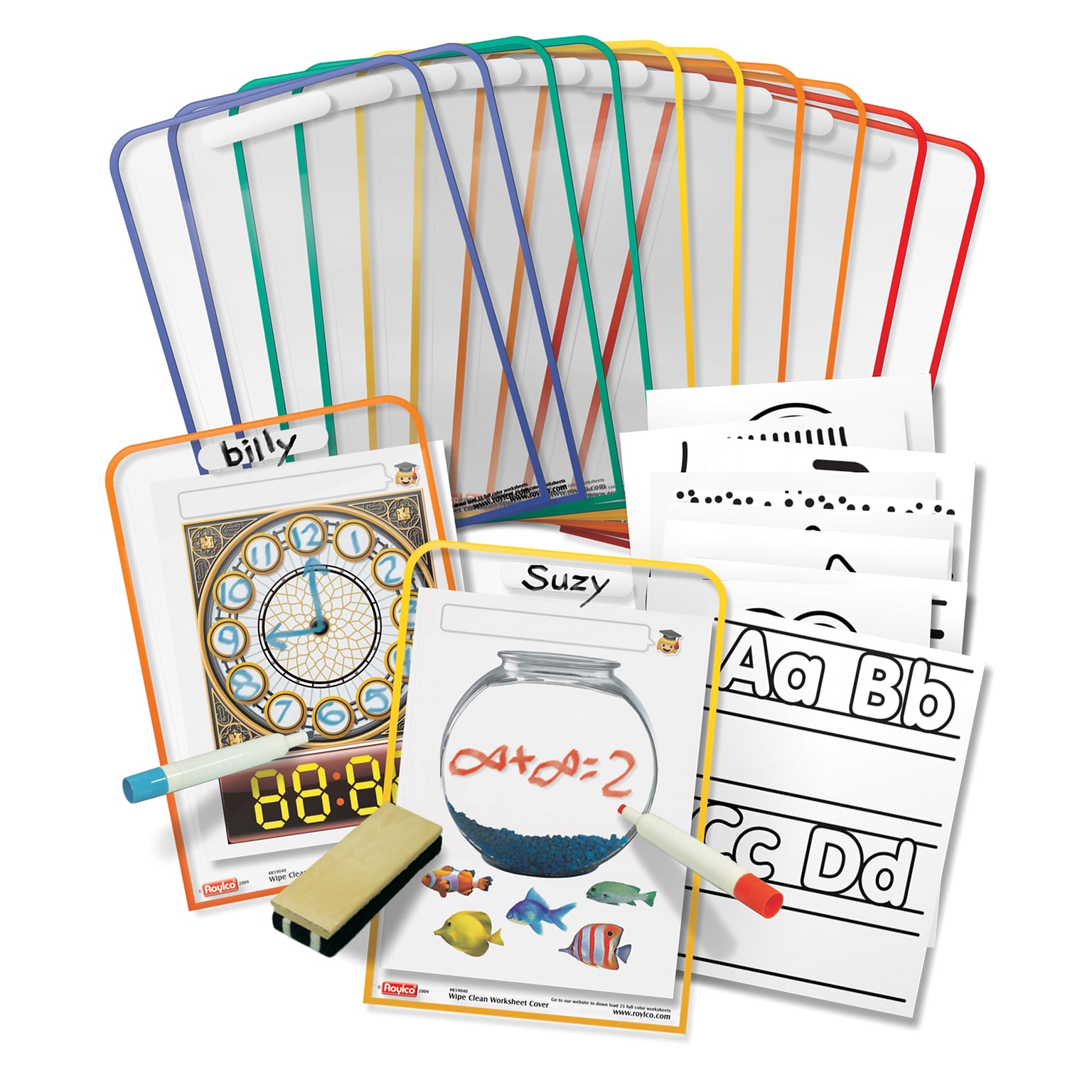 Frequently bought together
Wipe Clean worksheet cover saves paper and reduces prep time for teachers and activity planners.
Save paper, improve the effectiveness for worksheets, engage students, reduce prep time, and increase teaching opportunities with our set of adaptable dry erase covers. Slide in your favorite worksheets or go to our website and download 25 full color worksheets covering language, writing, science, geography and math concepts. Covers measures 8.8" x 12.7" (22 x 32 cm). Each pack includes 10 re-usable dry erase worksheets covers in 5 colors. Includes idea guide.
Worksheet covers are a great way to practice while saving paper.
Dimensions: 13''H x 10"W
Surface Material: Plastic
Wipe clean worksheet cover helps to reduce preparation time
Comes in assorted colors for a new look
Helps to save paper, improve the effectiveness for worksheets, engage students and reduce prep time
Get your favorite worksheets or visit website and download 25 full color worksheets covering language, as well as writing
Comes with 10 reusable dry erase worksheets, in 5 colors
Comes with idea guide
Reusable wipe-clean covers save paper, reduce preparation time and make worksheets more fun for students
Contains 10 covers in five bright colors
Get young students engaged in lessons with this Roylco wipe clean worksheet cover. Children can write on the reusable material with markers and crayons as many times as needed, giving them freedom to tackle activities at their own pace. This multipack comes with an idea guide, and full-color worksheets are available from the Roylco website, providing everything you need to jump-start lessons.

Promotes Learning
Encourage students to use problem-solving techniques and show their progress with this reusable worksheet cover. Slip your printouts right into the worksheet cover, and let children use the dry-erase surface to figure out math problems, practice penmanship or write vocabulary words. Each cover features a blank space for the student's name, making it easy to keep track of who is currently using the worksheet.

Conserves Resources
Save paper and ink while accommodating an ever-changing roster of students. Use this 8.8" x 12.7" worksheet cover to protect your handout from spills, tears or messy fingerprints, so you can reuse them year after year. Students write on the cover without damaging the underlying paper, helping you conserve printing supplies, avoid unnecessary waste and reduce your lesson prep time.

Assorted Colors
Enjoy the convenience of a multipack, which lets you outfit your most frequently used handouts with covers. A set of five assorted colors lets you categorize worksheets by subject or content for easy filing as your collection expands.


Frameless
Lap Board
Less than 2' x 2'
Moderate Use
Roylco
White
8
Dry Erase, Resists Ghosting
13
Magnets
Nonmagnetic
Not Mobile Capable
10
Whiteboard
Blank
Plastic
Clear with blue, green, yellow, orange or red frame
1.35 lbs. per Pack
1.35
10