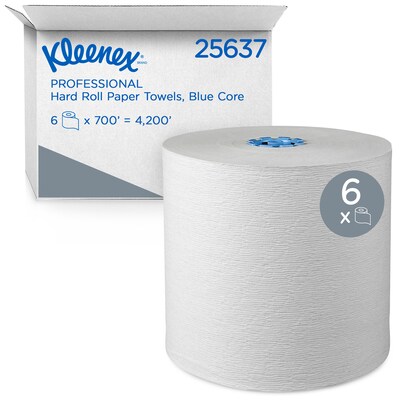 Kleenex Professional Recycled Hardwound Paper Towels, 1-ply, 700 ft./Roll, 6 Rolls/Carton (25637)
Kleenex Professional Recycled Hardwound Paper Towels, 1-ply, 700 ft./Roll, 6 Rolls/Carton (25637)
Item #: 901-25637Q
Model #: 25637
Brand: Kleenex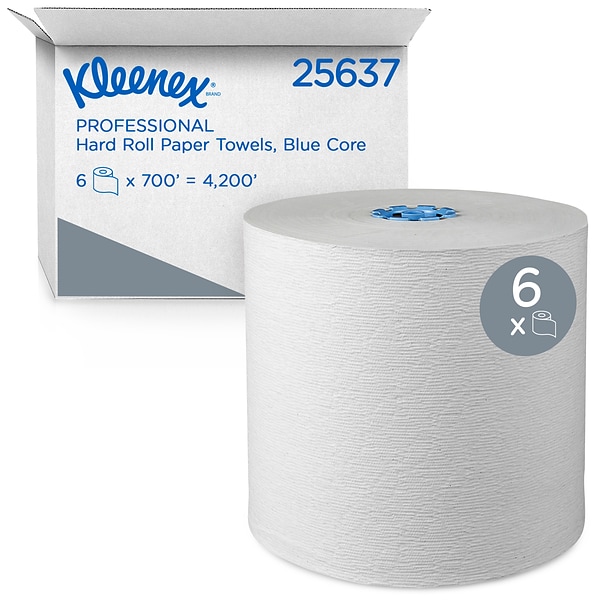 Supply sinks and wash areas with these Kleenex blue-core hardwound paper towels.
Kleenex® Hard Roll Paper Towels (25637) with Premium Absorbency Pockets, White, for Dispenser (Blue-Core), 700'/Roll, 6 Rolls/Case, 4,200'/Case
Hardwound paper towels for drying hands or cleaning up messes
Contains six rolls per carton
Single-ply roll towels are designed to reduce maintenance time, minimize outages, and reduce waste
700'/Roll, 6 Kleenex® Hard Roll Paper Towel Rolls/Case, 4,200 Feet/Case
Absorbency Pockets absorb lots of water fast for superior hand drying performance, so guests use fewer paper towels
Kleenex® paper towel rolls combine a soft feel with the premium performance of commercial paper towels
1.75" core size (blue core) is compatible exclusively with Scott® Pro Electronic Hard Roll Towel Dispenser
These paper towels meet EPA minimum standards, and are FSC certified and ECO Logo certified
Kleenex® (formerly Scott® Pro Plus) provides state of the art solutions to maximize productivity. You can trust Kleenex® Hard Roll Paper Towels, with premium Absorbency Pockets, to provide efficient, reliable hand-drying for your washroom or break room. These paper towels are exclusively compatible with the Dispenser system (blue-colored cores), which can adapt to suit your needs. These dispensers have internal modules that can plug and play to give you the flexibility to build a dispenser customized to meet your requirements. Plus, the paper towels' fast-drying Absorbency Pockets mean that users will need fewer towels to dry their hands. The result? More towels left in the dispenser, more times between refills and less paper waste. Drying is one of the most important steps in the hand washing process, and how you dry matters. Providing high-quality Kleenex® Hard Roll commercial paper towels to your guests, clients and employees is one important piece of the workplace hygiene puzzle. Compatible with The Kimberly-Clark Professional ICON™ dispensing system with interchangable faceplate technology - available for paper towels, skin care, and toilet paper dispensers found in the ICON collection.
700/ROLL
Kleenex
Certification & Standards
EPA, EcoLogo, FSC
White
No
7.938
24
1-10 Rolls
Hardwound
Yes
Yes
350
6
Scott Pro
1-Ply
White
16