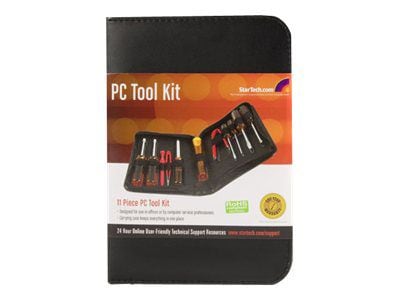 StarTech CTK200 PC Computer Tool Kit With Carrying Case1
StarTech CTK200 PC Computer Tool Kit With Carrying Case1
Item #: 901-2755242
Model #: 495646
Brand: StarTech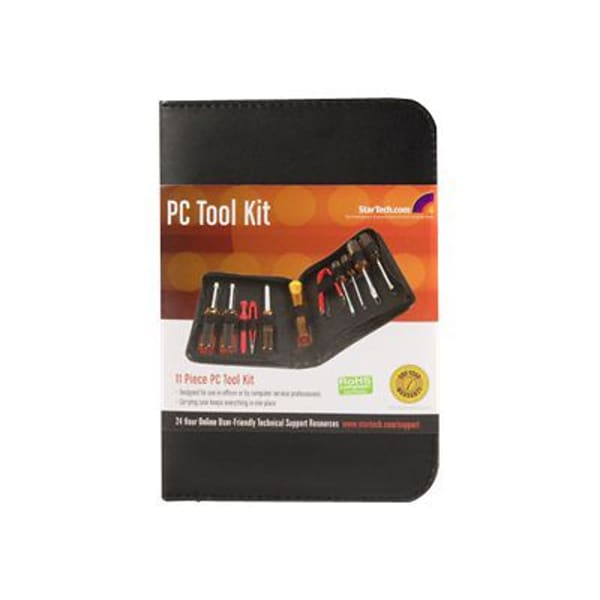 STARTECH.COM® PC Computer tool kit with carrying case has necessary equipments to service/repair computers or other electronics that is perfect for office use.
STARTECH.COM® Computer tool kit features a high-quality vinyl coating with added durability, that is stored in one place for easy access/transportation. Kit comprises of chip inserter/extractor, Philips/slotted screwdrivers and nut drivers.
Toolkit features a high quality vinyl case and is zippered to keep everything in one place
It allows to keep important, common-use tools in one, portable location
Package contents: Assemble tweezers, chip extractor, chip inserter with pin straightener, nut driver (1/4 "), nut driver (3/16"), Philips screwdriver (# 0), Phillips screwdriver (# 1), slotted screwdriver (1/8"), slotted screwdriver (3/16")
2 years limited warranty
Durable Tools
The StarTech.com computer tool kit with carrying case contains the tools you'll use the most when making repairs on computers including assemble tweezers, chip inserter, chip extractor, two types of Philips screwdrivers, two types of nut drivers, and slotted screwdrivers in two sizes. There's no need to spend money purchasing these tools individually.
Stay Organized
If you have ever had to search for a tool, then you know how frustrating it can be. The toolkit comes in a zippered vinyl case that has individual slots for each tool to help you keep them organized. Find the tool you need when you need it.
Mobile Repairs
The case measures 1.4 inches high by 6.1 inches wide by 8.5 inches long, which is small enough to take along in a purse, backpack, briefcase, or toolbox. Take the StarTech.com computer tool kit with carrying case with you wherever you go, so you can make repairs wherever you happen to be.
StarTech
Computer Cleaning Pack Size
Each
Repair Kit
1
Each