It doesn't matter if you whip up an exceptional cup of coffee or if you're still learning the art of brewing coffee. Nor does it matter whether you use a classic Cuisinart coffeemaker or the now-ubiquitous K-Cups. The fact remains: When you add non-dairy creamer into the mix, you can elevate the flavor and texture of any cup of Joe.
Not only do many non-dairy creamers boast a rich texture and a huge variety of smooth flavors, but they also offer a longer shelf life than dairy-based creamers, which can reduce waste and save money. Additionally, using non-dairy creamer at the office ensures people with lactose intolerances can still enjoy a flavorful brew. By stocking your breakroom with some of the best non-dairy creamers, you can ensure good vibes during every coffee break.
Best non-dairy creamers, determined by rankings from Quill customers:
Nestle Coffee-mate Coffee Creamer—Original (Liquid)
Nestle Coffee-mate Coffee Creamer—French Vanilla (Liquid)
International Delight Liquid Creamer—French Vanilla (Liquid)
Nestle Coffee-mate Coffee Creamer—Sugar-Free French Vanilla (Liquid)
Nestle Coffee-mate Coffee Creamer—Original (Powdered)
Nestle Coffee-mate Coffee Creamer—Hazelnut (Powdered)
Nestle Coffee-mate Coffee Creamer—Cinnamon Vanilla Crème (Liquid)
Nestle Coffee-mate Coffee Creamer—Café Mocha (Liquid)
Nestle Coffee-mate Coffee Creamer—Salted Caramel Chocolate (Liquid)

Get code to share this infographic on your site
Read on for details of the best non-dairy creamers: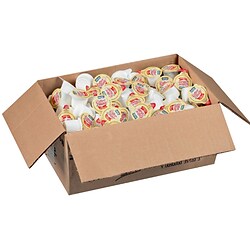 The original Coffee-mate flavor is lactose free, cholesterol free, and gluten free—but it's definitely not flavor free. In fact, this old-school classic is one of Quill's best-ever sellers. And because it's shelf-stable and doesn't require refrigeration, storing this creamer variety is incredibly convenient. (That's good news, because your team will probably request you buy it in bulk.)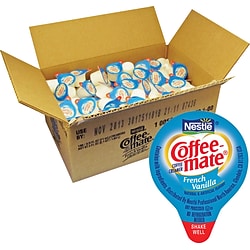 It's probably no surprise to see French vanilla make it onto this list, given that it's one of the most popular coffee flavors in the country. This creamer offers rich, creamy, vanilla flavor without lactose or cholesterol.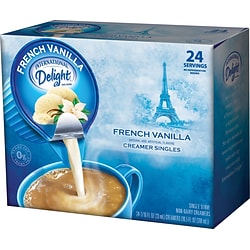 If your officemates are beholden to a particular brand of creamer, you can still satisfy everyone's French vanilla cravings with this offering from International Delight. The non-dairy creamer is cholesterol free and possesses a flavor so creamy you'll be shocked it didn't come straight from a cow.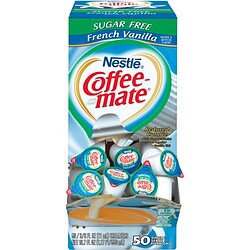 Team members who are watching their sugar intake don't have to sacrifice the creamer flavors they've come to know and love. This velvety-smooth creamer features classic vanilla taste without added sugars, and with 40 percent fewer calories than original French vanilla creamers. Not only that, but it's also lactose free, cholesterol free, and shelf stable.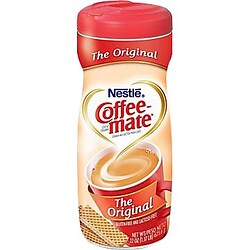 Some people swear by liquid creamer, but others prefer the powdered stuff. This is one of the best options for the latter cohort. From this humble powder emerges a surprisingly creamy, rich, flavorful creamer. While its makeup might be different, the powdered form of Coffee-mate boasts many of the same benefits as the liquid version: It's lactose free, cholesterol free, and shelf stable for a whopping two years.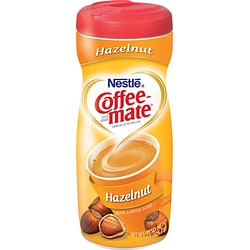 Team members who prefer powdered creamer to the liquid variety don't have to sacrifice flavor choices, as evidenced by this powdered hazelnut creamer. It's easy to pour, lactose free, shelf stable for up to two years, and jam packed with velvety-smooth texture and a sweet, nutty, well-balanced flavor.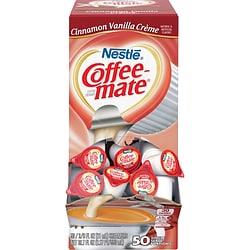 The luscious vanilla coffee flavor we all know and love gets a surprising upgrade in the form of cinnamon spice, which adds warmth and richness to any brew. While cinnamon gets added in, lactose, cholesterol, gluten, and trans fats are still refreshingly absent from this flavorful creamer.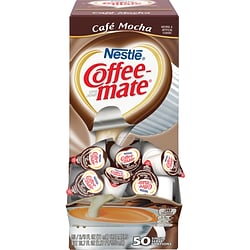 Who doesn't love the taste of chocolate in the morning? This liquid mocha creamer features a decadent, chocolatey flavor that offers warmth and richness to perk up even the gloomiest day. And it does it all without any cholesterol, lactose, gluten, or trans fats. Go ahead and buy this one in bulk, because it's probably going to be a fan favorite.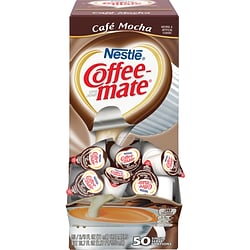 If the café mocha described above is a hit in your office, then people will go nuts for this salted caramel chocolate flavor. The name says it all: The richness of chocolate combines with the sweetness of caramel, while a touch of salt ensures the whole thing doesn't get too sweet. It all comes together in a lactose- and cholesterol-free product.
As these fan favorites prove, the best non-dairy creamers can take a variety of forms. Whether your team members prefer chocolatey flavors or classic French vanilla, this list offers something for everyone.
Share this infographic on your site
Laura Newcomer
Laura Newcomer is a writer, editor, and educator with multiple years of experience working in the environmental and personal wellness space. Formerly Senior Editor at the health site Greatist, Laura now lives and works in Pennsylvania. Her writing has been published on Washington Post, TIME Healthland, Greatist, DailyBurn, Lifehacker, and Business Insider, among others. She has taught environmental education to students of all ages in both Pennsylvania and Maine, and prioritizes living an environmentally sustainable lifestyle. She's a big proponent of creating self-sustaining communities and accessible healthy food systems that care for both people and the earth. An avid outdoorswoman, she can often be found hiking, kayaking, backpacking, and tending to her garden.