Teaching isn't easy. But it's easier when you have the school supplies you need to create a rich learning environment. Whether you're a brand-new teacher or a seasoned one moving to a new grade level, keep reading to find an ultimate teacher checklist of supplies for each grade level. Plus, learn tips and tricks to stock your classroom on a lean budget.
Stocking a Classroom
As summer draws to a close, both parents and teachers have their minds on supplies. Parents typically provide a number of classroom supplies, including construction paper, art supplies, binders, scissors, and pencils. However, teachers also need to stock some classroom supplies.
Not sure what you need for your classroom? Your needs will vary by grade level, but let's start with the basics. Whether your students arrive the first day clutching a parent's hand or are nearly adults themselves, you'll likely rely on these fundamentals.

How Teachers Can Save Money on Classroom Supplies
There's no getting around it: School supplies are pricy. An overwhelming majority of teachers (94 percent) buy classroom school supplies out of pocket, spending an average of $479 per year. Here are some ways to ease the burden of stocking a classroom.
Ask for donations
Make a wish list to post in your classroom or collaborate with a parent-teacher organization to hold a formal supply drive.
Crowdfund
Teachers can solicit online donations on DonorsChoose.org by creating a project and listing the essential supplies needed for it. Teachers ask for everything from chairs to computers and ukuleles. Donors scroll through or search for certain types of projects to fund, and some benefactors even provide matching funds for other donors. According to DonorsChoose.org, 85 percent of $200 projects and 47 percent of $2,000 projects are funded. The average cost of a successfully funded project is $597.
Look for sales and shop in bulk
Take advantage of August's back-to-school blowouts to stock your classroom. Some retailers also offer discounts to teachers year-round. Consider going in on bulk supplies with other teachers to get the best deals.
Apply for a grant
Don't let grant paperwork scare you away. Various local, statewide, and federal grants help teachers stock classrooms. The Department of Education keeps an updated list on its website.
Ask retiring colleagues
You may be in the acquiring mode, but more seasoned teachers are probably looking to downsize or clean out supply cabinets. Ask teachers who'll be retiring soon if they'd be willing to share some of their stockpiles.
Stocking the Elementary School Classroom
Most elementary students spend the majority of the day in one classroom where they learn different subjects. Since younger kids don't have a knack for keeping track of their own supplies, nor do they have lockers, elementary classrooms need more furniture and supplies than classrooms for older children.
Elementary classrooms should feel bright, warm, and welcoming. Most include bulletin boards, which are especially important during the primary years. Use them to highlight rules and routines, reinforce skills and concepts you're teaching (such as the alphabet or parts of speech), and showcase students' work or achievements. Don't be afraid to make bulletin boards creative, colorful, and fun, but be cautious about decorating the classroom too much. Students tend to get more distracted in heavily decorated rooms, according to a study conducted at Carnegie Mellon.
Free play helps young kids develop cognitive, emotional, social, and physical skills, and contributes to proper brain development. Don't forget to stock plenty of toys, shapes, blocks, and games.

Stocking a Middle-School or High-School Classroom
While most elementary school teachers teach all subjects, usually to a single grade level, middle-school and high-school teachers specialize in one or two subjects and may teach 120 or more students in multiple grade levels.
Guiding children through the challenging and exhilarating years between childhood and adulthood isn't easy, but it has some perks. Older students can debate, construct thesis questions, and reason. Moreover, they can be trusted around supplies that aren't safe for younger kids.
In general, middle- and high-school classrooms require less furniture and fewer supplies because students have lockers, provide more of their own necessities, and travel between classrooms throughout the day. Depending on the grade level, supply needs for middle school may overlap with elementary needs. Browse the elementary list to decide if any supplies may be helpful in your classroom.
High school students are busy. Some may be on several sports teams, in a handful of clubs, and have an after-school job. They're also notoriously sleep deprived, so it can be difficult to get and keep their attention. Encourage older students to stay alert and engaged with a loud bell or chime to grab their attention when needed. And buy a soft, squishy ball to throw to students when it's their turn to answer a question. Physical activity keeps students more alert and engaged.
Older students are supposed to keep track of their own supplies, but some will inevitably forget writing utensils. A box of pencils will come in handy to lend out as needed. If you have a late-paper policy, also consider investing in a date stamp to document when students turn in assignments.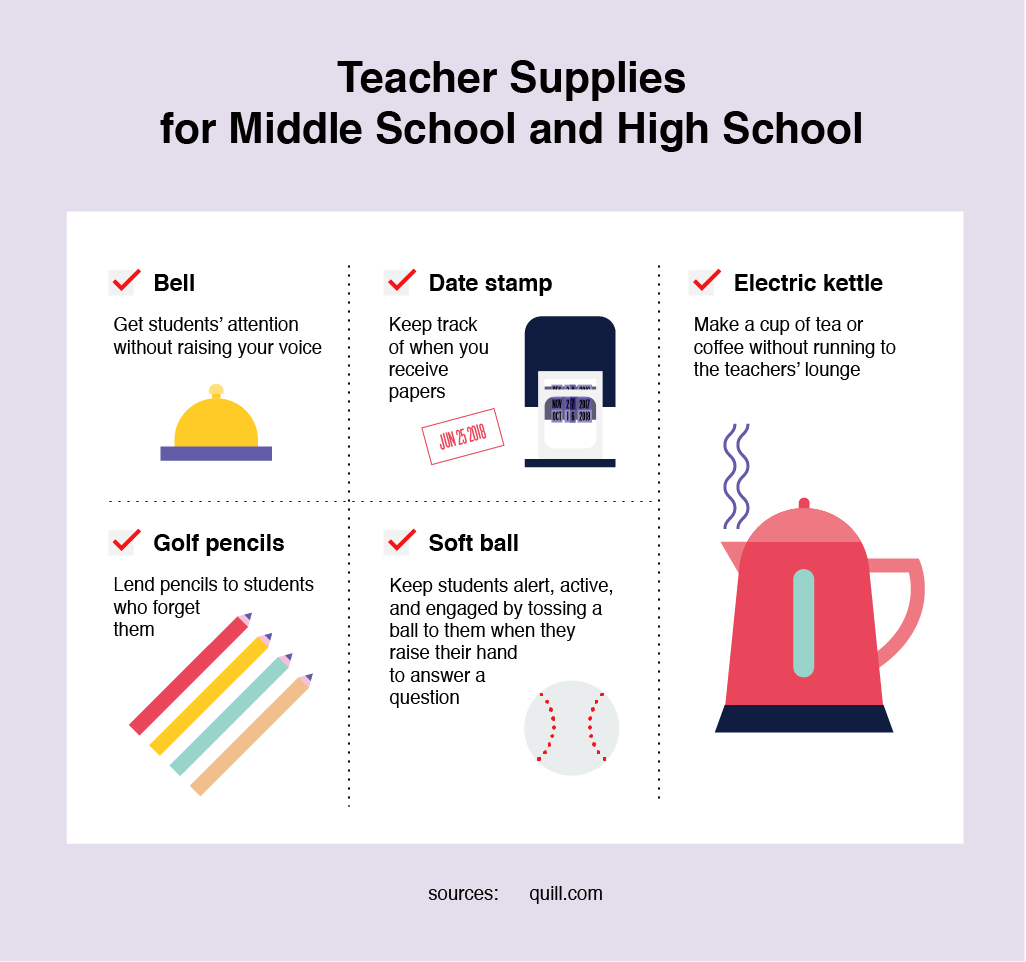 Conclusion
By stocking up on essential supplies, you can create a warm, welcoming, and organized learning environment where you and your students thrive.

Share this infographic on your site
Abby Quillen
Abby Quillen is the author of the novel The Garden of Dead Dreams and the editor of two anthologies. Her articles and essays have appeared in YES! Magazine and The Christian Science Monitor and on Common Dreams, Nation of Change, Reader Supported News, The Daily Good, Truthout, and Shareable. She lives in Eugene, Oregon, with her family. When she's not writing, she grows vegetables and weeds, bikes and walks as much as she can, and jots down cute things her kids say. Visit her at abbyquillen.com.