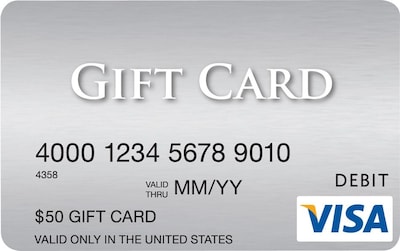 Due to federal money laundering laws Quill cannot not sell more than $2,000 in gift cards in a single transaction.

QuillCASH™ cannot be redeemed for or applied against third-party gift card purchases.
Description
Visa $50 Gift card is an ideal way to express your feelings and surprise loved ones during festive occasions.
Visa is the #1 selling gift card in the United States. The card can be used at millions of merchants in the U.S., including online - everywhere Visa debit cards are accepted. The Visa Gift Card is issued by MetaBank™ pursuant to a license from Visa U.S.A. Inc. MetaBank; Member FDIC.
Additional Purchase Fee: $5.95 per card

Visa Gift Cards can be used to buy merchandise and services anywhere

Gift Cards and phone cards are non–refundable and non–returnable. They are valid only at the retailer/service provider listed on the card. Prepaid cards cannot be redeemed for cash. Specific terms and conditions are included with each card.

Use of card constitutes acceptance of the following terms and conditions:
In store and Online - Gift card valid in U.S. Only - Visa Gift Cards can be used to buy merchandise and services anywhere Visa debit cards are accepted, except where a manual imprint is required. PIN Now Available. To request a PIN call the number on the back of your card. No cash or ATM access. No Fees After Purchase. Additional Purchase Fees included in price.Visa Gift Card (Card) Frequently Asked Questions and Terms & Conditions Important Notice Give this document to the recipient of the Visa Gift Card for any future questions or issues. Frequently Asked Questions What is a Card and how do I use it? The Card is a Visa Prepaid Gift Card that can be used to purchase merchandise and services anywhere Visa Debit Cards are accepted. It is not redeemable for cash, except as required by law. It cannot be used at ATMs, for gambling, or at merchants requiring a manual card imprint. Additional restrictions may apply. We also suggest that you write down the Card number and Customer Service number from the back of the Card on a separate piece of paper in case the Card is lost or stolen. The amount of every purchase you make will automatically be deducted from the value on the Card. You should select the "credit" option when making a purchase at any merchant with an electronic terminal. How can I check the balance in my card account? There are three ways you can keep track of your balance: visit website, or call to make automated balance inquiries 24/7, or track your balance as you spend. Some retailers do not have access to the remaining balance in your card account. Do I need to register my Card for online, mail or telephone purchases? Yes, online, mail and telephone order merchants often require that personal information, including name, address, telephone number and email address of the cardholder be verified with the Card-issuing bank prior to purchase. If you wish to make online, mail or telephone order purchases, you should go to website to register your Card. Unless you register your Card in advance, there may be no way an online, mail or telephone order merchant can confirm your identity. Without such confirmation, the merchant might decline your purchase even if there are sufficient funds in your card account. Do fees apply after my Card was purchased? No. There are no fees after purchase. Do the funds in my card account expire? No, the funds in your card account do not expire. Does my Card expire? Yes, subject to applicable law, your Card will no longer work when the remaining value in your card account is equal to $0 or the "valid thru" date printed on the front of your Card has passed. If funds still remain in your card account after the "valid thru" date, please call to have a replacement Card with an updated "valid thru" date issued and mailed to you at no cost. The balance in your card account will remain the same. Can money be added to my card account after the Card is purchased? No, the Card is disposable. Your card account cannot be reloaded. When all value is used, the Card should be destroyed. Do not give your Card to a merchant to destroy. What if my purchase is greater than the value available in my card account? You must advise the merchant how much is available in your card account. The merchant may complete a split tender transaction and charge your card account for the available balance. The remaining amount of your purchase would require another form of payment. Can I use my Card at restaurants or other service industries when I have enough money left in my card account to cover the bill for food or service? Some restaurants and other service-oriented merchants may factor in an additional 20% (or more) to cover any tip you may leave on the purchase. If this occurs, and your total bill, after adding in the additional 20% (or more), exceeds the amount available in your card account, the transaction will be declined.
Specifications
Gift Card Type

: Classic

Dollar Amount

: $50

Gift Card Class

: Specialty

Brand

: Visa

Customizable

: No

Weight

: 1.00 lbs. per Each