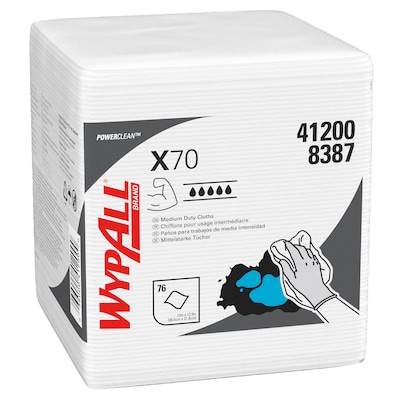 WypAll PowerClean X70 Medium Duty Wipers, White, 76 Sheets/Pack, 12 Packs/Carton (41200)
WypAll PowerClean X70 Medium Duty Wipers, White, 76 Sheets/Pack, 12 Packs/Carton (41200)
Item #: 901-812441
Model #: 4120050
Brand: WypAll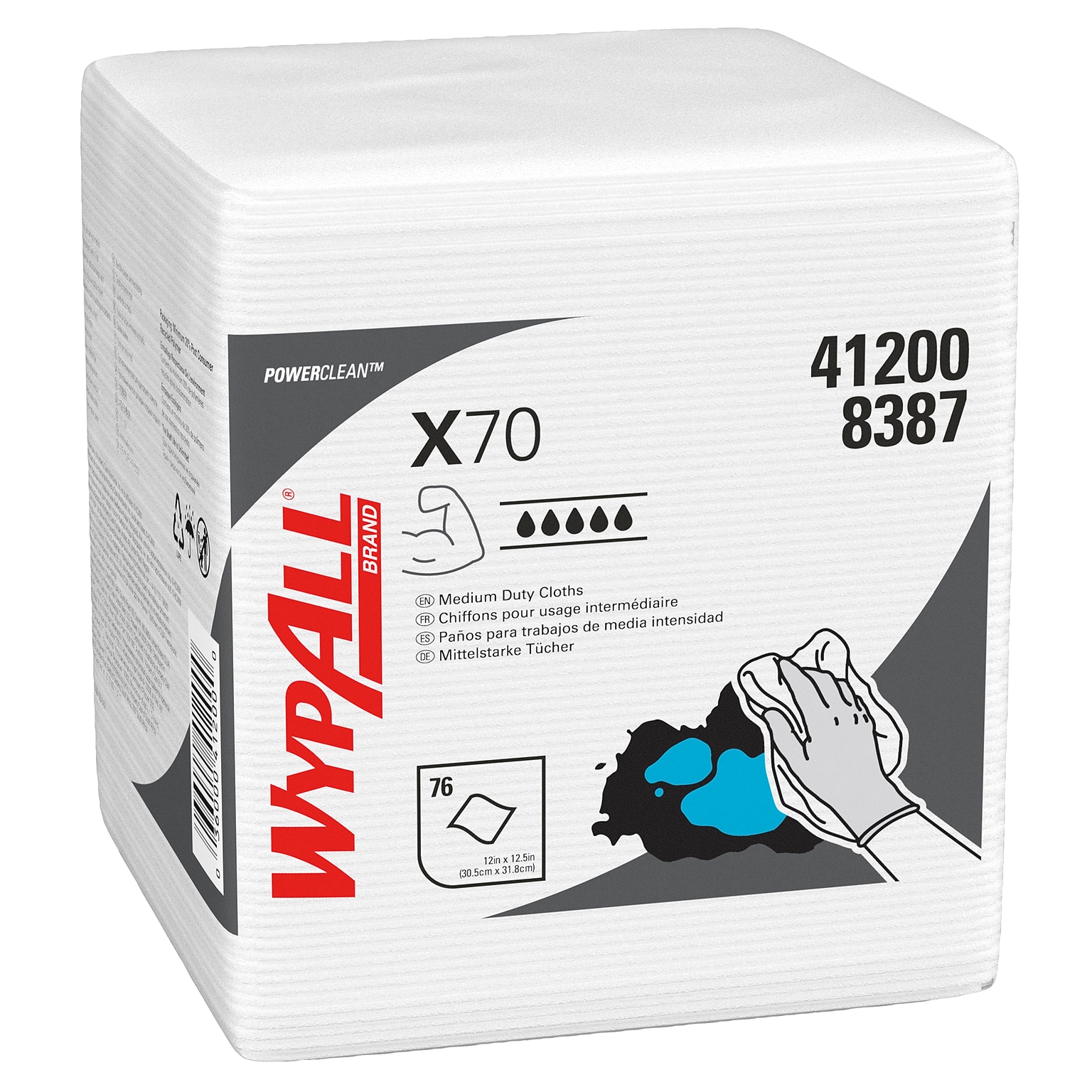 Frequently bought together
Rub off dirt and grime from surfaces and equipment with highly absorbent Kimberly-Clark WypAll white unscented Hydroknit wipers.
Tackle stained, greasy surfaces with these high-performance white unscented wipers. Made with Hydroknit technology, they heavily absorb liquids and oils faster than cloth rags, and their high strength provide long-lasting use. This 76-pack of heavy-duty Kimberly-Clark WypAll Hydroknit wiping rags is ideal for general and industrial cleaning jobs.
76 Sheets/Pack; 12 Packs of WypAll® PowerClean™ X70 Medium Duty Cloths/Case; 912 Sheets/Case; White; Quarterfold; Long Lasting Towels
These medium-duty cleaning cloths are durable, absorbent cloths that stay strong for cleaning performance
These industrial cloths tackle dirt, grime and oil and are great for solvents.
Fast absorbing, tear resistent premium cloth wet or dry!
These medium-duty cloths absorb and release large amounts of water!
WypAll® is the number one brand of disposable wipes in the US and Canada. Maximize performance while minimizing time, effort and product waste. If you've been using either laundered shop towels or textile shop rags, you can trust WypAll® PowerClean™ X70 Medium Duty Cloths. They are heavy duty cloths, with high-tech Hydroknit® fast-absorbing material. WypAll® PowerClean™ X70 Medium Duty Cloths premium industrial cloths are made of soft pulp fibers, bonded to a polypropylene base sheet for absorbency and tear resistance, making them suitable for removing dirt, oil, grime and solvents in a variety of industrial and manufacturing industries. Plus, they are so sturdy that they can often be used more than once (once you've used them a few times, they're disposable). They are designed to clean surfaces and tools, making them a must-have for the HVAC, automotive, manufacturing and industrial industries. When you're running a business, it pays to use the very best supplies and WypAll® fits the bill.
WypAll
Cloth, Wiper and Rag Type
Wipers
White
Cloth
X70
White
12