Standing desks are one of the largest trends to transform American workplaces. According to a 2017 survey, a whopping 44 percent of employers provide or subsidize standing desks for their teams (up from 13 percent in 2013).
Why are standing desks sweeping the nation? As it turns out, they offer several impressive perks. Read on to learn six of the many benefits of standing desks—plus the best ways to use these simple tools to boost your health at work.
6 Benefits of Standing Desks
Research suggests standing desks: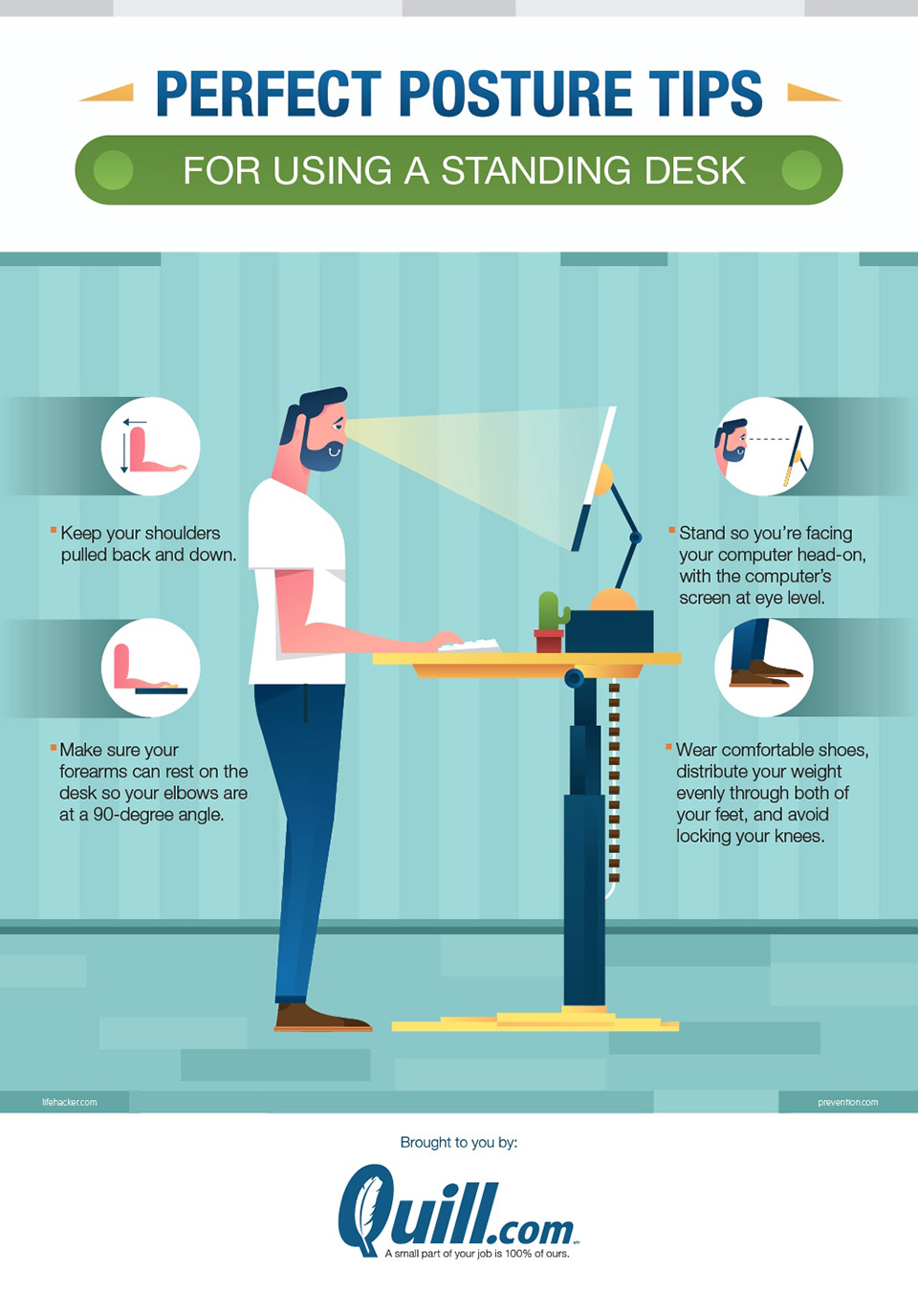 Get code to share this infographic on your site
Tips for Using a Standing Desk
Ready to give a standing desk a try? Set yourself up for success with these standing desk tips and hacks.
Don't feel pressured to break the bank.
There are a huge range of standing desks and accessories to choose from, which can sell for a few hundred up to several thousand dollars. But you don't have to make a major financial investment to enjoy the benefits of a standing desk. There are plenty of affordable DIY standing desk plans to try.
Watch your posture
While standing desks can improve your posture, you have to put in a little effort to enjoy this benefit. Here are a few tips for adopting proper posture at a standing desk:
Make sure your forearms can rest on the desk so your elbows are at a 90-degree angle
Keep your shoulders pulled back and down
Stand so you're facing your computer head-on, with the computer's screen at eye level
Wear comfortable shoes, distribute your weight evenly through both of your feet, and avoid locking your knees
Get a move on
While static standing may be healthier overall than static sitting, it's not without its own risks. There's some evidence that standing without moving for long periods of time may increase the risk of developing sore feet, swollen legs, varicose veins, stiffness, and muscular fatigue. You can help counteract these risks by practicing proper posture and moving throughout the day. For example, take a stroll to the water cooler, encourage coworkers to join you for walking meetings, or pace while you're on the phone.
Don't stand all day long
As noted above, standing constantly has its own potential consequences. Swapping out eight or nine hours of sitting for eight or nine hours of standing may not be the best way to enjoy greater health.
Instead, some experts suggest standing for two to four hours a day. Others suggest sitting for 20 minutes, standing for eight minutes, and then moving for two minutes before sitting again. Moral of the story: Alternate between sitting and standing throughout the day to reap the most benefits of a standing desk.
Whether you're looking to improve your posture, enjoy increased energy, or increase your calorie burn throughout the day (or all of the above), a standing desk may be a great fit for you
Share this infographic on your site
Laura Newcomer
Laura Newcomer is a writer, editor, and educator with multiple years of experience working in the environmental and personal wellness space. Formerly Senior Editor at the health site Greatist, Laura now lives and works in Pennsylvania. Her writing has been published on Washington Post, TIME Healthland, Greatist, DailyBurn, Lifehacker, and Business Insider, among others. She has taught environmental education to students of all ages in both Pennsylvania and Maine, and prioritizes living an environmentally sustainable lifestyle. She's a big proponent of creating self-sustaining communities and accessible healthy food systems that care for both people and the earth. An avid outdoorswoman, she can often be found hiking, kayaking, backpacking, and tending to her garden.