Celebrity Cruise Gift Card $50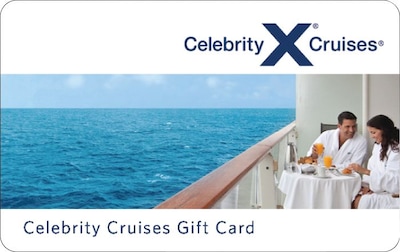 Due to federal money laundering laws Quill cannot not sell more than $2,000 in gift cards in a single transaction.

Description
Celebrity Cruise Gift Card $50
Celebrity Cruises, the world's top-rated premium cruise line; spacious, stylish interiors; dining experiences elevated to an art form; personalized service, guest-to-staff ratio of 2:1; unexpected, trendsetting onboard activities, all designed to provide an unmatchable experience for your precious time.
50

Included in the gift card purchase price is a $1.99 Secure Tracking Fee. This covers trackable shipping through the US Post Office, to ensure safe arrival.

Staples DOES NOT sell more than $2000 of gift cards in any order due to Federal anti-money laundering regulations

Redemption: In-store and Online

No expiration dates

Gift Cards and phone cards are non refundable and non returnable. They are valid only at the retailer/service provider listed on the card. Prepaid cards cannot be redeemed for cash. Specific terms and conditions are included with each card.
Gift Cards redeemed towards a newly booked cruise by calling or visit your travel agent with the card and the same number for them to call. Use of this card equals acceptance of following terms. Card is valid only for Celebrity Cruise sailings and can ONLY be used for new bookings, not to be used to settle any ship board charges. Can redeem up to $500 in gift cards per person/per sailing, $1,000 total per stateroom. Can only be redeemed by US residents calling. Also is number for card information. Cards are not redeemable for cash and cannot be returned for a cash refund, except to the extent required by law. Card has no value until activated. Treat this Card as cash. No expiration date, no fees. You may supplement payments made using a Card with other acceptable forms of payment. This Card cannot be used and is not applicable for charters and may not be used for customized group programs (i.e. value add groups). Lost, stolen or damaged cards replaced only with valid proof of purchase. All terms enforced except where prohibited by law. Issued by Celebrity Cruises Inc.
Specifications
Gift Card Type

: Classic

Dollar Amount

: $50

Gift Card Class

: Travel & Leisure

Brand

: Celebrity Cruise

Weight

: 1.00 lbs. per Each