New Benefit!
$23.99
copy paper
+
Prescription pad template samples
Prescription pad templates allow you to personalize your stationery. They're suitable for any MD and various other medical professionals. These prescription papers are customizable to meet your specific needs. Add the logo of your practice and any other details you need. There are prescription pad samples available for you to peruse.
Read more +
Customize a prescription pad template to create a professional impression
As a physician or other suitably licensed medical professional, prescribing medications is an essential part of your job. Prescription paper is as important to the office as nitrile gloves or stethoscopes. It has an impact on the timeliness of getting medications filled as well as the efficiency of billing. Each piece has to follow certain guidelines to be legal to use. In addition to other paper products, such as exam table paper, notepads, and more, Quill offers many prescription pad samples to try out before committing to a custom print.
Prescription paper legal requirements
Due to the need to prevent fraudulent billing practices and to curb medication abuse, pads need to follow certain requirements.
Measures to prevent photocopying, such as "VOID" messages that show up on copy paper
Coin-reactive inks that change color when exposed to specific metals
A blue pattern background that does not reproduce when scanned or photocopied
Quill's prescription pad samples and final products resist alteration, copying, and erasure. This means that the pharmacy only fills exactly what you direct, and only at the appropriate times. The prescription paper offered by Quill exceeds the requirements set forth by the Centers for Medicare and Medicaid Services. This ensures prompt billing and allows your patients to get the care that they need.
Prescription pad templates for your practice
Quill works with prescribing doctors' offices to customize each piece. Make sure to check for the proper prescription pad sample for your state, if applicable, as different jurisdictions have different rules. Adding custom images and text makes your practice seem more professional, which encourages repeat business and builds up patient confidence. Coordinating the pads with other items, such as appointment cards or letterheads, builds up your brand. There are many different styles available, including for dental, optical, and other applications.
Quill has bulk medical supply operators available during standard hours to take your questions and to ensure that you get the right prescription paper. Note that this service and these products are only available to licensed medical professionals.
Tamper-Resistant Rx
Blanks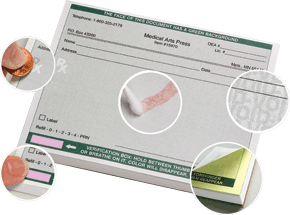 To be considered tamper-resistant for Medicaid, a prescription form must contain all 3 characteristics.
One or more industry recognized features designed to prevent:
Copying – unauthorized copying of a completed or blank prescription form
Erasure – the erasure or modification of information written
Counterfeit – the use of counterfeit
prescription forms
Tamper-Resistant Rx Blanks exceed the minimum Medicaid requirements.
Secure
Secure Rx with 8 security features: heat sensitive verification box, coin reactant ink, the word "security" in microprint, visible fibers in paper, invisible fluorescent fibers in paper, watermark, chemical sensitivity and void pantograph
Copy-proof
Copy-proof Rx with 6 security features: blue pattern background, microprint signature line, void pantograph, security border lists features, reverse Rx and quantity range check boxes
Alter-proof
Alter-proof Rx with 5 security features: thermochromic ink strip, blue pattern background, microprint signature line, void pantograph and security border
State Regulated Rx
Blanks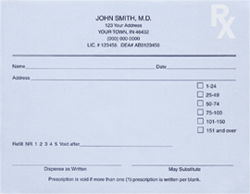 Complies with CMS guidelines and state
regulated requirements
Qualifies for controlled substance prescriptions
DOWNLOAD order form template for your state!
Fill out the order form and mail or fax it:
Mail To:
Quill.com
P.O. Box 43200
Minneapolis, MN 55443-0200
Fax To:
800-328-0023
Order online:
Standard Rx
Blanks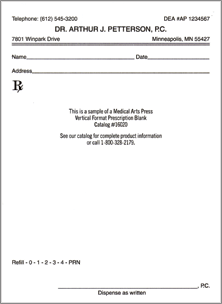 We offer custom Rx blanks to fit your exact needs! Please call 800-789-1186 for assistance and any additional questions!