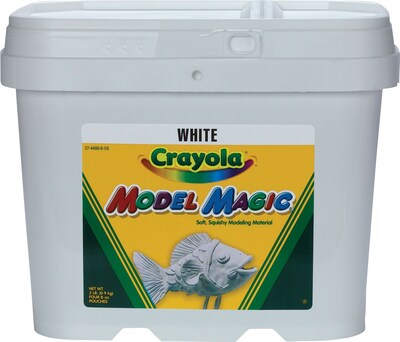 Crayola® Model Magic, 2 lbs., White (57-4400)
Crayola® Model Magic, 2 lbs., White (57-4400)
Item #: 901-JV37983
Model #: 57-4400
Brand: Crayola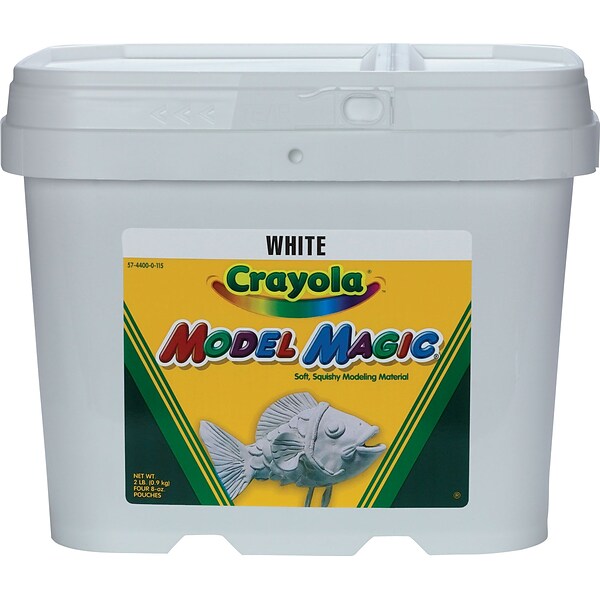 Crayola Model Magic Assorted Colors comes in a resealable bucket. A great way to store Model Magic, the resealable bucket holds loads of soft and squishy modeling material so you can use it again and again.
A unique, lightweight modeling material perfect for any age group or project. Create anything from simple shapes to intricate dioramas with this clean and extremely pliable modeling compound. Easy to paint and decorate. Air dries to a smooth, resilient finish.
Create everything from masks to intricate dioramas
Air dries to smooth finish
Non-greasy formula
AP Certified Non-toxic
Soft, pliable and lightweight for easy manipulation and permanently air dries in 24 hours without kiln firing or baking
Safe and clean to work with, won't flake or crumble and won't stick to or stain skin or most clothing
Dried pieces can be painted with tempera, acrylic, watercolors, markers, etc.
32oz.
crayola
32
White
Clay
4
Clay
7.88
7.69
Number of Craft Supplies per Pack
4
Model Magic
Yes
Box
Model Magic
Assorted
32