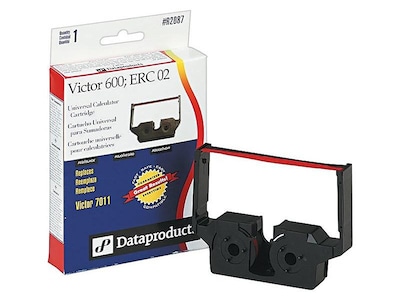 DataProducts Universal Ribbon, Black/Red (R2087)
DataProducts Universal Ribbon, Black/Red (R2087)
Item #: 901-R2087
Model #: R2087
Brand: DataProducts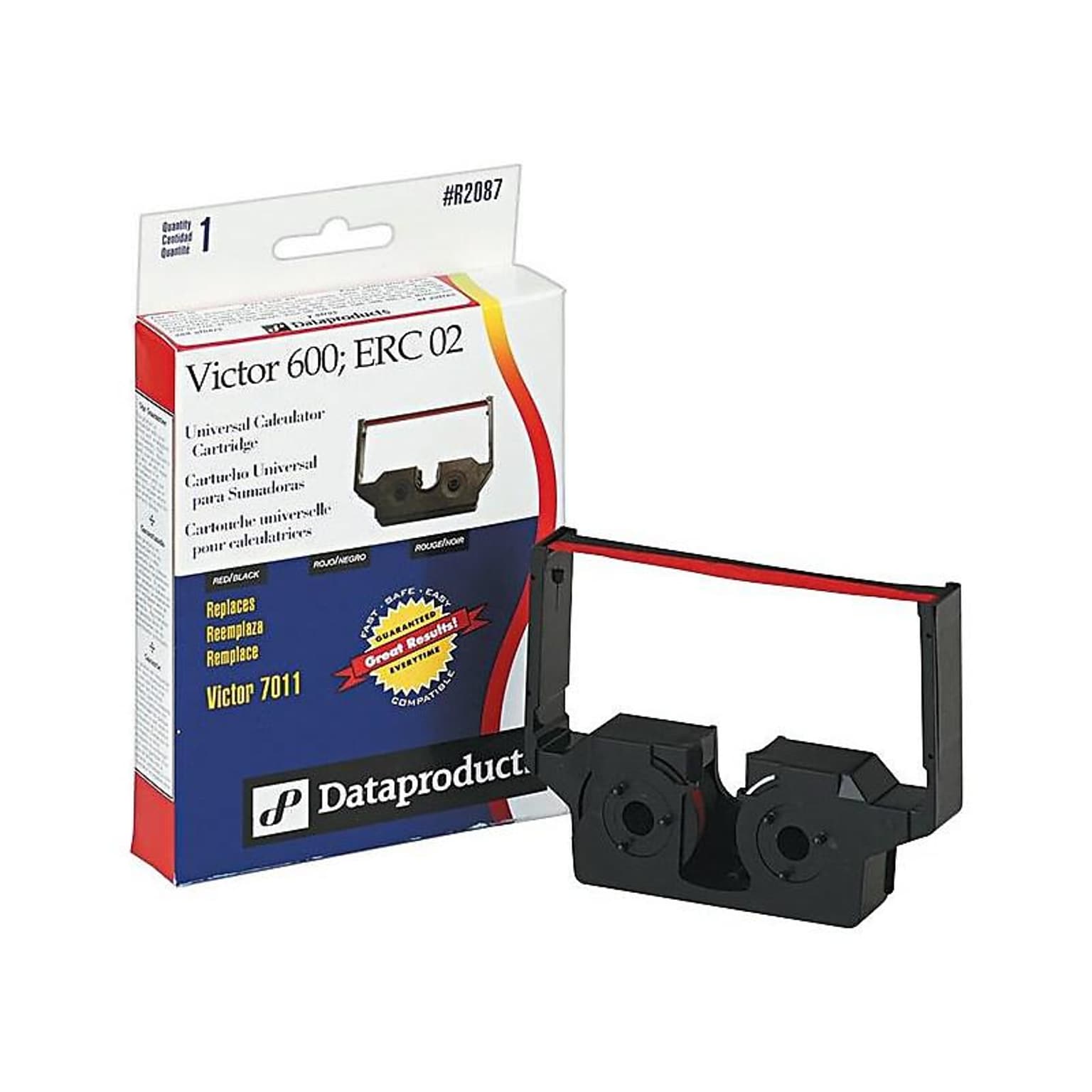 Frequently bought together
Create easy-to-read records of accounting figures with this DataProducts black/red universal calculator ribbon cartridge.
Keep your printing calculator ready to crunch numbers with this ribbon cartridge. Black and red inks let you display positive and negative numbers clearly, while the dual-wheel format keeps the ribbon advancing as needed. This cartridge is compatible with an array of Casio calculators, making it a versatile addition to your supply closet. With its simple design, this DataProducts ribbon cartridge allows for effortless installation.
Calculator ribbon
Compatible with Epson ERC-02, Victor 600
Ribbon print color: black/red
Comparable OEM ribbon: Dataproducts 17208/E2087, Epson ERC-02RB, NCR 123408, Olivetti 7340250, Olympia 980, Sharp EA-106RC
DataProducts
Calculator Accessory Type
Ribbons
Epson ERC 02, Victor 600
1
4.2
Nylon
1
Universal
Black and Red
0.08
3.2
This product is compatible with these printers:
Adler
12 P
120 P
128 PP
1228 PD
Allen R.C.
B&E
Lotus
PD 122
122 M
122 MD
Brandt
Burroughs/Unisys
C6453
C6460
S600 Journal
S650 Journal
S690 Journal
S4000 Journal
S4000-20 Journal
S4100 Journal
S4600 Journal
Canon
Canola P1015 D
Canola P1213 D
Canola P1215 D
Canola P1421 D
Canola P1440 D
Canola SP1260 D
CP 120 PD
CP 1001
CP 1001 D
CP 1011 D
CP 1018 D
CP 1200
CP 1201
CP 1201 D
CP 1202
CP 1202 PD
CP 1204 D
CP 1208
CP 1210
CP 1211 D
CP 1212
CP 1212 D
CP 1214
CP 1216
CP 1220 D
CP 1230 D
CP 1231 D
CP 1240
P 1421
P 1421 D
Casio
DL 210
DL 220
DR 1011
DR 1210
DR 1211
DR 1212
DR 1220
DR 1410
DR 1411
DR 1520
DR 3220
DR 6220 P
DR 6220 R
DR 7210
DR 7220
DR 7250
ER 1211
KR 4000
R 1000
R 1001
R 1201
R 1205
Citizen
107 DP
124 DP
124 DP2
127 DP
127 P
127 P2
128 DP
129 DP
140 DP
141 DP
CRS
220
720
812 MPD
900
930
960
1200
2200
4200
4300
5200
5300
Epson
CTM 210 A
ERC-02 II
M 210
M 211
TM-210 A
TM-215 S
210
210 A
210 S
211
Facit
Fas Fax System
Gilbarco
Hermes
Hypercom
Ibico
1050
1200
1205
1208
1240
1250
Marchant
Micros
400-282 Kitchen
1300 W Slip
1320 W Slip
1370 W Slip
1390 W Slip
2415 W Slip
4000 W Slip
4700 W Slip
Monroe
122 PD
5130
5140
5150
7130
7140
Classic
2020 Plus II
7150
6120
8125
Pro
2020 Plus III
Nasco
NS-148 PD
NS-202 PD
NS-212 PD
NS-1015 PD
NS-1225 PD
NS-1425 PD
Norand
Olivetti
Olympia
CA 22
CA 120
CPD 6201
CPD 6210
CPD 7220
EC 3000
EC 4000
EC 4512
EC 6000
EC 7000
EC 7512
EC 8000
EC 8512
Orbit CM
PD 10
PD 12
Royal
Santron
124 PD
125 PD
150
180
200
400
500
Sanyo
CY 3100 DP
CY 3100 P
CY 3412 DP
CY 3420 DP
CY 5000 DP
CY 5000 P
Seiko
Sharp
BE 81 PR
CS-167
CS-1181
CS-1191
CS-1606
CS-1608
CS-2053
CS-2054
CS-2062
CS-2063
CS-2137
CS-2187
CS-2406
CS-2608
CS-2610
CS-2690
CS-4690
QS-1072
QS-1073
QS-1074
QS-1155
QS-1156
QS-1157
QS-2156
QS-2159
QS-2166
QS-2181
QS-2184
QS-2186
VX-1172
VX-1174
VX-1184
Standard Register
TE 1604 Lister
TE 1606 Lister
TE 1608 Lister
TE 1610 Lister
Swintec
SW 110 P
SW 110 PD
SW 112 P
SW 112 PD
110 P
110 PD
112 P
112 PD
400 DP
TCA
TL 120
TL 140
401
404 B
420 B
440 B
814 PD
820 SL
840 SL
880 SL
Teal
200 P
200 PD
220 P
220 PD
221 P
221 PD
301 PD
302 PD
320 PD
322 PD
323 PD
Texas Instruments
Toshiba
BC-1292 P
BC-1293 P
BX-1293 PV
BX-1294 PV
BX-1295 PV
1273 P
1274 P
Towa
CS-501A
CS-502A
CS-503A
CS-504A
ES 340 D
550 PDM
Unisys
S696 Transports (S Encoders)
Victor
Medalist 305
Medalist 306
Medalist 307
Medalist 311
Medalist 331
Medalist 332
100
120
350
380
600
605
610
620
660
670
675
800
820
830
840
850
860
1280
1500
1520
1520-4
1530
1530-4
1550-4
1560
1560-4
1570-4
1600
1645
1655
1665
1666
1670
1675
1500-5
1520-5
1530-5
1550-5
1560-5
1570-5
1530-6
Westrex International