Duracell Button Cell Hearing Aid Batteries, #312, 1.4V, 16/Pack (DURDA312B16ZM09)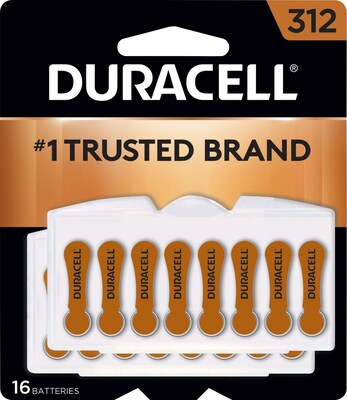 Description
These Duracell 1.4V hearing aid batteries offer the performance demanded in an emergency.
Power all of your electronic devices with this 16-pack of Duracell 1.4V button cell hearing aid batteries. Carrying the most trusted brand name in the industry, these batteries always perform when you need them most. They also fit in a variety of devices, making a handy supply very convenient. Duralock Power Preserve technology allows these batteries to have a shelf life of up to four years when not in use, enabling a stock purchased today to remain viable for years in the future.
Reliable 1.4V (175 mAh capacity) power output ensures optimal performance

Contains 16 batteries per pack for convenience

Compact button cell batteries are perfect for smaller devices

Four-year shelf life provides maximum peace of mind

Duracell provides reliable performance and a long-lasting charge


Compact Size
Each battery is only the size of a shirt's button, minimizing the space required to store your battery supply. The small footprint also allows these batteries to be used in smaller devices, such as hearing aids and car alarms, ensuring that these vital machines work as intended when you need them most.

Benefits of Bulk
Few businesses want to spend the time and resources necessary to order a new battery every time somebody needs one, so a 16-pack helps improve office efficiency. Buying in bulk also allows cash-strapped businesses to receive more favorable pricing per unit, saving a considerable sum of money over the long term.

Reliable Power Output
Each battery produces 175 mAh of power despite its small stature, ensuring that you have enough energy for a broad swath of devices to perform at their best.


Specifications
Brand

: Duracell

Weight

: 0.03 lbs. per Pack