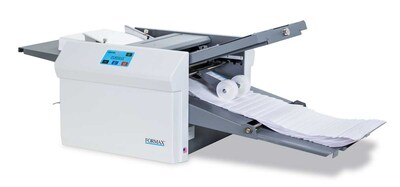 Formax FD 346 Automatic Desktop Paper & Letter Folder, 500 Sheets
Formax FD 346 Automatic Desktop Paper & Letter Folder, 500 Sheets
Item #: 901-24448151
Model #: FD346
Brand: Formax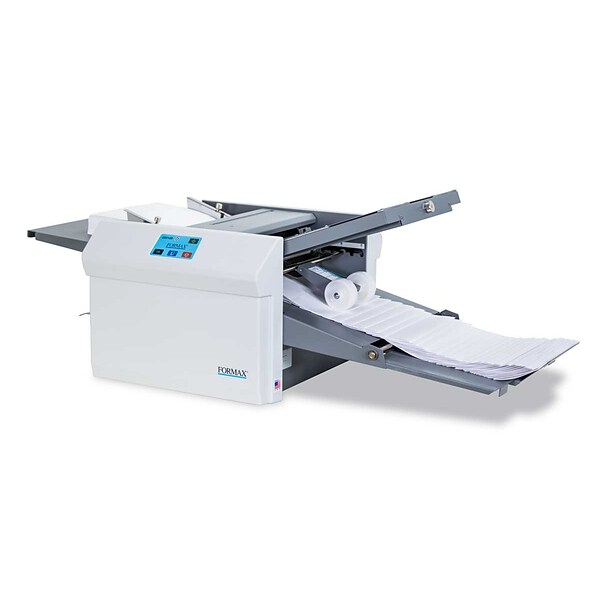 Made in the USA, Automatic, Commercial Paper Folder
Consistently fold your documents for a neat, professional finish with the dependable FD 346. This desktop paper folder quickly folds stacks of papers with speeds up to 15,500 sheets per hour, and can process a variety of paper sizes up to 12" x 18". Its compact footprint and user-friendly touchscreen make the FD 346 ideal for any church, school or office environment.

Pre-marked fold plates with quick release fold stops make the FD 346 a breeze to set up, right out of the box. Fold plates are pre-marked for six common folds in letter, legal and ledger paper sizes and can easily be reset for custom folds by simply sliding the fold stop to the desired position. A graphics-based color touchscreen makes the FD 346 easy for anyone to use. Fine-tuning adjustment knobs on each fold plate allow for precise adjustments to ensure crisp, accurate folds every time.

Additional features include a telescoping conveyor system for neat and sequential stacking, an AutoBatch setting for processing sets of documents, 6-digit resettable and 8-digit life counters, and a cross-folding guide for two-pass operation.
Hopper Capacity: Up to 500 sheets
Speed: Up to 15,500 sheets per hour – based on 11" (279mm) Z-Fold, 6 settings
Flexibility to process paper from 3.5"W x 5"L to 12.25"W x 18"L
Fold Types: C, V, Gate, Fold Out, Double Parallel and custom folds
Graphics-based color touchscreen control panel designed for easy, walk-up use
Pre-marked fold plates for six popular fold types in 11", 14" and 17" sizes
Clearly marked fold plates with quick release fold stops make changing the fold type or paper size quick and easy
Three-roller drop-in feed system produces dependable feeding of forms with no fanning required
Stacker wheels can be manually adjusted to neatly and sequentially stack different paper sizes and fold types, and telescoping conveyor system can be set between 14" and 36" in length
6 digit resettable & 8 digit life counters provide maximum audit control
Programmable Auto Batch function to process pre-set number of sheets into sets with a delay
Fine-tune adjustment knobs precisely set fold stops for crisp, accurate folds
Cross folding guide for two pass operation INCLUDED
Made in the USA
Dimensions: Closed: 33" L x 20" W x 19" H, Fully Extended: 60" L x 20" W x 19" H
Weight: 67 lbs
Power: 110V AC, 50/60 Hz
Safety Certifications: UL, CUL, and CE approved
90 day manufacturer limited warranty
Formax
Gray/Silver
Folding Machine & Jogger Type
Paper Folder
19
60
1
Paper Folding Machine & Jogger Function
Manual
500
15500
Gray/Silver
20