If you have an office job, your desk is not simply where you sit to work. Instead, it's your home away from home—the place where you spend the majority of your working life, focusing on doing what you do best.
It's also a significant part of workplace ergonomics, which means your choice of desk could have implications for not only your comfort but also your overall physical wellbeing.
So why settle for a desk that doesn't suit your working style? Here's how to pick out a workstation that ticks all the boxes that matter: height, versatility, task-appropriateness, storage, aesthetics, and more.
Clear surfaces or cluttered chaos?
Your immediate workspace is the single most telling indicator about your working style. If it's messy, you may view the cost of tidying to be greater than the benefits of tidiness. In other words, you'd rather spend time brainstorming that latest idea instead of filing loose papers.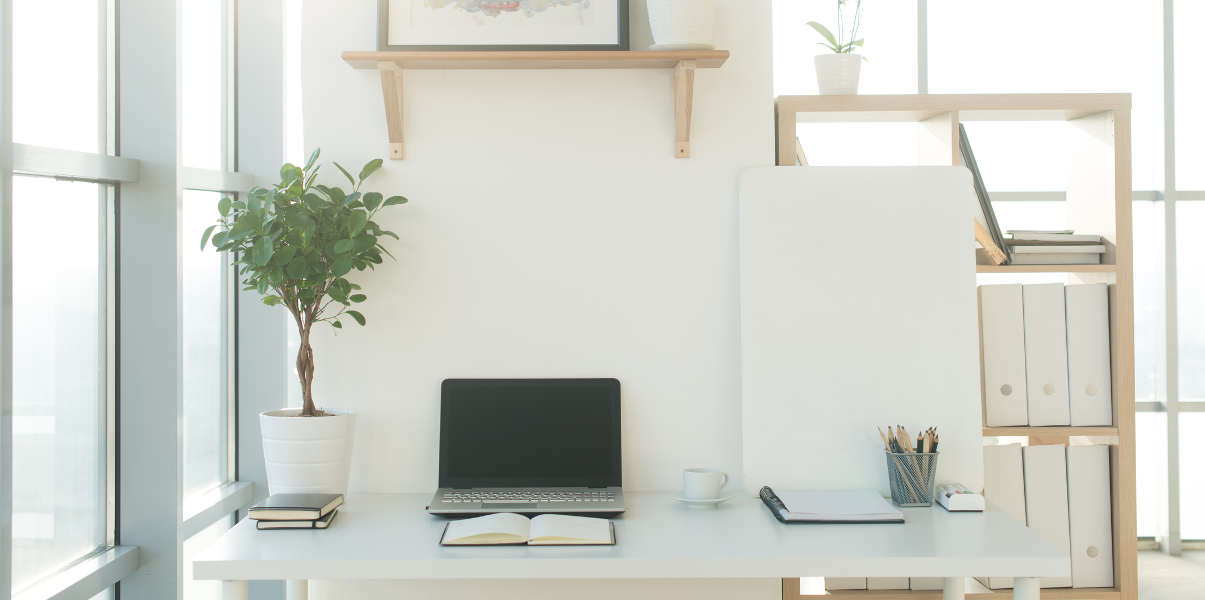 In contrast, you might be the type of person who gets an aesthetic or emotional boost from a tidy workspace. It may even reassure you that you're coping with the complexity of your professional challenges. Fortunately, there are desks to suit both styles.
If you're comfortable with a certain level of clutter and chaos, choose a desk with a generous work surface—like this generously proportioned 60" table from Bestar®. But don't think of it as simply more room to make a mess: use it to house inspiring keepsakes, desktop organizers—especially open designs, like this stylish silicone grip grass—and a mini whiteboard for plans, reminders, and color-coded Post-it® notes.
But tidy minds need desks with plenty of integrated storage. If you want to keep your surface area clear of clutter, consider a desk with built-in drawers, accessible shelving, and even a keyboard tray, like this charcoal-toned computer desk.
And if you're going to have clear surfaces, you might as well add some aesthetic value. After all, elegant pieces like this reclaimed-wood desk by Monarch® are made to be shown off, not covered in files and folders.
Conventional desk or standing desk?
The rise of the standing desk shows no signs of slowing as office workers begin to appreciate its potential benefits—and understand the health consequences of a sedentary lifestyle. But that doesn't necessarily mean that standing desks are the right choice for everybody.
If you're not ready, willing, or able to switch to standing, you should still make sure your desk complements your working routine. Your elbows, for instance, should be at a comfortable 90-degree angle when you're sitting at your desk, and you should have sufficient surface area to keep your most-used items (mouse, keyboard, coffee mug) within easy reach.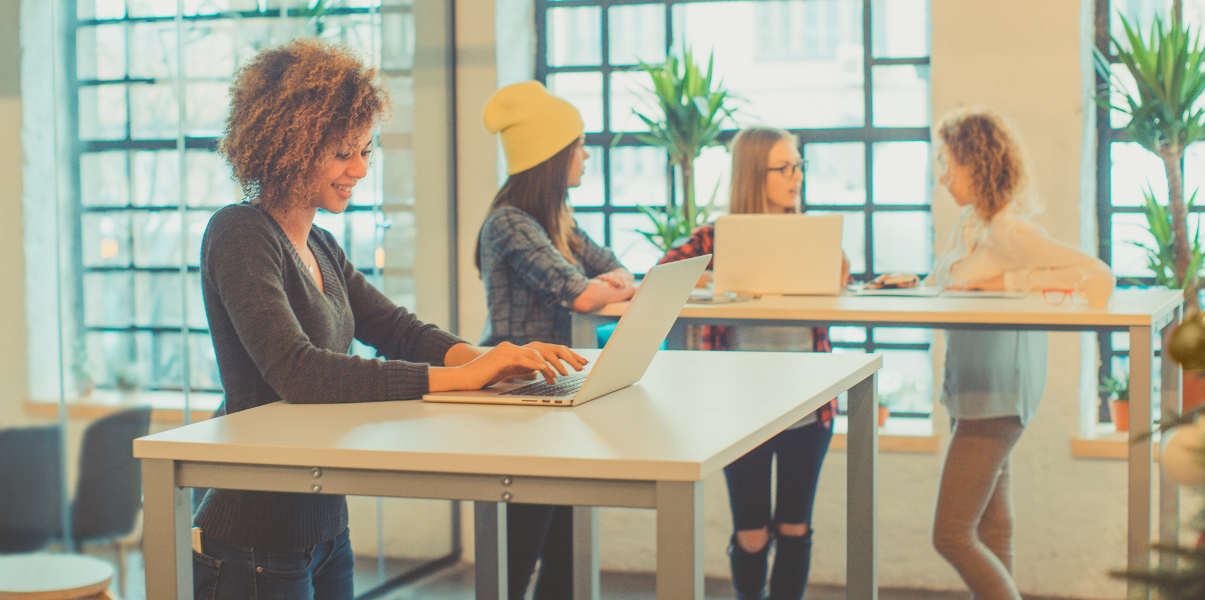 If, on the other hand, you want to rise out of your chair for most of the workday, it may be time to try out a standing desk. In addition to the increasingly apparent health benefits, standing at your desk might be a good fit for your working style if:
you're frequently on the move, collaborating with coworkers;
your office has a number of existing standing desks, opening the possibility of health-conscious hot-desking;
you know that you can focus without having to sit;
you're an expressive person—and you need to gesticulate freely when you communicate!
Of course, you don't have to abandon sitting altogether: you can get the best of both worlds with sit-stand ergonomic office furniture. Experiment with a sit-stand routine to see how it suits your working style. Sit to type, stand to make video calls, and listen to what your body tells you throughout the day.
Boost your personal productivity with task furniture
Above and beyond your working style, it's important to accommodate the specific function of your job, as well as any specialized equipment that comes with it. For example, any kind of drafting work—architectural, mechanical, or graphic—demands a dedicated drafting desk.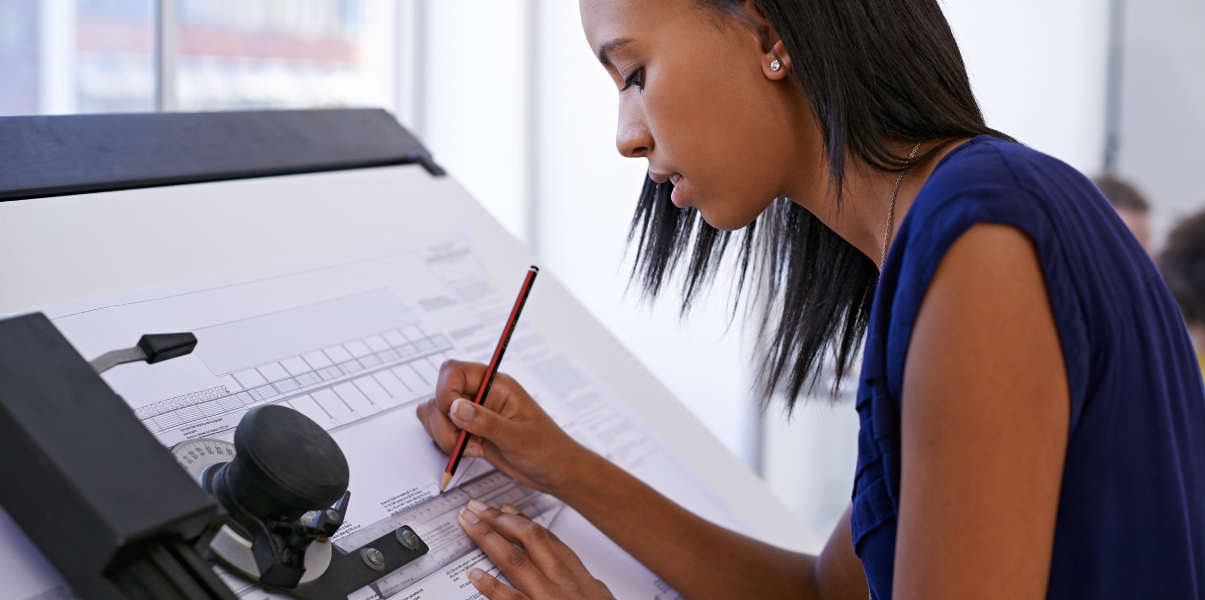 Similarly, if your role requires the use of various IT equipment, it's a smart idea to invest in a computer workstation with accessory drawers, pull-out keyboard shelf, and floor-level CPU storage. There's no better way to free up desk space while keeping your technology safe and secure.
Style and substance in equal measure
Whether you work best standing at a colorfully cluttered desk or sitting at an immaculately clean workspace, it's always possible to pick out workplace furniture that fits your particular style. So let your personality shine and think outside the box when it comes to your desk. After all, you'll spend a long time together every day.