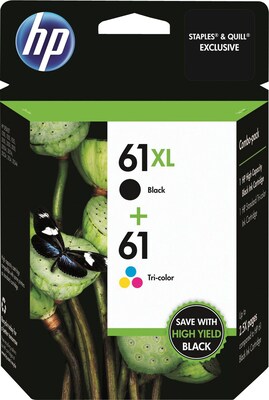 HP 61 Black High Yield and Tri-Color Standard Yield Ink Cartridge, 2/Pack (CZ138FN#140)
HP 61 Black High Yield and Tri-Color Standard Yield Ink Cartridge, 2/Pack (CZ138FN#140)
Item #: 901-CZ138FN
Model #: CZ138FN#140
Brand: HP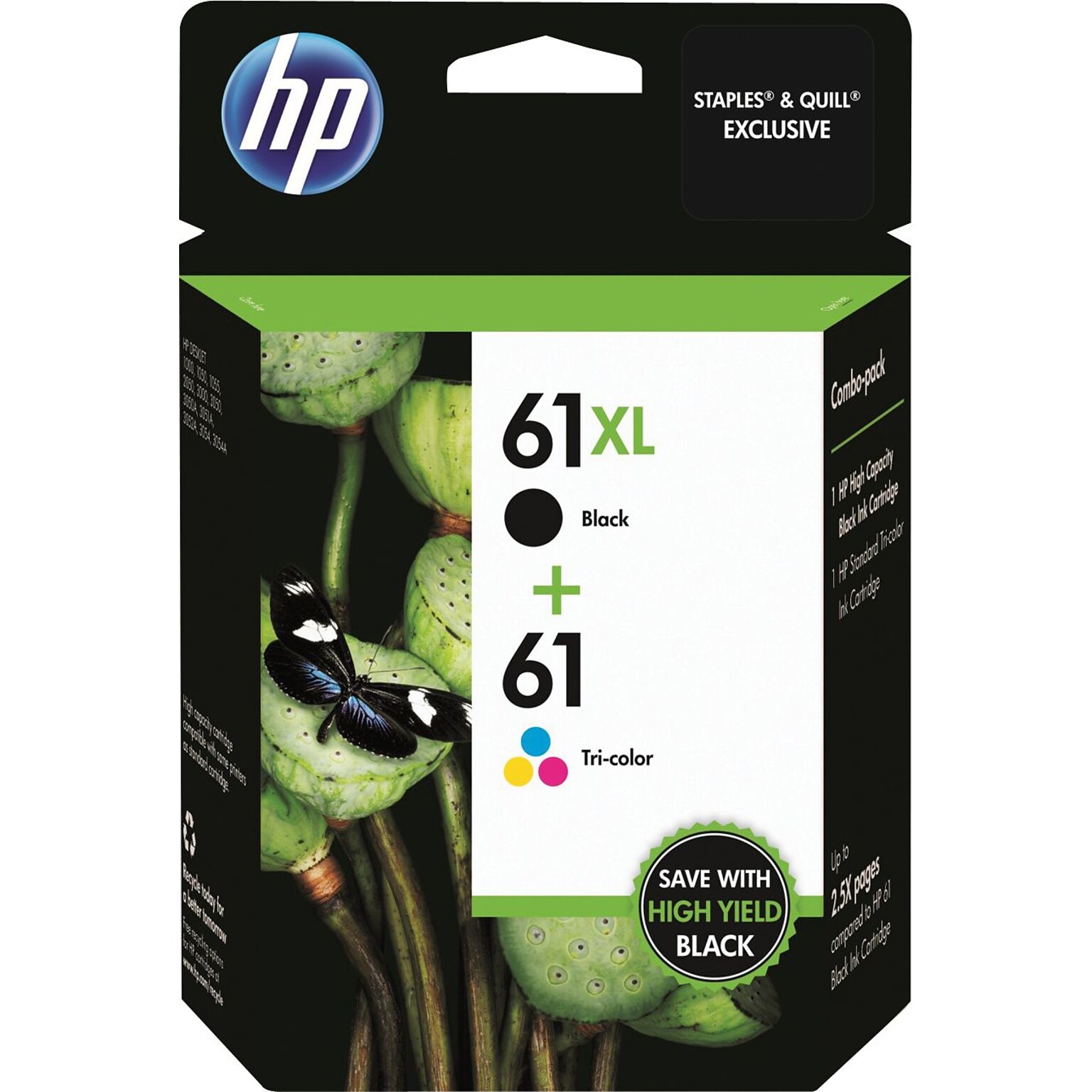 Black
High Yield
430 pages
Tri-Color
Standard
150 pages
Frequently bought together
---
---
---
---
---
Ink or Toner Color:
Black/Tri-Color
Cartridge Yield Type:
High Yield/Standard
Original HP 61 and 61XL multipacks provide the right amount of ink for everyday printing.
Get the HP quality you trust and keep printing with Original HP 61 and 61XL ink cartridges. Ensure vivid, fade-resistant presentations, photos, and other home projects every time you print. This HP 61 ink cartridge 2-pack provides all the ink you need to print, so you can create stunning prints at home. Trust HP printer ink for home printing and get back to the things that matter.
HP 61 ink cartridges work with: HP DeskJet 1000, 1010, 1050, 1051, 1055, 1056, 1510, 1512, 2000, 2050, 2510, 2512, 2514, 2540, 2541, 2542, 2543, 2544, 2546, 2547, 2549, 3050, 3050A, 3051A, 3052A
HP 61 ink cartridges also work with: HP DeskJet 3054, 3054A, 3511, 3512, HP ENVY 4500, 4501, 4502, 4504, 4505, 5530, 5531, 5532, 5534, 5535, 5539, HP OfficeJet 2620, 2621, 4630, 4632, 4635
Up to 2X more prints with Original HP ink vs. refill cartridges.
Page yield of HP 61: approx. 430 pages black, 150 pages tri-color
Colors: Black, tri-color
What's in the box (CZ138FN): One HP 61XL black high-yield ink cartridge (CH563WN), one HP 61 tri-color ink cartridge (CH562WN)
Save time and money when you buy an Original HP 61 ink cartridge 2-pack, so you can save a trip. And don't worry—your printer will alert you when your ink runs low.
Save more when you buy more with Original HP 61 ink cartridge 2-packs.
Save money on every page with an Original HP 61 and 61XL black and tri-color 2-pack. Get the quality of Original HP 61 ink on every page with vibrant colors and striking detail. With 2-packs, you can grab everything you need in one trip so you can save time: tri-color ink makes your images pop while rich blacks add color and shade variety to your prints.

Produce color images with enhanced detail.
Get impressive image quality with vivid color and dynamic images on every print with a tri-color and black Original HP 61 ink cartridge 2-pack. Bring exceptional definition to your graphics, and produce vibrant color for a variety of projects. Original HP 61 multipacks (CZ138FN) deliver brilliant color that resists fading for years.

HP
High Yield/Standard
Yes
Meets EPEAT requirements for indoor air quality
High yield ink and toner
61
Yes
Ink or Toner Cartridge Type
Original
Black/Tri-Color
2/Pack
Yes
Number of Black Cartridges
1
Number of Color Cartridges
1
2
Post Consumer Recycled Content
69%
Yes
HP 61
Ink
71%
Black/Tri-Color
Yield per Cartridge (Black)
430
Yield per Cartridge (Tri-Color)
150
High Yield
Black
Standard Yield
Tri-Color
This product is compatible with these printers:
HP
DeskJet 1050 - J410a
DeskJet 1050 - J410c
DeskJet 1050 - J410d
DeskJet 1050 - J410e
DeskJet 2050 - J510a
DeskJet 2050 - J510c
DeskJet 2050 - J510d
DeskJet 2050 - J510e
DeskJet 3050
DeskJet 1000 - J110a
DeskJet 1000 - J110c
DeskJet 1000 - J110d
DeskJet 1000 - J110f
DeskJet 1000 - J110e
DeskJet 2000 - J210a
DeskJet 2000 - J210b
DeskJet 2000 - J210c
DeskJet 2000 - J210d
DeskJet 3000 - J310a
DeskJet 3000 - J310c
DeskJet 1055 - J410e
DeskJet 3054 - J610a
DeskJet 3050A - J611a
DeskJet 3054A - J611j
DeskJet 3050A - J611g
DeskJet 3052A - J611g
DeskJet 3051A - J611h
DeskJet 3510
DeskJet 2512
DeskJet 2510
Envy 4500
Envy 5530
DeskJet 2540
OfficeJet 4630
DeskJet 1510
DeskJet 1010
DeskJet 2514
OfficeJet 2620
DeskJet 1512
DeskJet 2542
OfficeJet 4632
Envy 4502
DeskJet 2544
Envy 5535
OfficeJet 4635
OfficeJet 4631
OfficeJet 4634
OfficeJet 4639
DeskJet 3511
DeskJet 3512
DeskJet 3515
DeskJet 3516
Envy 4503
Envy 4507
Envy 4501
Envy 4504
Envy 4505
Envy 4506
Envy 4509
Envy 4508
Envy 5534
DeskJet 2549
DeskJet 2541
DeskJet 2545
DeskJet 3056A
DeskJet 2548
Envy 5531
Envy 5536
DeskJet 1511
DeskJet 1513
DeskJet 1514
Envy 5532
Envy 5539
DeskJet 2547
DeskJet 2546P