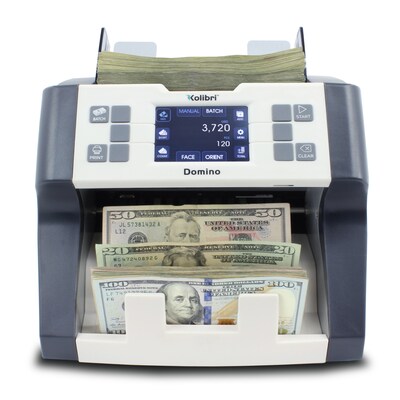 Kolibri Domino Bill Counter (DOMINO)
Kolibri Domino Bill Counter (DOMINO)
Item #: 901-2735134
Model #: B-DOMINO
Brand: Kolibri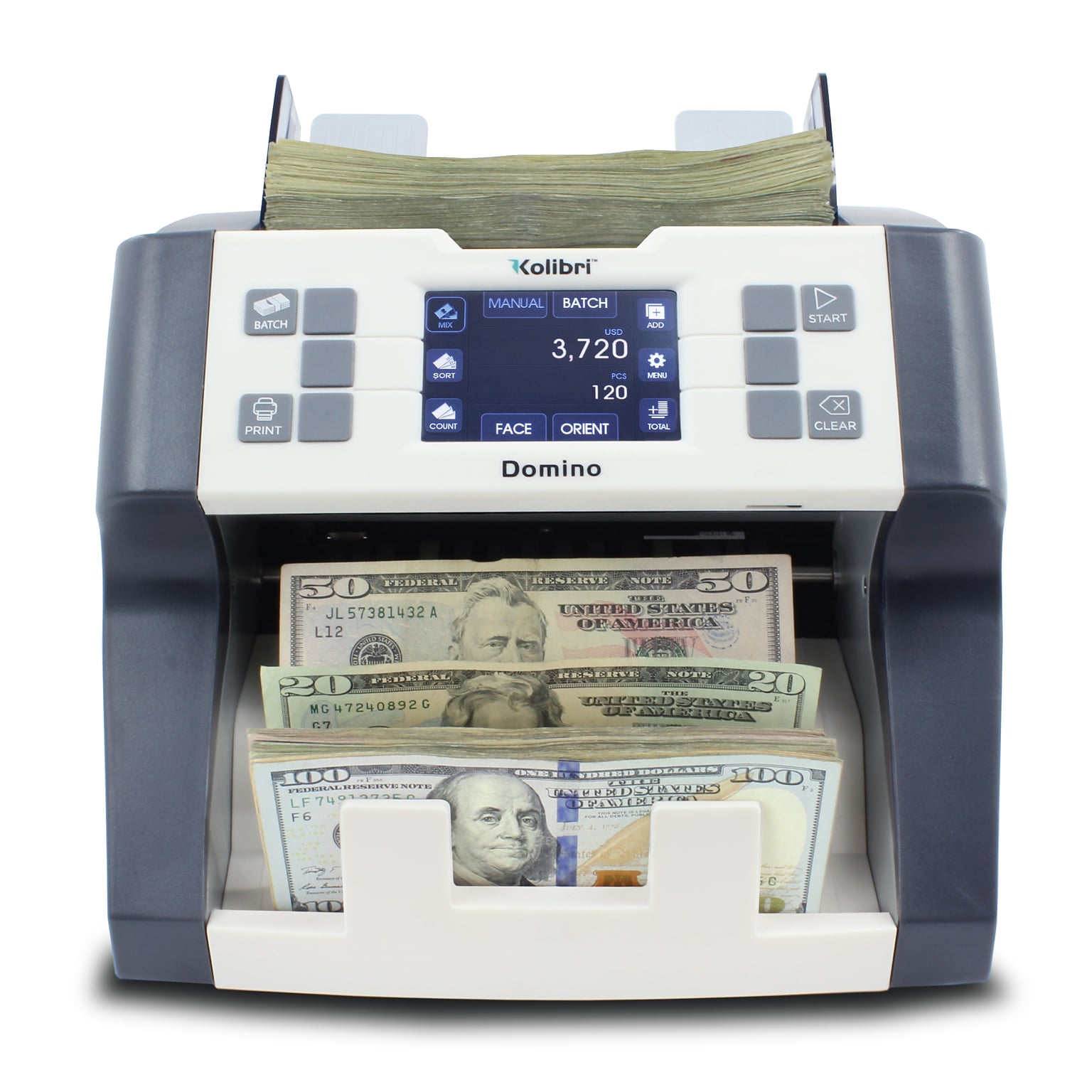 Frequently bought together
Track how much cash is coming in and out of your business accurately with this Domino business-grade bill counter and sorter.
Use this bill sorter to organize money in your business quickly and easily. A built-in detector ensures that counterfeit money is identified, while the touch screen offers easy operation. This Domino bill reader tracks the denomination of each bill, so you can create accurate records of your business cash at all times.
This intuitive bill counter makes precise accounting
LCD screen assures easy viewing
Ultraviolet (UV) sensors easily detect fake bills
Counts bills at a rate of up to 1200 bills per minute for extra-fast efficiency
Hopper holds up to 600 bills (uncirculated)
Infrared sensors detect chain, double, and half notes
The magnetic sensor detects magnetic ink on bills for extra security
Stops and alerts for any issues
1-year manufacturer limited warranty
Multiple modes for all your business' money counting needs: Mixed Denomination, Sort, Batch, Add and Count. Face and Orientation modes ensure cash is all facing the needed direction.
3.2" LCD Touch Screen
Unit Dimension: 10.5" x 9.5" x 11" (267mm x 241mm x 279mm)
Input Power: 110-220V~50/60Hz
Power Source: 220V/50HZ~110V/60HZ, < 50W
A retail-ready solution for counting and sorting the cash your business generates, the Kolibri Domino™ will ensure your cash counts are correct while vastly improving productivity. Unlike most money counters, the Domino™ is able to read cash as its fed through and automatically determine what denomination it is ($1, $2, $5, $10, $20, $50 and $100 bills). Count down a mixed stack of bills with the total monetary value clearly displayed to speed up closing out tills. Ensure that each denomination stack you have does not have any misplaced bills– no more surprise $20s in the $5 stack! And sort a mixed denomination stack down to its individual denominations.
Kolibri
Bill Counters
No
9.5
11
Number of Bill Compartments
None
Number of Coin Compartments
None
1
Domino
Gray
Bills
1 Year
14
10.5