Porelon PR-511 Universal Black/Red Calculator Ribbon (11210), 2/Pack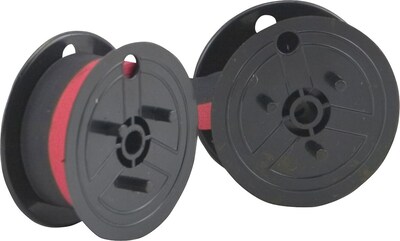 Description
Porelon Universal Calculator Ribbons- Reliable and Effective
Porelon PR-511 Universal calculator ribbon in black/red color features simple and effective design ideal for various printing machines. Ribbon feature quality ink that helps calculators print clearly, sold as 2 per pack.
For use with: Canon CP Series, MP Series; Royal 121P, 300P, 400P, Citizen CBM 510, 520, 530, 540, 580, IDP580; Epson M210; Sharp 2500, 2510, 2521, 2532, CS Series, Texas Instruments 5160, 5215, 5320, 5340; Star DP 8240, 8340; Verifone 201

Nylon Ribbon SpoolTwin Pack

Vivid and consistent colors, exceptional light fastness and durable impressions

Made in the USA

One year (12 months) from date of purchase

Porelon universal calculator ribbons fit the M-310, RB-2 and M-013091. Each ribbon features high-quality ink. The simple and effective design of the ribbons makes them useful in a variety of printing machines.

Quality Ink
Porelon ribbon replacements feature quality ink that helps calculators print clearly. Clear, crisp printing makes reading printed paper stools far easier.

Excellent Compatibility
Porelon ribbons are compatible with a large selection of office printing calculators. For a calculator that can handle a wide variety of common office functions, check out the Sharp EL-1197PIII printing calculator.

Two Colors
Each ribbon features two different colors. The use of multiple colors makes it simple to track additions and subtractions on a printed spool.
Specifications
Calculator Accessory Type

: Ribbons

Compatible Devices

: Royal 121P, 300P, 400P, Citizen CBM 510, 520, 530, 540, 580, IDP580, Epson M210, Sharp 2500, 2510, 2521

True Color

: Black and Red

Weight (lbs.)

: 0.1

Pack Size

: 2

Material of Item

: Nylon

Height in Inches

: 6.8

Depth in Inches

: 2.2

Width in Inches

: 4.5

Brand

: Porelon

Weight

: 1.00 lbs. per Pack
Compatible Printers
This product is compatible with these printers:
Adler
Arbm 385 CR
Arbm 1121 PD
Kitchen/BAR Ptr
1012 PD
1012 PD II
1012 PD Nova
1020 PD
1121 PD
1121 PD II
1121 PD Nova
1123 PD
1123 PD Carat
1123 PD Nova
1200 PD
1205
1228 PD Plus
1235 PD
1240
1428 PD
1428 PD Plus
8600 HD
Admate
DX-124 PD
MX-120 PD
MX-124 PD
B&E
RE 2021-S
RE 2041-L
RE 2541
Canon
Canola P1015 D
Canola P1213 D
Canola P1215 D
Canola P1421 D
Canola P1440 D
Canola SP1260 P
CP 120 D
CP 1000
CP 1003 D
CP 1008
CP 1008 D
CP 1010
CP 1013 D
CP 1018 D
CP 1025 D
CP 1200
CP 1201 D
CP 1202
CP 1203 D
CP 1204 D
CP 1208
CP 1210
CP 1212
CP 1212 D
CP 1213 D
CP 1214
CP 1216 D
CP 1218 D
CP 1220 D
CP 1223 D
CP 1230
CP 1231
CP 1233 D
MP-21 D
MP-21 D II
MP-21 D III
MP-25 D
MP-31 D
MP-31 D II
MP-31 DH
MP-142 R
MP-1210 D
MP-1211 D
MP-1216
MP-1217
MP-1218
MP-1411 D
MP-1420
P 104 D
P 105 D
P 106 D - Late Models
P 126 D
P 1010 D
P 1011 D
P 1205 D
P 1210 D
P 1211 D - New Model
P 1410 D
P 1411 D
P 1420 D
P 1421 D
P 1440 D
P 1441 D
P 3010 D
P 3210 D
P 3211 D
TX 50 II
MP-1211 DE
MP-1211 DL
MP-1411 DL
P 3420 DL
MP-1211 DLE
P 3220 DL
MP-41 DH
MP-21 DV
MP-25 D III
MP-27 D
P 1212 DH
P 1213 DH
CP 1250 D
CP 1200 D
MP-18 D
MP-20 DH II
CP 1260 D
MP-49D
MP-11 DX
CP 1460 D
MP-25 DVS
MP-31 DH II
CP 1213 DII
CP 1013 D II
CP 1200 D II
Casio
DL 220 A
DL 220 L
DL 220 LA
DL 250 LA
DL 270 A
DL 270 B
DR 210 HD
DR 320 A
DR 320 B
DR 1520
DR 1520 S
DR 1695
DR 2212
DR 2212 S
DR 2280
DR 3220
DR 4000
DR 6220 P
DR 6220 R
DR 7210
DR 7220
6210 P
DR 120 Lawe
2212 ER
DR 250
DR 220 HD
DR 270 HD
DR 250 HD
DR 120 LB-U
PR 420A
Citizen
CBM DP-500 Series
CBM-500
CBM-510 24-Column
CBM-520 24-Column
CBM-530 24-Column
CBM-531
Cimatron 124 P
Cimatron 125 P
Cimatron 125 PD
Cimatron 128 DP
Cimatron 1213 PD
Cimatron 1414 PD
Cimatron 3000
Cimatron 5000
CX 310
Data Checker
T2000 Series
T3000 Series
Elite Business Machines
ECR-400P Main
ECR-1000
ECR-3200
Ibico
DP12
Electric Cash Register
GT12
Micros
1300 W Remote
1320 W Remote
1370 W Remote
1390 W Remote
2415 W Remote
4700 W
Monroe
Classmate 88
Litton ONE
Marc I
1340
1350
1400-1450 Series
5150
Classic
2020 Plus II
Nasco
NR-320
NS-148 PD
NS-202 PD
NS-212 PD
NS-1005 PD
NS-1015 PD
NS-1215 PD
NS-1225 PD
NS-1425 PD
Nikko
Concord 712AD
Concord 712B
NK-100
Olivetti
HD 9000
HD 9100
Mercator 10
8800 HD
ECR 2300
ECR 2500
Olympia
CPD 2002
CPD 2410
CPD 4512
CPD 5212
CPD 5421
CPD 6201
CPD 6210
CPD 6401
CPD 6410
CPD 7220
CPD 7512
CPD 8512
CPD 5312
CPD 5314
CPD 5612
Optima
Elite 12 PD
Elite 200 Series
Royal
CMS-480
CMS-480 NT
CMS-480 NX
CMS-480 Plus
CMS-481
CMS-482
CMS-482 Plus
CMS-486
CMS-487
CMS-487 Plus
ER-135
ER-140
ER-1402
Ezvue 8500 PD
Kitchen/BAR Ptr
1011 PD Nova
1012 PD
1012 PD II
1012 PD Nova
1121 PD
1121 PD II
1121 PD Nova
1123 PD Nova
1211 PD II
1228 PD
1228 PD Plus
1402 PDE
1428 PD
1428 PD Plus
2100 PD
Santron
Touchable 200
Touchable 400
123 P
Sanyo
Check-A-Tron 1 LB
Check-A-Tron 2 LB
Check-A-Tron 4 LB
Check-A-Tron 6 LB
Check-A-Tron 8 LB
CX 2053 P
CX 2054 P
CX 2500
CX 3412
CY 2015 P
CY 2152 P
CY 2153 P
CY 2155 P
CY 2161 P
CY 2162 P
CY 2166
CY 2200 P
CY 2202 DP
CY 2250 DP
CY 3100 DP
CY 3100 P
CY 3200 DP
CY 3412 DP
CY 3421 DP
CY 5000
CY 5100 DP
CY 5100 P
CY 6100 DP
CY 6200 DP
ECR 150
Sharp
AL 6100
Compet 523
Compet 622
Compet 623
Compet 624A
Compet 626
Compet 643A
Compet 742R
Compet 743R
Compet 763R
Compet 1064
Compet 1122
Compet 1154
Compet 1165
Compet 2052
Compet 2151
Compet 2152
Compet 2155
Compet 2251
Compet 4151
Compet 4251
CS-742 R
CS-743 R
CS-762 R
CS-1055
CS-1064
CS-1152 D
CS-1152 H
CS-1155
CS-1164 A
CS-1164 B
CS-1181
CS-1191
CS-1612
CS-1635 A
CS-1680
CS-2137
CS-2152 S
CS-2154
CS-2164
CS-2164 A
CS-2164 H
CS-2165
CS-2165 A
CS-2166 A
CS-2181
CS-2182
CS-2184 S
CS-2615
CS-2630 D
CS-2635
CS-2635 A
CS-2680
CS-2690
CS-2770 A
CS-2780
CS-2790
CS-6302 A
EA-710R
EL 1052
EL 1630
EL 1630 A
EL 1630 G
EL 2615
EL 2615 G
EL 2630
EL 2630 A
EL 2630 G
EL 2630 G II
EL 2630 L
EL 2656 G
EL 6300
ER-01 RP
ER-02 RP
ER-20 RP
ER-1565 S
ER-1871
ER-2350
QS-1760 A
QS-2156
QS-2157
QS-2710
QS-2760
QS-2760 A
QS-2770
QS-2770 A
QS-4154
VX-1652 A
VX-1652 B
VX-2126 A
VX-2612
VX-2652
VX-2652 A
VX-2652 B
XE-1050
XE-1050 L
EL 1197 P
ER-A160
ER-A180
Smith Corona
Figurematic 450
SX 450
SX 460
Swintec
SW 111
SW 112 P
SW 112 PD
Teal
CP 01
TL-7121-PD
TL-9120-P
Tealtronic
S 100 P
S 200 D
TL 9120 P
Toshiba
BC-1200 P
BC-1222 P
BC-1235 PV
BC-1267 P
BC-1273 P
BC-1274 PV
BC-1275 PV
BC-1281 P
BC-1282 PV
BC-1283 PV
BC-1284 PV
BC-1285 PC
BC-1292 P
BC-1293 P
BC-1293 PV
BC-1294 PV
BC-1295 PV
BC-1415 P
Towa
Cigar BOX
ES 340
Jewel 18
NT 1110
Nugget 6
Nugget 12
Nugget 18
PSK 110
PSK 111
TA 460
TCA 700 FK
TCA 780 FK
VP 14 Pdste
330 PDM
340 D
Tricom
1270 MPD
1272 MPD
1273 MPD
Triumph Adler
121 PD Plus
126 P
1012 PD
1012 PD II
1012 PD Nova
1121 PD
1121 PD Nova
1121 PD II
1204 P
1228 PD
1228 PD Plus
1414 P
Victor
Champion 121
Champion 300
Champion 302
Champion 311
Medalist 300
Medalist 302 PD
Medalist 305
Medalist 306
Medalist 307
Medalist 331
Medalist 332
Medalist 510