Primary Sources, Civil War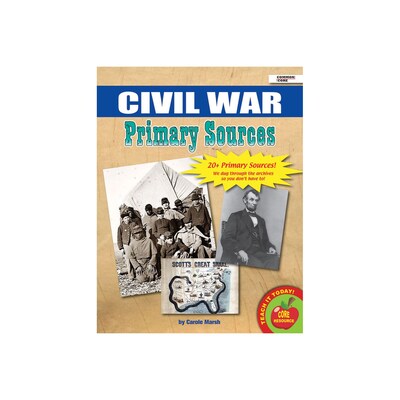 Description
Primary Source Packs include more than 20 historical documents to help students think critically and analytically, interpret events, and question the various perspectives of history.
Award: Academics' Choice Awards for the Smart Book Award US 2015
Size: 8.5 x 11"

20 primary source documents in each pack

By Carole Marsh
The Civil War Primary Sources will help your students build common core skills including: Analysis Critical Thinking Point of View Compare and Contrast Order of Events And Much More! Perfect for gallery walks and literature circles! Great research and reference materials! The 20 Civil War Primary Sources are: 1. Poster related to Fugitive Slave Act of 1850 – published 18512. Title page of Uncle Tom's Cabin – 18523. Photograph of Harriet Tubman – 18554. Political cartoon related to 1854 Kansas-Nebraska Act – 18565. Illustration of John Brown's raid on Harpers Ferry, Virginia – published November 5, 18596. Illustration of General Scott's "Anaconda Plan" - 18617. Bombardment of Fort Sumter – April 18618. 7th New York State Militia – 18619. Wounded soldiers in hospital – ca. 1861-186510. U. S. Government Recruiting Poster – 186111. Photograph of Jefferson Davis, President of the Confederacy – 186112. Photograph of President Abraham Lincoln and General George B. McClellan in the general's tent at Antietam, Maryland – October 3, 186213. Illustration in Harper's Weekly entitled "Emancipation" - 186314. Photograph of scars on a whipped slave; Baton Rouge, Louisiana – April 186315. Photograph of General Sherman's troops destroying the railroad near Atlanta – 16. Drummer Boy with 78th Infantry Regiment, U. S. Colored Troops – 17. Political cartoon featuring Vice President Andrew Johnson and President Abraham Lincoln – 18. Oil painting entitled "The Peacemakers" - President Lincoln with General Sherman, General Grant, and Admiral Porter aboard the River Queen – 19. Illustration depicting General Sherman's 1864 March to the Sea – 186820. Lithograph of the 1863 Battle of Chickamauga – 1890Your students will: think critically and analytically, interpret events, and question various perspectives of history. participate in active learning by creating their own interpretations instead of memorizing facts and a writer's interpretations. integrate and evaluate information provided in diverse media formats to deepen their understanding of historical events. experience a more relevant and meaningful learning experience.
Specifications
Audience

: Students

Media Format

: Printed Book

Education Subject Matter

: Culture

School Grade

: Multi-Grade

Contents

: 1 Book

Length in Inches

: 11

Number of Pages

: 15

Quantity

: 1

Subject and Theme

: Learing

Thickness in Inches

: 0.3

Title

: PRIMARY SOURCES CIVIL WAR

True Color

: Multicolor

Type of Books

: Book

Weight (lbs.)

: 0.2

Width in Inches

: 8.5

Brand

: Gallopade

Weight

: 0.06 lbs. per Each