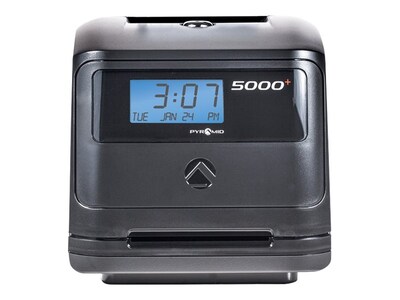 Pyramid Punch Card Time Clock System, Black (5000+)
Pyramid Punch Card Time Clock System, Black (5000+)
Item #: 901-034388
Model #: 5000+
Brand: Pyramid Time Systems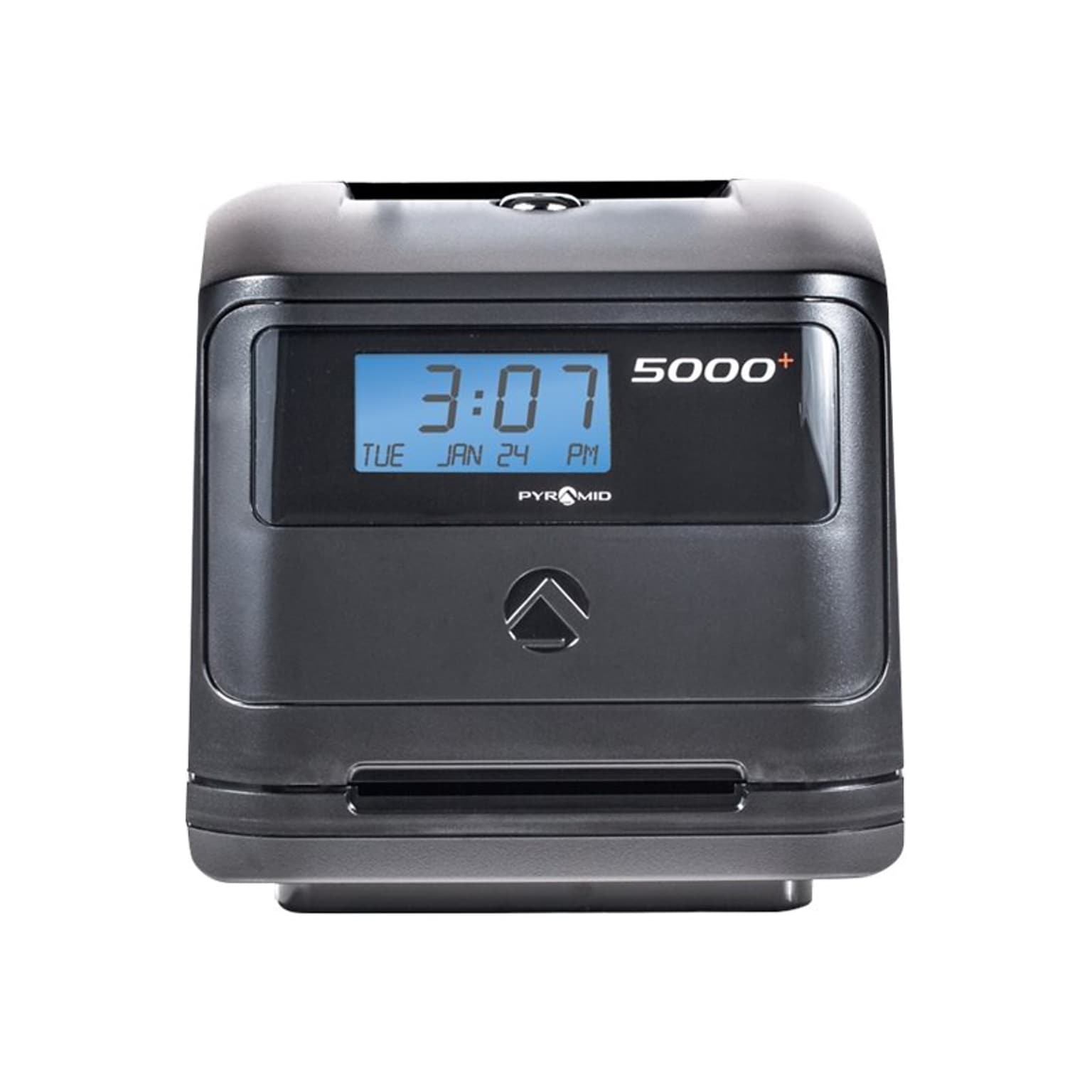 Frequently bought together
Make employee time tracking and payroll processing easier with this Pyramid auto totaling time clock.
Calculate payroll and job costs precisely for up to 100 employees with this auto totaling time clock. Featuring a compact design and flexible mounting options, this time clock fits easily on small desks and offers easy installation on most surfaces. An auto-feed time card alignment system makes it easy to punch cards precisely, while the large LCD display informs employees of the time and date before punching in and out. Customize payroll calculations with three time rounding settings, which make it easy to adapt this time clock to the needs of individual businesses. A built-in security lock prevents unauthorized access, ideal for maintaining data integrity and preventing time theft. The automatic reset feature adjusts the integrated clock for leap years and Daylight Saving time, while the internal backup battery lets this Pyramid time clock preserve data and settings for up to seven days without power.
Punch time card card; black color; all types of pay periods pay period; up to 100 employees
LCD display helps you keep track of time by showing the time and date in 24-hour format
Employees use printable time cards
Dimensions: 7.25"H x 7"W x 6.5"D
Automatic card feed and alignment: the time clock shifts columns according to user settings
Desk- or wall-mount for flexible and convenient placement
Battery backup protects data and settings during power outages
Selectable language format: English, French, Spanish
Comes with 25 time cards, ink ribbon cartridge, 2 security keys
1-year manufacturer limited warranty
Automatically Track & Total Employee Time
Auto Totaling or Self Calculating time clocks automatically keep track of worked time between punches and accumulate totals on a time card for weekly, bi-weekly, semi-monthly or monthly pay periods. This eliminates human error when calculating employee hours for payroll.
Actual or Rounded Time
If punch rounding rules are selected, the actual time is printed on the employee time card, however the shift, daily and cumulative totals are rounded to the nearest 5, 10 or 15 minute increments.
Enjoy care-free automatic time card alignment
Don't waste time trying to line up time card punches. This time clock features auto-feed, auto-align and auto-eject for quick and easy punches time after time.
What's in the Box
5000 Auto Totaling Time Clock, 25 time cards, ink ribbon cartridge, two security keys, user guide.
Pyramid Time Systems
Black
Number of Employees Supported
Up To 100
1
Punch Card
Black