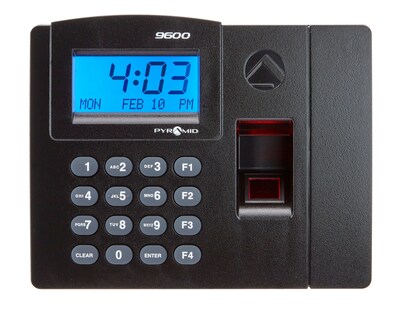 Pyramid TimeTrax Elite Fingerprint Time Clock System, Silver/Black (TTELITEEK)
Pyramid TimeTrax Elite Fingerprint Time Clock System, Silver/Black (TTELITEEK)
Item #: 901-TTELITEEK
Model #: TTELITEEK
Brand: Pyramid Time Systems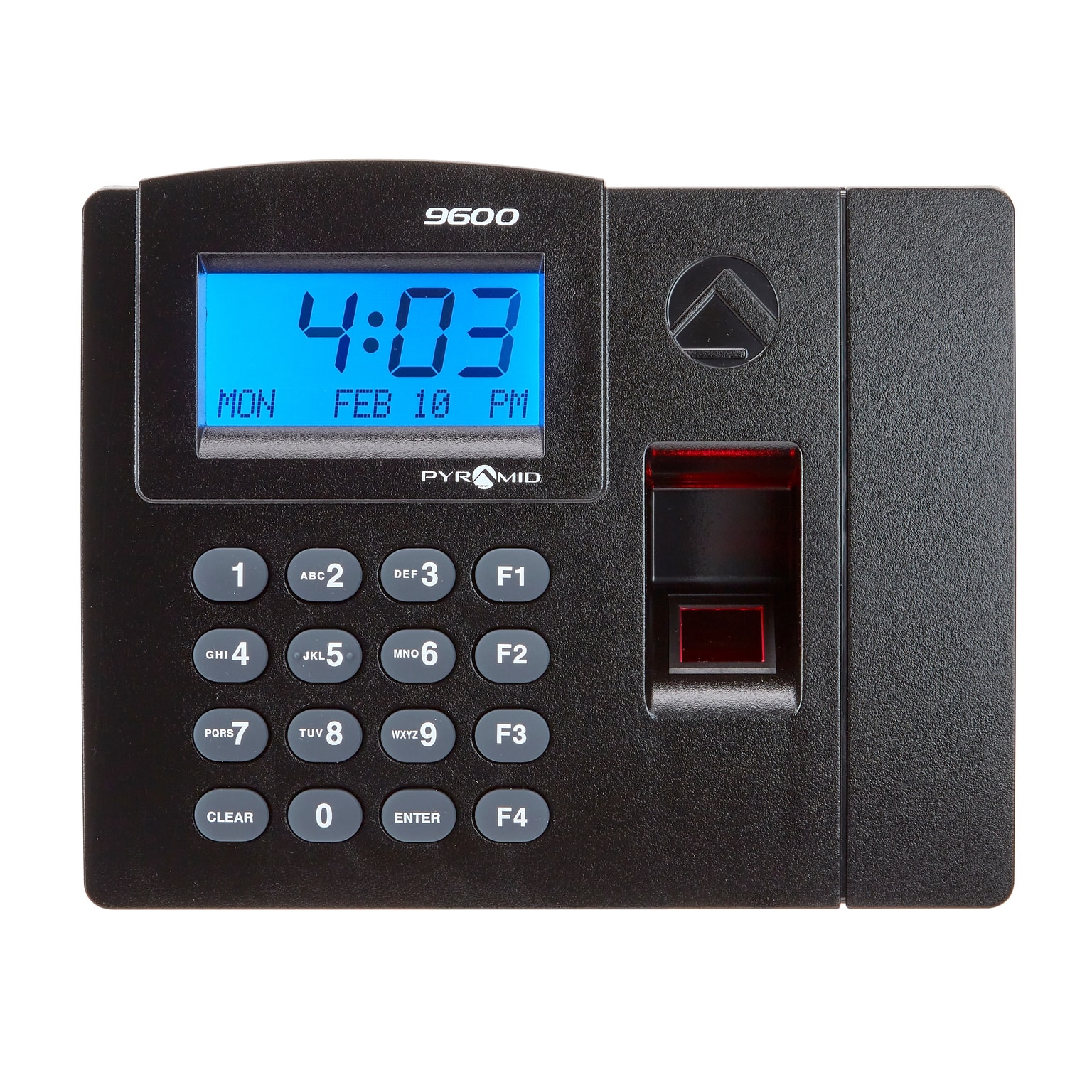 Frequently bought together
Identify employees and track number of hours worked with this Pyramid TimeTrax Elite Series automated silver-and-black biometric time clock.
Calculate payroll and ensure accurate employee punches with this biometric time clock. Finger-scans verify identity during each punch, and the keypad allows management-approved PIN entry. The included TimeTrax time and attendance software enables time-card editing and stores up to 6,000 punches between downloads, while the internal battery backup preserves data for a week without power. This Pyramid biometric time clock manages a wide range of pay periods and generates export files for many payroll providers.
Fingerprint; multicolor; all types of pay periods; up to 50 employees
LCD display helps you keep track of time by showing the time and date
Employees use fingerprint
Dimensions: 5.63"H x 7"W x 2"D
Wall-mountable design features a built-in Ethernet connection for networking or web-based use
Battery backup protects data and settings during power outages
1-year manufacturer limited warranty
Eliminate Buddy Punching & Accurately Record Punches with Biometric Technology
Biometric time clocks quickly scan employee fingertip to positively identify and then record arrival, break, lunch and departure times. Fingertip scans are stored and assigned to each employee using time and attendance software. The unique finger scan provides positive identification and prevents "buddy punching" time theft.
Optional Pin Number Entry
A keypad provides the ability to use supervisor-approved pin number entry punch method.
50-Employee Base Software Package
The Pyramid TTELITEEK comes equipped with a 50-employee base software package. Easily expand to manage an unlimited number of employees with software upgrades. Add time clock terminals for each department or within expansive work facilities.
Payroll Reporting & Exporting
Run up to nine payroll reports, including Payroll, Time Card, Attendance, Punch, Detailed Payroll Card, Card Comprehensive, Employee Card, Employee Contact, and Employee Seniority. Export to most major payroll providers, including ADP, Fidelity, Heartland, PayChex Preview, PayChoice, and ProData Evolution. Integrates directly with Intuit QuickBooks.
What's in the Box
Time Trax Elite Biometric Time Clock Terminal, TimeTrax 50-Employee time and attendance software, cables, power supply, quick start guide.
Pyramid Time Systems
Multi
Number of Employees Supported
Up to 50
1
Fingerprint
Black/Silver