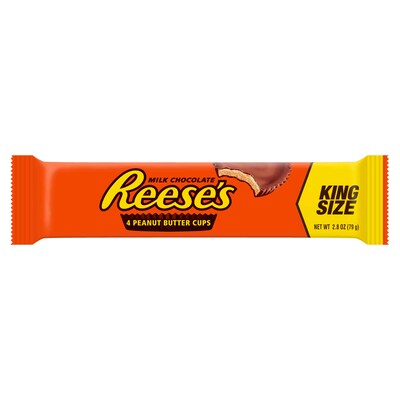 REESE'S King Size Peanut Butter Cups, 2.8 oz., 24 Count (HEC48000)
REESE'S King Size Peanut Butter Cups, 2.8 oz., 24 Count (HEC48000)
Item #: 901-906149
Model #: 48000
Brand: Reese's
Frequently bought together
Rule the workday with REESE'S King Size Peanut Butter Cups.
These extra-large peanut butter cups are perfect for a workday snack, lunchtime treat, or token of coworker appreciation.
Great for workday snacking and break-time treats
The perfect combination of chocolate and peanut butter
Please Note: This product may require special packaging to protect against temperature issues. Some deliveries may experience a slight shipping delay.
A gluten-free and kosher candy
Individually wrapped bulk candy
REESE'S King Size Peanut Butter Cups are great when you need extra snack-time satisfaction. Keep within reach, right at your desk!
Treat the entire office to a break room stocked with this classic, creamy peanut butter candy, covered in rich milk chocolate.
For a simply sweet gesture that goes a long way, share REESE'S King Size Peanut Butter Cups with coworkers and office guests.
About REESE'S Peanut Butter Cups

Do you love the classic goodness of a REESE'S Peanut Butter Cup? Well, you're in perfect company, because REESE'S products are the perfect combination of peanut butter and chocolate.
The original REESE'S Peanut Butter Cup was created in 1928 as a partnership between H.B. Reese and Milton Hershey. Since then, the REESE'S family has grown to include a variety of flavors and forms. Today, you can try REESE'S products in dark chocolate, white chocolate, snack size pieces, and candy bars.
No
Reese's
Peanut Butter
Contains Nuts
Dairy Free
No
Peanut Butter
Yes
Yes
No
2.8
Number of Chocolates Included
24
1
No