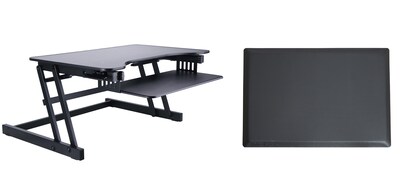 Rocelco 32" Height Adjustable Standing Desk Converter with Anti Fatigue Mat Bundle, Black (R ADRB-MAFM)
Rocelco 32" Height Adjustable Standing Desk Converter with Anti Fatigue Mat Bundle, Black (R ADRB-MAFM)
Item #: 901-24161572
Model #: ADR-MAFM
Brand: Rocelco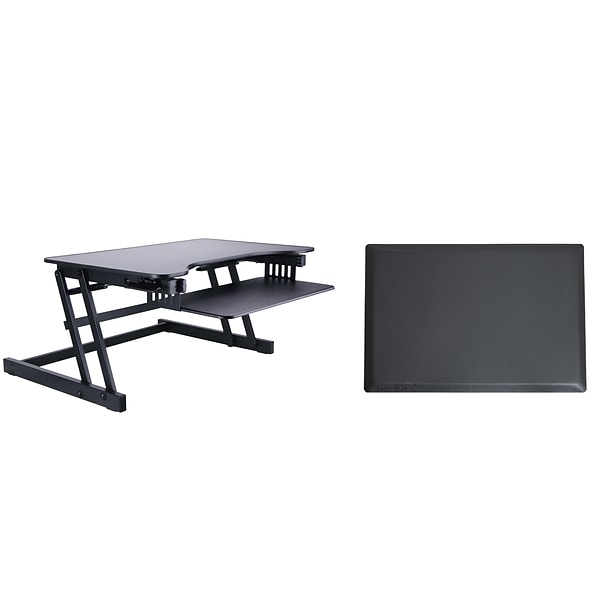 This standing desk converter and anti-fatigue mat is perfect for an office workstation, a medical desk, a home office or a student desk.
Adjustable Desk Riser with Anti-Fatigue Mat
Sit Stand Bundle: Includes a black Standing Desk Converter (R ADRB) and a medium size anti-fatigue standing mat (R MAFM), extend your health benefits in comfort and reduce joint stress and strain while you work, provides long standing comfort.
Quick, easy, and stable height adjustment design: Sturdy metal frame with easy-grip side handle and gas piston assist, can raise and lower up to 30 pounds with continuous height adjustment from 4.75" up to 16.75" above desktop to optimize the ergonomic work position for people of most heights.
Large work surface: 32" wide by 20.6" deep desktop holds up to two 32" monitors and 23.6" wide by 11.6" deep retractable keyboard tray will hold a laptop if needed.
Retractable ergonomic keyboard tray: Keyboard tray extends and retracts while keeping a 4.5" spacing between keyboard tray and desktop which helps keep arms and wrists in an ergonomic position to prevent neck and back strain while sitting or standing.
No Assembly Required: Simply remove from box and place directly on existing desktop.
Includes the versatile MAFM: This anti fatigue desk mat effectively "reduces" your weight by 30% to make standing easier on your feet and joints.
We've got your back: Our product comes with a manufacturer limited 1-year warranty as well as a customer service and tech support team that is always ready to help.
Health benefits: Easy and affordable solution to start enjoying the health benefits of standing while you work
The ADR Standing Desk Converter Bundle gives you the best of both worlds. You can sit part of the day, as you always have, but you can also stand and take advantage of all the health benefits that come with standing and moving around. You, and your associates, will become healthier and more productive. Your ADR sits directly on top of your current desk…….so no need to buy all new furniture. The improved easy-grip side handle with gas piston assist, allows you to easily raise the large 32" x 20.6" desktop and keyboard tray into an infinite amount of position levels between 4.75" and 16.75" above your regular desk). The large top panel can hold 2 monitors or a monitor and a laptop. The ADR Sit to Stand Up Desk offers a large 23.6" x 11.6" retractable keyboard tray that not only allows you to get into the most comfortable and ergonomic position, but it is also large enough to hold a laptop computer (with other risers you may have to move the laptop or the entire riser every time you change from sitting to standing). It uses pneumatic gas pistons that allow you to easily raise or lower up to 30lbs. Fully assembled and ready to go! . The Bundle comes with the MAFM Anti-Fatigue Mat which is designed to work in tandem with standing desk risers, like the Rocelco ADR, DADR, EADR, CADR and MSD series. It will help support your back, hips, knees and feet so you can get all the benefits of standing while you work. This versatile desk mat effectively "reduces" your weight by 30% to make standing easier on your feet and joints. The advanced multi-layer construction offers a comfortable "leather like" top surface, a memory foam inner layer and a non-slip bottom. A perfect 30" x 20" size provides plenty of room to move around, but still can fit into the kneehole of a standard desk or built-in when it is not being used. Beveled edges help to reduce tripping issues and ¾" commercial grade thickness provides hours of comfort and stability. The durable materials on this desk mat will not break down, even after years of use.
Adjustable Height Maximum (Inches)
16.75
Adjustable Height Minimum (Inches)
4.75
No Assembly Required
Rocelco
30
Black
23.3
Less than 30"
Quick Sit Stand Up Dual Monitor Riser, Gas Spring Assist Computer Workstation, Large Retractable Keyboard Tray
Less than 30"
Stationary
Rectangular
Less than 40"
Manual
Laminate
Non Gaming
Height Adjustable
4.75
Less than 30"
Desk Converter
Black
Not Wall-Mountable
1 Year
32