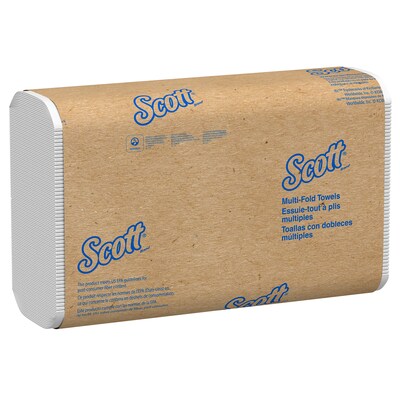 Scott Essential Recycled Multifold Paper Towels, 1-ply, 250 Sheets/Pack, 16 Packs/Carton (1840)
Scott Essential Recycled Multifold Paper Towels, 1-ply, 250 Sheets/Pack, 16 Packs/Carton (1840)
Item #: 901-01840
Model #: 1840
Brand: Scott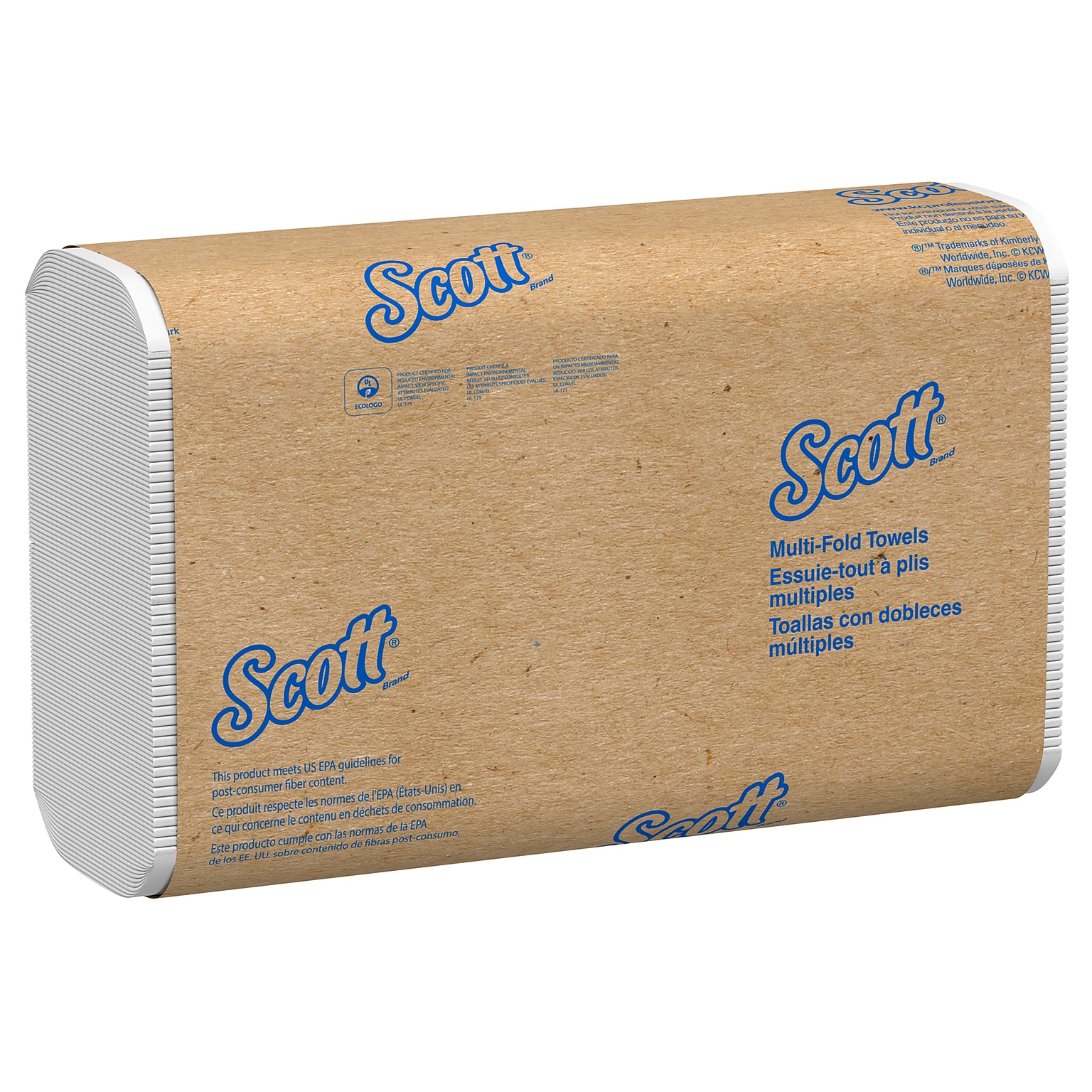 Frequently bought together
Outfit any wash area with these waste-reducing Scott Essential multifold towels.
Scott® Multifold Paper Towels are packed in a Space-Saving Case which creates a more compact shipping and storage solution. When your office restroom or kitchen needs commercial paper towels, Scott® Multifold Paper Towels are an economical choice. They fit into any universal dispenser for trifold paper towels or multifold towels (which helps control over use). Since these Scott® folded paper towels meet EPA guidelines for minimum post-consumer waste content and are FSC®and ECOLOGO® certified, you know they're good choice for an economical paper towel. This product is a part of Kimberly-Clark Professional's Responsible Partners program designed to reach our sustainability goals. The Responsible Partners program identifies products in our portfolio that: Lighten our collective footprint, Enhance product efficiencies, Transport in an environmentally responsible way, and Reduce greenhouse gas emissions (GHG).
250 Sheets/Pack, 16 Scott® Multifold Paper Towel Packs/Case; 4,000 Sheets/Case; with Absorbency Pockets™; 9.2" x 9.4" sheets; White; Compact Case for Easy Storage
With exclusive Absorbency Pockets™ that soak up water fast, these multifold paper towels are designed to reduce waste
Product is a part of Kimberly-Clark Professional's Responsible Partners program
Fits into most universal dispensers for multifold towels (alternative to C Fold paper towels, which can over-dispense)
Meets EPA minimum standards for post-consumer waste and are FSC® and ECOLOGO® certified
Use these Scott paper towels as a versatile option for keeping your office clean and giving employees and customers an easy way to dry their hands. The single-ply design reduces paper waste, and the unscented design doesn't cause irritation. Absorbency pockets and the embossed pattern provide faster drying.

Reduce Paper Use
These Scott paper towels use a single ply to allow you to use as little paper as possible. Use a single sheet for small messes, or use more for large spills or for cleaning your work area. The moderate dimensions are large enough for drying hands but small enough to avoid wasting paper for small messes.

Extra Absorbency
These folded paper towels have built-in absorbency pockets that ensure fast, effective drying of your hands while making them effective at wiping spills. The quilted embossed pattern provides some texture, leading to quicker cleaning and giving these paper towels a professional look.

Unscented for Versatility
These unscented paper towels don't cause irritation or affect allergies, making them great for offices with many employees. The unscented design makes these paper towels great for a variety of other basic cleaning tasks, such as removing dust and dirt in high-traffic areas or cleaning the windows in your office.


250
Scott
Yes
Certification & Standards
EPA, EcoLogo, FSC
White
Yes
Yes
Forest Stewardship Council Certified
Yes
3,001-4,000 Sheets
Multifold
Post Consumer Recycled Content
40%
Yes
16
Essential
9.4
1-Ply
60%
White
Yes
9.2