Where's Wilma Game
Brand:
Wiebe, Carlson and Associates.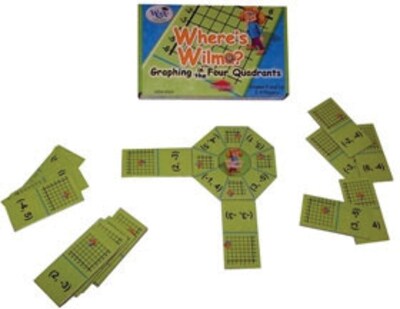 Description
Where's Wilma game players match her mystery locations with ordered pairs such as (-6, 3) and (-1, -2), building an octopus-like pattern outward from the octomino starting board.
WCA "Where's Wilma" Game is ideal for grades 5 and above. Game used to identify and plot ordered pairs for algebra, geometry, geography, science and other subjects.
Age group and grade: Grades 5th+

Usage ideas: Practice in identifying and plotting ordered pairs where this skill is essential for algebra, geometry, geography, science and other subjects

Includes octomino starting board, 44 dominoes, instructions

Number of players: 2 - 4

Players match her mystery locations with ordered pairs such as ( - 6, 3) and ( - 1, - 2), building an octopus - like pattern outward from the octomino starting board

Identify and plot ordered pairs in the first quadrant of a rectangular coordinate plane

Winner is the player with the fewest dominoes remaining after all the dominoes have been drawn

Widely used life skill locating points on a map, constructing and reading bar and line graphs of science or business data, etc

Essential in algebra basic tool for constructing pictures of abstract algebraic equations like x + y = 5

Supports common core, state and national mathematics standards

Unique octagonal starting board and self checking feature

Interest is generated by finding where Wilma is hiding

If a domino matches one of the eight open ends in play, the player places it to complete the match

If no match is made, the player draws a domino

Dimensions: 6 1/2"(H) x 4"(W) x 1 1/2"(D)

Weight: 8 oz.

She finds places to hide in all 4 quadrants

There are always 8 places open for play

This encourages quick scanning of the options

Game variations add spice and versatility

4 quadrant game
Specifications
Education Subject Matter

: Math

School Grade

: Junior High

Brand

: Wiebe, Carlson and Associates.

Weight

: 0.38 lbs. per Each