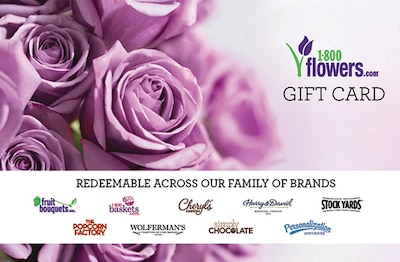 1800 Flowers Gift Card $100
This product is not eligible for earning or redeeming points.
1800 Flowers Gift Card $100
Item #: 901-1415788
Model #: 69778B10000
Brand: 1-800 Flowers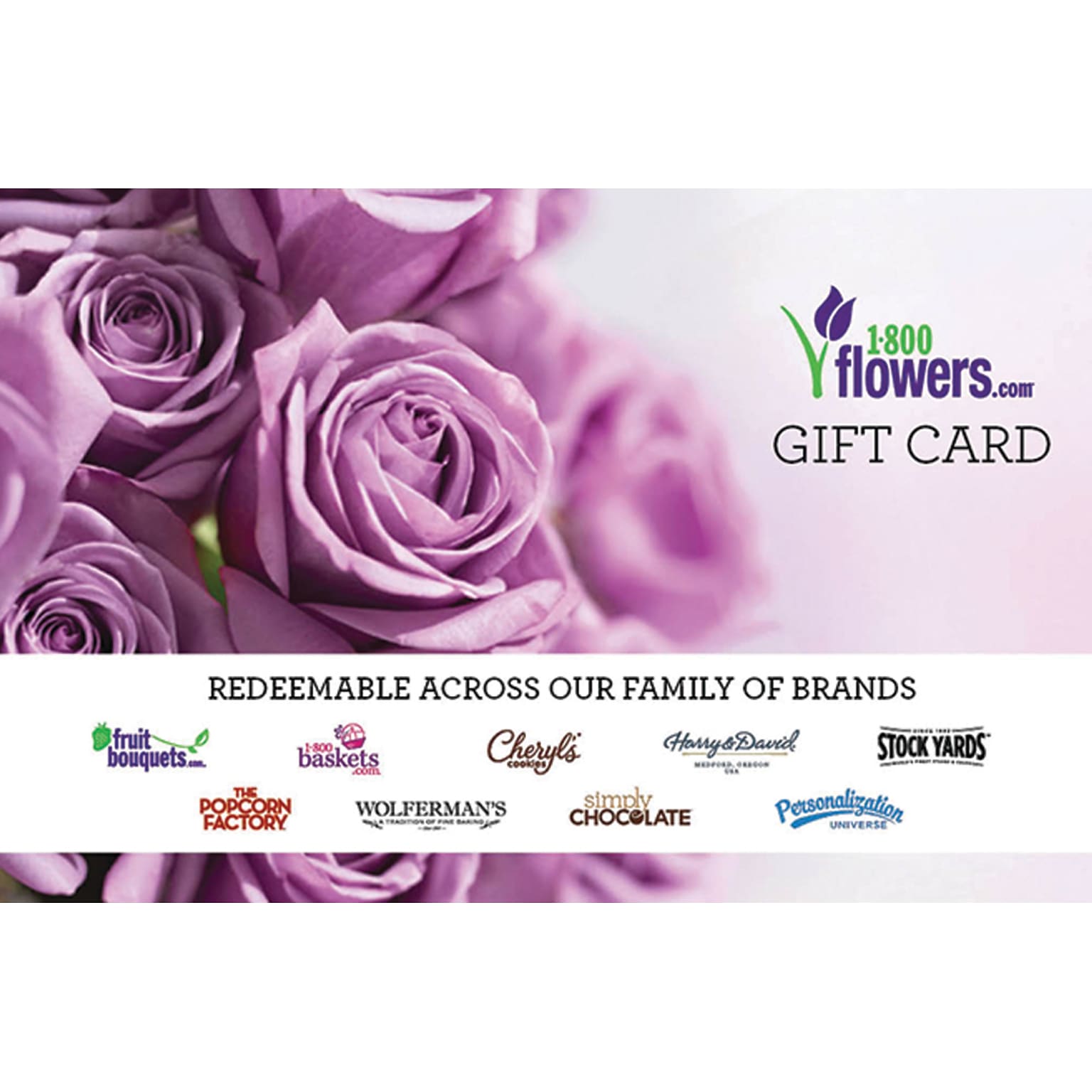 Business customer exclusive
We apologize. Due to contractual obligations, this item can only be purchased by registered business customers
If you are a registered business customer, please sign in to purchase by clicking the "Welcome" link at the top of the page
Gift Card Limits & Restrictions
Due to federal money laundering laws, Quill cannot sell more than $5,000 in gift cards in a single transaction.
QuillCASH™ cannot be redeemed for or applied against third-party gift card purchases.
First-time Quill customers must prepay all gift card orders.
Product details
Dollar Amount
Gift Card Type
Brand
Gift Card Class
Grocery, Gourmet & Floral
1800 Flowers Gift Card $100
1-800-Flowers and their family of brands offers a wide selection of flowers, gift baskets, and specialty items to help deliver smiles!
$100
Included in the gift card purchase price is a $1.99 Secure Tracking Fee. This covers trackable shipping through the US Post Office, to ensure safe arrival.
Quill.com DOES NOT sell more than $2000 of gift cards in any order due to Federal anti-money laundering regulations
Please note no legitimate entity, business or agency will ask you to pay them in Gift Cards in return for services. Click Here for a link to information on gift card scams
Redemption: In-store and Online
No expiration dates
Gift Cards and phone cards are non refundable and non returnable. They are valid only at the retailer/service provider listed on the card. Prepaid cards cannot be redeemed for cash. Specific terms and conditions are included with each card.
To use the Gift Cards and Promotional Offers, present them at the time of payment. You will be required to supply the PIN number that came with your Gift Card.

The Gift Card and Gift Certificate is a prepaid payment device that comes with a set dollar value. It is not a credit card, charge card or debit card. The Gift Card and Gift Certificate has no associated service or dormancy fees and no expiration date. The Gift Card and Gift Certificate can be used at the brands, the company owned and participating franchised retail stores, web sites and on phone orders. We reserve the right to require credit card or alternate non-promotional payment method information for verification purposes, even if the Gift Card or Gift Certificate fully covers the transaction order total. We do not allow the purchase of a Gift Card with another Gift Card, Gift Certificate, Savings Pass, Appreciation Award, Award Card, or Rewards Pass. Your 19-digit Gift Card may become redeemable at additional brands and locations, which information will be updated on this page. The Gift Card and Gift Certificates may only be used to purchase products and services and may not be redeemed for cash, unless otherwise prohibited by law. The Gift Cards and Gift Certificates are not transferable and may not be used for unlawful purposes.
1-800 Flowers
$100
Grocery, Gourmet & Floral
Classic