Cobra® CPI-1000 1000W DC-to-AC Power Inverter; 12 VDC Input; 120 VAC Output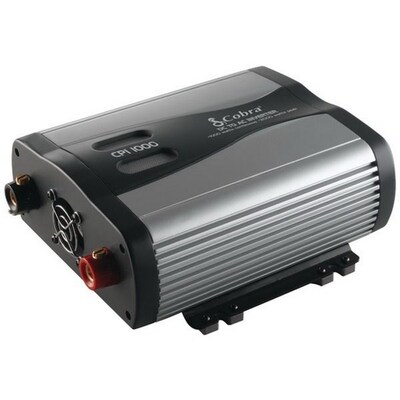 Description
Cobra 1000 W Power Inverter - Portable Power Conversion
The Cobra 1000 W power inverter lets you run household electronics using power from your car battery or a similar DC source. This lets you get home-style entertainment and access to business devices whether you're on the road or out camping with your vehicle.
Input voltage: 12 VDC (input voltage range: 10.4 VDC to 14.4 VDC)

Output voltage: 109 to 120 VAC/5 VDC

Output power: 1k W

Frequency: 58 Hz to 62 Hz

Load capacity: 1kW continuous power

Receptacles: 2 x AC out, 1 x USB

Power Inverter takes low voltage DC (direct current) power from your automobile or other low voltage power supply and converts it to standard 110 volt AC (alternating current) power like the electrical current you have in your home

Waveform Type: Modified sine wave

Suitable for laptops, TV sets, video games, CD players, DVD players, cellular phone chargers

Package Contents: 1000W DC-to-AC power inverter, direct-to-battery cables, instruction manual

Warranty: 2 years limited
Exceptional Wattage
Each Cobra 1000 W power inverter provides plenty of power for many high-end electronics. Its full 1,000 watts of available power lets you easily operate your home appliances, television, and shop tools with energy from your car's battery. The exceptional wattage level lets you run multiple devices at once.
Versatile
The versatile inverter gives you portable power whenever and wherever you need it. As long as you have access to a car battery or similar power source, you can enjoy the benefits of electricity when camping, taking a long road trip, tailgating, or participating in many different enjoyable activities.
USB Output
Each Cobra 1000 W power inverter features a USB output and a standard household power adapter. This allows you to charge your smartphone, laptop, or other USB-powered device quickly and easily when you're on the go.
Specifications
Brand

: Cobra

Weight

: 1.00 lbs. per Each