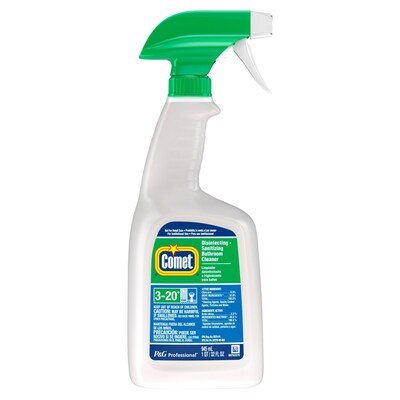 Comet Professional Multi Purpose Disinfecting - Sanitizing Liquid Bathroom Cleaner Spray, 32 fl oz (Case of 8)
Comet Professional Multi Purpose Disinfecting - Sanitizing Liquid Bathroom Cleaner Spray, 32 fl oz (Case of 8)
Item #: 901-2838914
Model #: 22569
Brand: Comet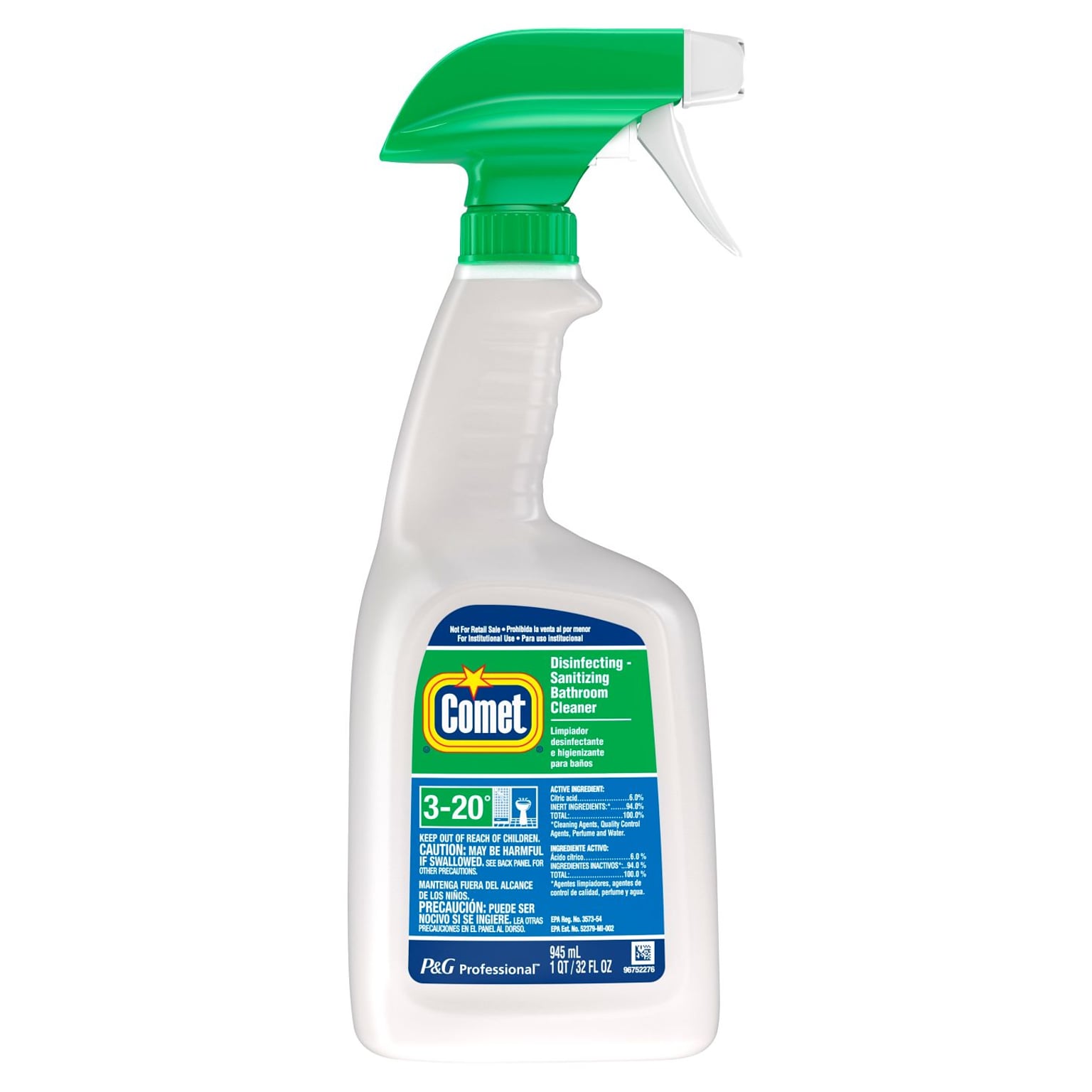 Frequently bought together
Comet cleaner spray disinfects as it dissolves to keep your bathroom fresh and clean
Comet Disinfecting-Sanitizing Bathroom Cleaner spray is a powerful bathroom disinfectant cleaner that cuts through tough soap scum, leaving surfaces clean and disinfected (when used per disinfecting label instructions). Its patented no scrub bath and wall cleaner formula uniquely penetrates tough bathroom soils with little effort. It's nonabrasive, so it safely cleans porcelain, fiberglass, ceramic, Formica, enamel, chrome, stainless steel and synthetic marble. With no rinsing required, just spray it on and wipe the restroom clean. This disinfecting bathroom cleaner deodorizes, leaving the restroom smelling clean and fresh.
Liquid disinfectant bathroom cleaner
32 oz. trigger spray bottle
Pack contains 8 pieces
Cleans, disinfects and deodorizes
Reduce the spread of germs in restrooms
Gets rid of tough stains and removes soap scum
Ideal for fiberglass and porcelain
Easy-spray bottle for your convenience
EPA Registered
Combines the power of a heavy-duty restroom cleaner and surface deodorizer with a disinfectant
Nonabrasive bathroom sanitizer spray cleans greasy soap scum with 50% fewer strokes versus other leading brands, saving time and labor
Included on the EPA List N: disinfectants for use against the novel coronavirus SARS-CoV-2
Works great as an industrial sanitizer on toilets, sinks, chrome, tile, tubs, showers and fiberglass
shower; cleaner; toilet; sanitizer; restroom; hard surface, disinfectant, multipurpose spray,
The Comet Disinfecting-Sanitizing Bathroom Cleaner Spray keeps your bathroom in tip-top shape, which you and your guests both will appreciate. This cleaner spray disinfects as it dissolves and keeps your bathroom fresh and clean. It easily dissolves even the toughest hard water film and soap scum stains and then you can wipe them off instantly with minimal scrubbing or elbow grease. This easy-to-use bathroom cleaner spray is perfect for eliminating a wide spectrum of household germs and salmonella on the floor, sink, toilet, and tub surfaces. It is also ideal for use on fiberglass and porcelain. Its comfy design with an easy-to-control trigger allows you to spray evenly on various surfaces. This disinfecting and sanitizing bathroom spray cleaner comes in a 32 oz. ergonomic bottle which is easy to use and store. This pack contains 8 pieces of Comet Disinfecting-Sanitizing Bathroom Cleaner Spray.
Safety Data Sheet

Comet
Yes
32
0.25
Chemical Active Ingredient(s)
Active Ingredient: Citric Acid Inert Ingredients: Cleaning Agents, Quality Control Agents, Perfume, Water
Fungicidal
Spray
Toilet & Bathroom Cleaner
Concentrated or Ready To Use
Ready to Use
Spray Bottle
Non-Degreasing
Yes
Dispenser Not Required
FDA Compliant
Medium
No
8
Primary Active Ingredient
Citric Acid
Clean
No
Sanitizer
P&G Professional
Glass & Surface Cleaner
White
2.319