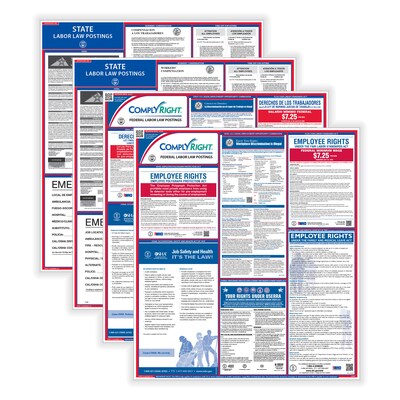 ComplyRight Federal and State Labor Law Poster Service, Washington, English/Spanish (U1200CBADC)
ComplyRight Federal and State Labor Law Poster Service, Washington, English/Spanish (U1200CBADC)
Item #: 901-24472915
Model #: U1200CBADC
Brand: ComplyRight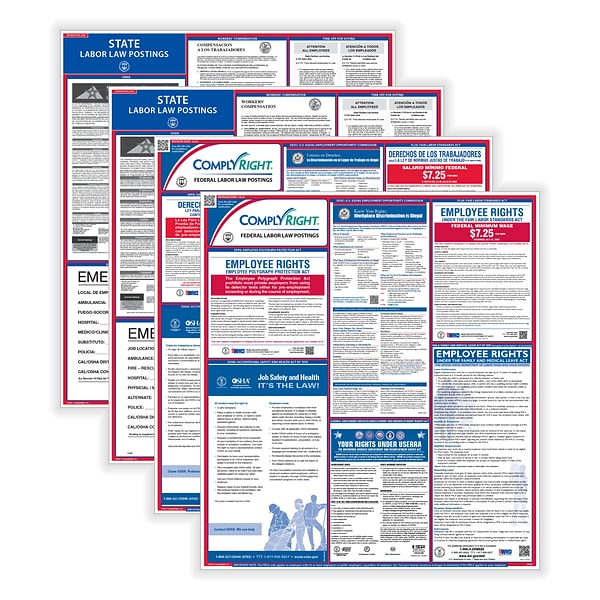 High-quality Federal and State Posting Compliance Solution. Compliance with federal and state labor law posting requirements is now easy and affordable with ComplyRight Poster Service.
Ideal for single and multi-site employers, ComplyRight Poster Service is a cost-effective posting compliance solution, which includes mandatory postings, along with one year of legal monitoring and a 100% Compliance Guarantee against fines for improper posting content. The ComplyRight Poster Service covers individual posters such as E-Verify and Right to Work, no smoking, state workers' compensation industry wage orders and Spanish postings, when required by law.
FEDERAL COMPLIANCE ALERT: In October 2022, the EEOC issued a new mandatory "Know Your Rights" posting to replace the previous EEOC workplace posting. Most employers with 15+ employees must comply immediately. All ComplyRight poster products and services that cover federal postings now include this new mandatory posting.
Accurate and up-to-date federal and state-specific postings, which are researched and monitored by our in-house legal team of attorneys and legal researchers.
Includes one year of legal monitoring and automatic poster replacements, at no additional cost, any time there is a mandatory posting change.
New poster, at no additional cost, any time a posting requirement is added.
Must be displayed in prominent and accessible locations that are highly visible to all employees.
Laminated for added durability.
Language: Federal (English and Spanish) and State (English and Spanish).
ComplyRight
OSHA
No
English & Spanish
26.75
Laminate
1
Federal , State & Healthcare - Subscription Service
Washington
Multicolor
24
Federal Labor Law