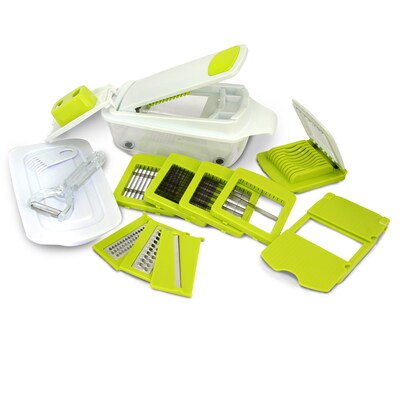 MegaChef 8-in-1 Multi-Use Slicer Dicer and Chopper with Interchangeable Blades (MG-MULTI-SLICER-DICER)
MegaChef 8-in-1 Multi-Use Slicer Dicer and Chopper with Interchangeable Blades (MG-MULTI-SLICER-DICER)
Item #: 901-24272310
Model #: 935103072M
Brand: Megachef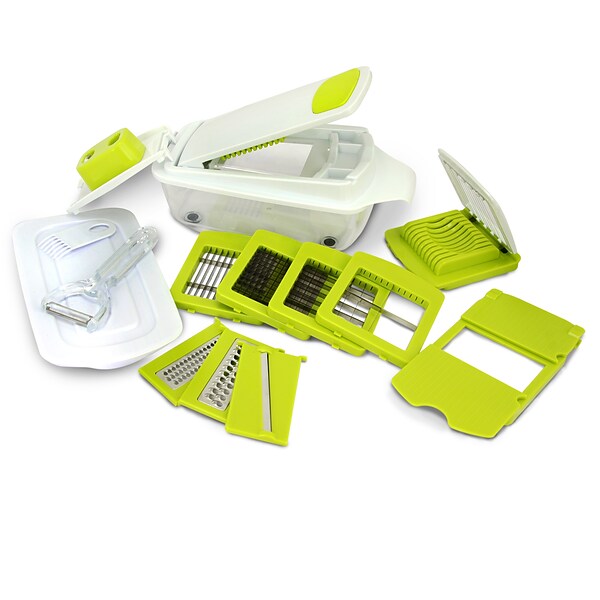 With the MegaChef 8-in-1 Multi-Use Slicer Dicer and Chopper with Interchangeable Blades and Bonus Peeler you have the help of a sous-chef right by your side! This handy multi tasking tool will eliminate countless hours of needless manual slicing and chopping, while producing perfectly uniform shopped and diced vegetables in a fraction of the time! You no longer have to spend the majority of your time prepping your ingredients. Simply select the interchangeable blade which best suits your needs and watch the time fly while as you prep for your meals with ease and simplicity.MegaChef offers 8 interchangeable blades which Cut, Dice, Slice, Julienne, Grate and Chop! In addition, you also receive a handy and comfortable peeler, perfect for peeling potato, apples and many more foods!You will be able to choose from 3 Interchangeable Chopping and Dicing Blade Panels ideal for prepping vegetables for cooking, chopping Fruit and Vegetable Salads, and making delicious home made salsas! There are 2 Grating Panels which allow you to choose how fine you need your food to be be. In addition, a wonderful slicing attachment is included with a convenient hand guard so that you can have those perfectly sliced tomatoes, cucumbers, potatoes and more with peace of mind!With the included Soft Slice attachment, you can easily achieve perfectly uniform sliced eggs, avocados and more!A handy peeler is included as well so that you can peel potatoes, apples, squash and anything else you need. With such a wide range of possibilities, this is sure to become one of your favorite and most used tools around the kitchen!What's in the Box: 1 Base Container Measuring at 9 Inches long x 5.5 Inches Wide and 2.5 Inches Tall with an Easy Lid Cover for your convenience.1 Main Lid Attachment which houses all the interchangeable Chopping and Dicing Blade Panels.3 Interchangeable Chopping and Dicing Blade Panels1 Soft Slice Attachment ideal for perfectly sliced Eggs and Avocados1 Inner Base Attachment to house the Interchangeable Grating and Slicing Panels.1 Large Interchangeable Grating Panel1 Fine Interchangeable Grating Panel1 Interchangeable Slicing Panel1 Easy Grip Vegetable and Fruit Hand GuardOne Veggie and Fruit PeelerOne Handy Lid CleanerThis unit measures in at : 4.5" in Height, 10.5" in Length, 6" in Width
Multi-use slicer, dicer and chopper for vegetables, fruits, pureeing, etc.
10.5" x 6" x 4.5"
Lime and white plastic
⚠ WARNING: This product can expose you to chemicals including BBP, which is known to the State of California to cause cancer and/or reproductive harm. For more information, go to www.P65Warnings.ca.gov.
Megachef
Multicolor
No
Food Mill, Shaver & Spice Grinder Operation
Manual
Food Mill, Shaver & Spice Grinder Type
Food Mills