For professionals who spend 40+ hours a week in the office, a working environment that inspires them to be creative and productive can do wonders for job satisfaction. In creative fields like interior design, graphic design, advertising, or marketing, a unique, well-designed office has the power to showcase your brand and improve employee engagement.
Some office furniture is meant to be function-first, which all too often leaves aesthetics as an afterthought. But how do you create a unique office space that accounts for the visual impact furniture can have? How can you think outside the box and pick out furniture that's a little more unconventional? Here's some inspiration to get you started.
Encourage creativity with a variety of seating
People in creative fields need variety to keep their imaginations active. Sitting in an ergonomic office chair in front of a computer might be comfortable for long periods, but it's not necessarily the most productive place to come up with exciting new ideas. Bean bag chairs can provide a welcoming alternative for employees to lounge and let their creativity soar.
Sofas and couches are the perfect lounge furniture for offices that rely on collaboration for the majority of projects. This Fine Mod Imports Circle Sofa would be a visually interesting addition to any meeting room or even reception area.
Ball chairs are another unique way to create a collaborative space for meetings and informal brainstorming sessions. Not only can they be moved around to fit changing needs, but they also have a fun, modern look that adds interest to any office. Including a few accent chairs will give your office an eclectic look that compliments creative industries.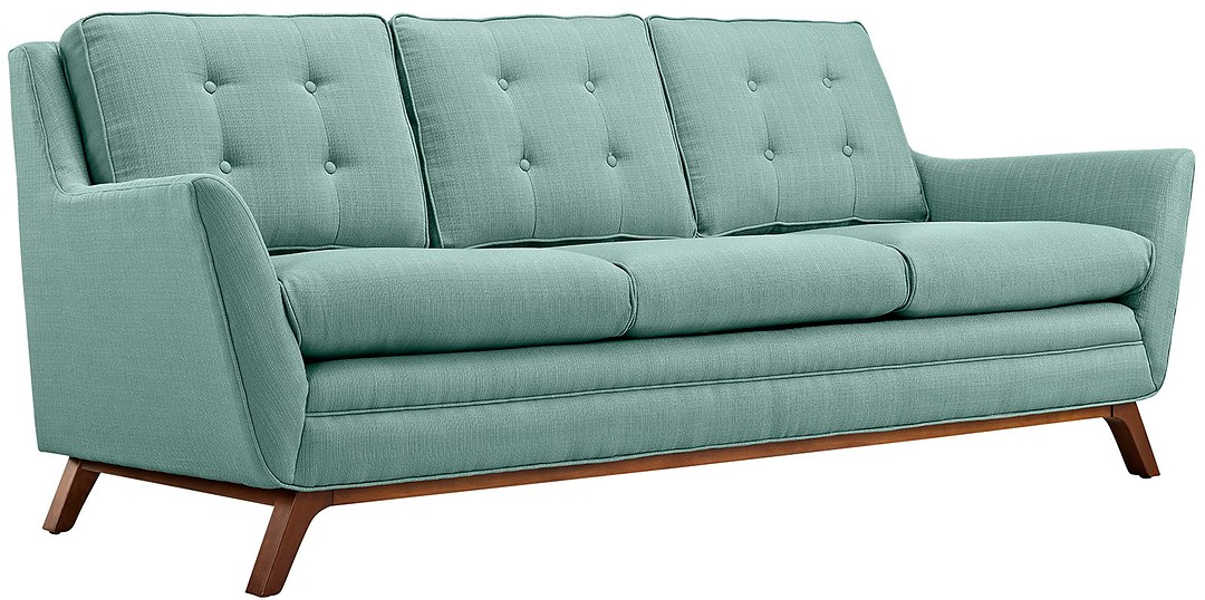 Pops of color are a simple way to brighten up any space and make sure it doesn't look like a carbon copy of every other office on the block. The Modway Beguile sofa in blue has that mid-century modern look that has the power to make your office stand out as stylish and on-trend.
Work surfaces with more versatility
Creative industries tend to be more hands-on and collaborative, so having a variety of work surfaces to accommodate large projects is key. In addition to an individual computer desk for each employee, consider adding options like this basyx by HON Multi-Purpose Table, which can be moved around and adjusted to meet the requirements of any meeting. When your furniture is versatile, it opens up more options for employees to complete projects in new and innovative ways.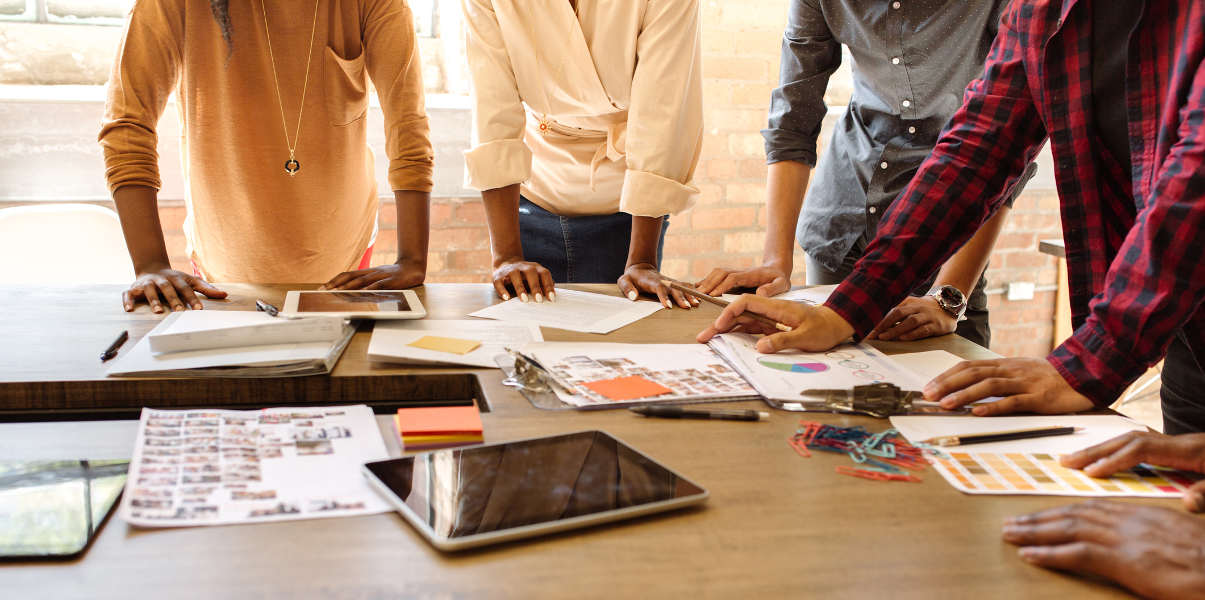 A well-made wooden desk is always a good investment, but there's something to be said for mixed media desk too. This Monarch® Reclaimed Hollow-Core Wood/Silver Metal Office Desk is a great example of a sleek design that has the ability to fit into a range of different decors. The dark taupe color is different from the expected and it's neutral enough to allow employees to add any flair they see fit.
Storage as decor
Storage space is essential in any office. Office supplies need to be kept accessible to employees and reference materials, contracts, and contact information should be well organized. But storage can be more than just functional—it can add to the overall look of your office. Accent chests and cabinets are perfect for adding personality to the space while also providing storage space.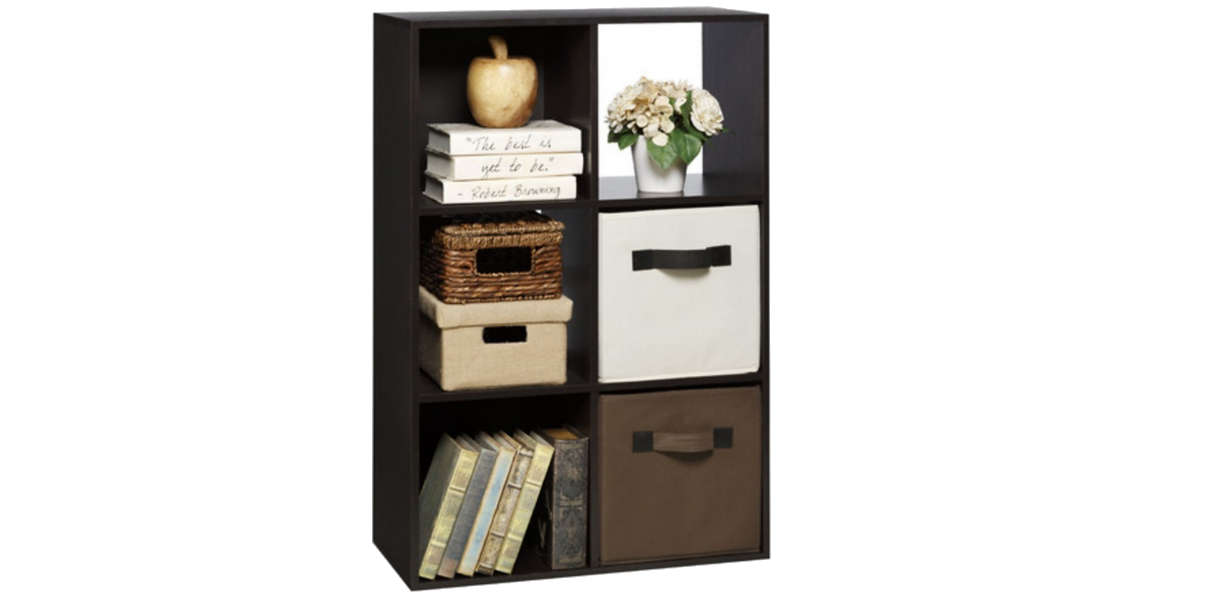 Quality bookshelves will always be a staple, but never underestimate the power of a different approach like this OneSpace 36" Cube Unit Bookcase. Fill it with design books and decorative boxes that will keep clutter hidden away.
Filing cabinets are an expected feature of most offices but that doesn't mean they have to be utilitarian looking. Avoid the metallic look and opt for a stylish wood version like this AltraTM Chadwick Collection Lateral File in Virginia Cherry. Or go to the colorful route with the Sandusky 36" Lateral File in Blue. If you want your office to portray your brand, every piece of furniture should add to the overall look.
Don't forget the accents
No office is complete without the little details that bring everything together. Wall art is a must in a creative office, and a funky rug in meeting rooms or common areas can be functional and decorative at the same time.
Lighting options are often limited in larger offices, but you can still provide desk lamps to help employees to get a closer look at the project they're working on. This Lavish Home 12.5" Metal & Plastic Foldable Desk Lamp in Plum is the perfect size.
No matter what furniture you decide to go with, making sure it's functional is the main thing. Luckily, there is plenty of well-designed, quality office furniture that can show off your creativity as well as who you are as a company.