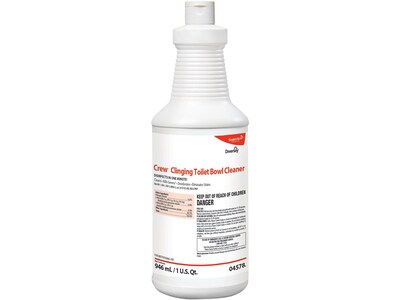 Crew Clinging Toilet Bowl Cleaner, Floral Scent, 32 oz., 12/Carton (04578)
Crew Clinging Toilet Bowl Cleaner, Floral Scent, 32 oz., 12/Carton (04578)
Item #: 901-900356DWC
Model #: 04578.
Brand: Crew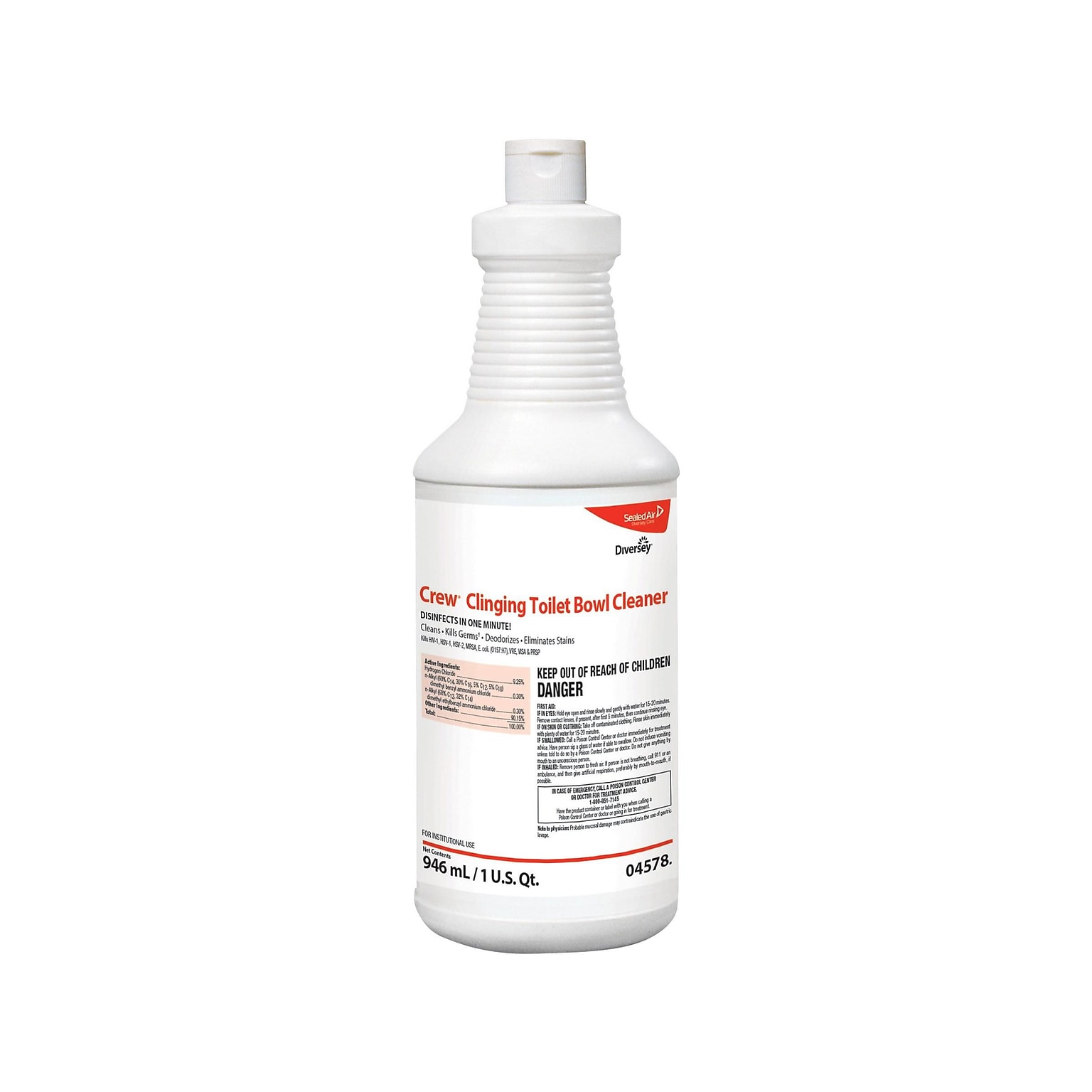 Shipping restrictions
We apologize. This item cannot be shipped to some destinations.
Please sign in to purchase by clicking the "Welcome" link at the top of the page and choose your shipping destination to determine if you can purchase this item
Scour and disinfect porcelain or stainless steel restroom surfaces with this Crew clinging toilet bowl cleaner.
Remove grime, uric acid deposits, lime build-up and rust with this liquid restroom cleaner formulated with 9.25 percent hydrochloric acid. Stay stocked up for frequent cleaning sessions with this 12-count case of 32-ounce bottles. This green Crew clinging toilet bowl cleaner has a floral scent to leave a pleasant fragrance behind after regular bathroom maintenance.
Liquid disinfectant cleaner with floral scent
32 oz. capacity
Liquid cleaner is sold in an easy-to-carry carton, 12-count per carton
Components: hydrogen chloride, dimethyl benzyl ammonium chloride, dimethyl ethylbenzyl ammonium chloride, and other
Quickly cleans away organic soil and eliminates rust, lime, hard water and uric acid deposits
Ready-to-use squeeze bottle
Included is 1 spray trigger. For additional triggers, consider purchasing SKU 819269, Impact 9.5" Spray Trigger.
Safety Data Sheet

Crew
Yes
32
0.25
Chemical Active Ingredient(s)
Hydrochloric Acid
Germicidal
Liquid
Toilet & Bathroom Cleaner
Concentrated or Ready To Use
Ready to Use
Bottle
Non-Degreasing
Yes
Dispenser Not Required
Non FDA Compliant
Kill List of Bacteria, Viruses
Staphylococcus aureus, Salmonella choleraesuis, Human Immunodificiency Virus, HTLV-III, Herpes Simplex Virus Type 1, 2
60 second contact time
Light
No
12
Primary Active Ingredient
Other
Clean
Yes
No
Non-Sanitizing
Clinging Toilet Cleaner
Toilet Bowl Cleaner
29.06