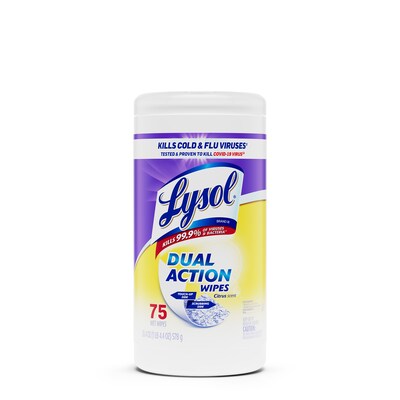 Lysol Dual Action Disinfecting Wipes, Citrus, 75 Wipes/Pack (1920081700)
Lysol Dual Action Disinfecting Wipes, Citrus, 75 Wipes/Pack (1920081700)
Item #: 901-REC81700
Model #: 1920081700
Brand: Lysol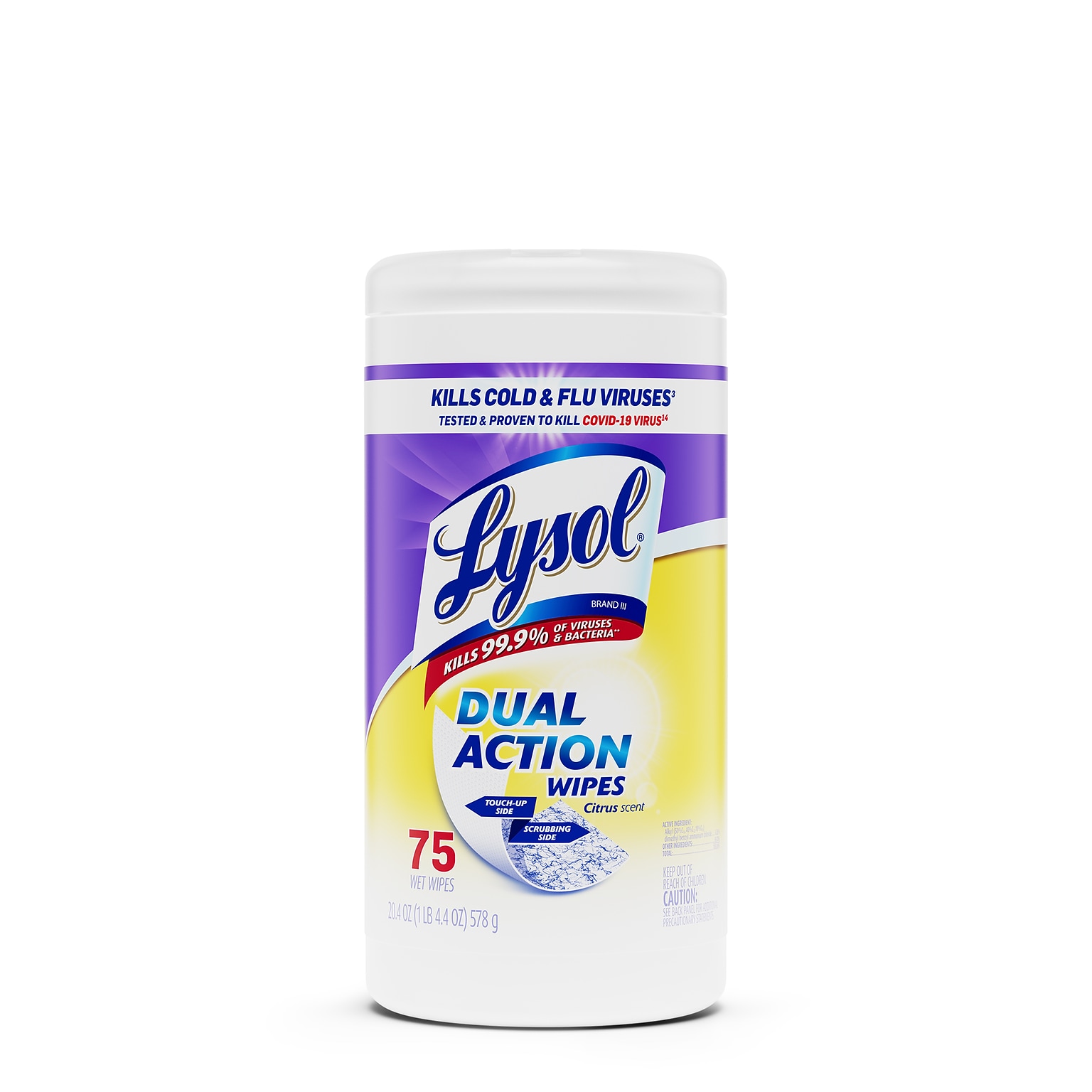 Frequently bought together
Boost customer confidence and take disinfection further with Lysol® Disinfecting Wipes dual-sided texture that can both scrub and sanitize.
Lysol® Disinfecting Wipes can be used on a variety of surfaces, including electronics. These wipes kill 99.9% of viruses and bacteria, including the virus that causes COVID-19 when used as directed on hard, non-porous surfaces.
Kills 99.9% of viruses and bacteria, including cold and flu viruses, Salmonella, E. Coli, MRSA, RSV, Staph, and Strep, when used as directed on hard, non-porous surfaces.
Proven to kill the virus that causes COVID-19, in 15 seconds.
In accordance with the EPA's Viral Emerging Pathogen Policy, this product can be used against Monkeypox, when used in accordance with the directions for use.
Maintain disinfected commercial spaces across a versatile range of industries, including schools, hospitality, office workspaces, fitness centers, and stadiums.
Safe to use on high-touch germ hot spots, including electronics, doorknobs, handrails, faucets, phones, and keyboards.
Uphold safety standards: Meets OSHA's Bloodborne Pathogens Standard.
Disinfect tough messes and high-touch surfaces with one wipe that has a dual-sided texture.
Remind customers and staff that disinfection is your priority with the fresh Citrus scent.
Scrub and Wipe
These Lysol disinfecting wipes feature a smooth and rough side—one for wiping and the other for scrubbing. From dried stuck-on food to wet, muddy footprints, these wipes make it easier than ever to tackle a wide range of common messes, and you can throw them away once you're done.
Kills Germs Fast
It only takes 30 seconds to sanitize and 10 minutes to disinfect with these wipes. They eradicate E. coli, MRSA, salmonella, and other bacteria, viruses, and fungi on nonporous surfaces. Reduce your chances of coming into contact with cold and flu viruses by using these wipes.
Clean Hard Surfaces
From telephones and door knobs to refrigerators and garbage cans, these Lysol disinfecting wipes can be used all over your home and office. They leave behind a fresh citrusy scent and ensure a cleaner indoor environment.
Safety Data Sheet
Lysol
Antibacterial
Wipes
Concentrated or Ready To Use
Ready to Use
Canister
Yes
FDA Compliant
99.9
Kill List of Bacteria, Viruses
Herpes Simplex Virus Type 1, Human Coronavirus, Influenza A Virus, Respiratory Syncytial Virus, Strep, Staph, O157:H7 , MRSA, Salmonella
Varies
No
Number of Wipes per Container
75
1
Primary Active Ingredient
Other
Citrus
Yes
Fresh Citrus
Dual Action
8
7
75
Non Refillable
51-100